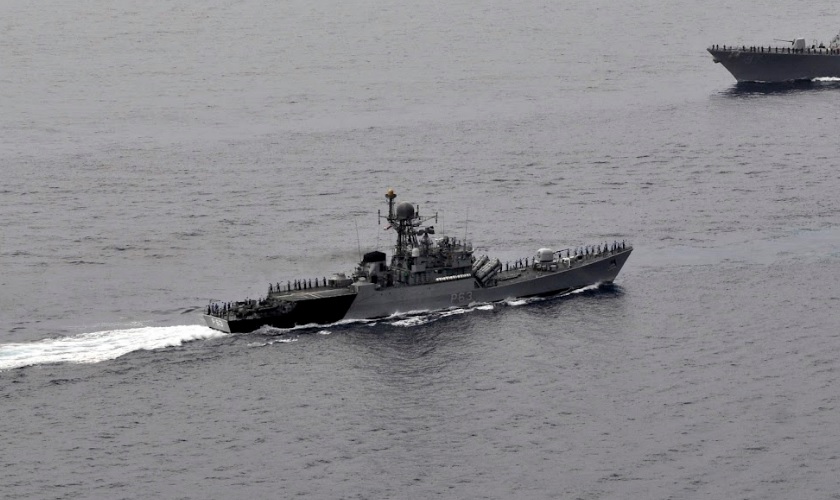 Following on from its big pitch last year to replace its Veer-class (Tarantul-class/1241RE) missile corvettes with six new Indian-built missile vessels, the Indian Navy has just published interest in acquiring an additional seven missile corvettes to replace its Khukri-class boats with Next Generation Corvettes built at an Indian shipyard. The Indian Navy currently operates about 10 of the Veer-class and four of the Khukri-class.
The request for information sent to Indian shipyards, both private and state-owned calls for Next Generation Corvettes' (NGC) capable of offensive SSM attack, anti-submarine warfare operations, local naval defence, maritime interdiction operations and VBSS, with deliveries of the seven boats from 2023. While the navy is known to have been considering publishing significantly greater performance requirements from the new line, it has stated criteria that are largely similar to the Khukri-class boats they will replace: 4,000 nautical mile range, maximum and sustained top speeds of 25-27 knots.
Expectedly, the Indian Navy is keeping requirements in line with the build doctrine it is in the process of validating with its Project 15A/17/28 warships in terms of low observability qualities.  The RFI stipulates, "The ships should have Low Radar, Acoustic, Magnetic, Visual and Infra Red Signatures and adequate NCO and communication capabilities." The RFI also maintains the navy's expectations with the Integrated Platform Management System (IPMS) it is looking to standardise across its new generation frontline surface combatants.
In terms of weapons, the Navy is clear: it wants an 8-BrahMos AShm/land attack configuration, a SAM system (almost definitely the under-test LR-SAM), standard deck CIWS, a medium-range gun system with an attack field out to 15 km and a twin deck-borne light torpedo launch system. As with all of its current and future ships, the NGCs will need to be capable of deploying ALH/NUH chopper platforms, in addition to unmanned rotorcraft.
The Indian Navy, which began inducting its Project 28/Kamorta-class anti-submarine warfare corvettes last year has had its eye fixed on the widening requirement of modern multi-role missile boats capable of rapid deployment, swift arrival on station and capable of handling operations across the spectrum of requirements. With 13 Indian-built missile boats/corvettes now up for grabs across shipyards (with numbers definitely likely to go up once platform configurations are proven), it will be deeply interesting to see how the navy, with a design directorate that has proved formidable in recent years, guides evolving design philosophies forward. Expect great things in this space.