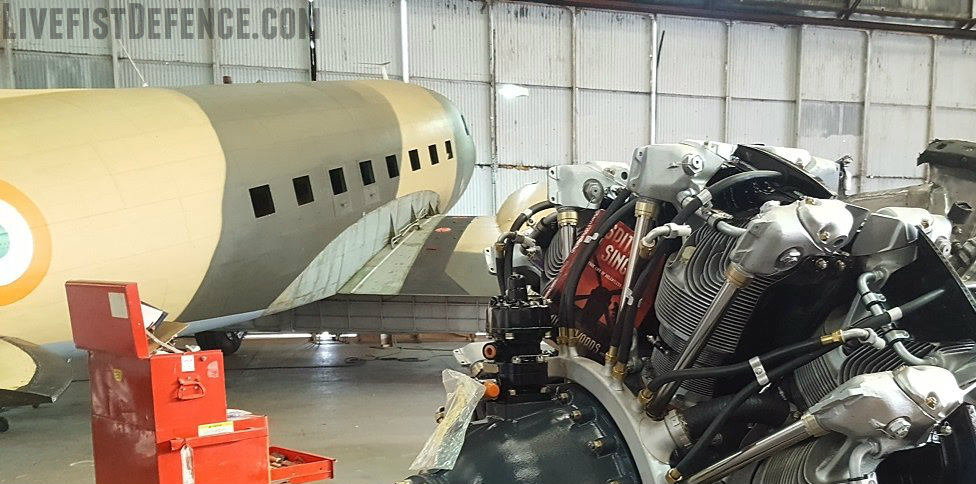 This tantalizing image is from inside a hangar at the Coventry airfield in the U.K. That's the restored DC-3 Dakota about two months ago, now nearing the end of a years-long revival process before it joins the Indian Air Force's vintage flight next year. Mike Edwards MBE, chief advisor to the Indian Air Force on its vintage squadron and currently overseeing the restoration tells Livefist the Dakota's first post-restoration flight in the UK is all set for next month. The Dakota, procured in 2010 by Indian member of Parliament Rajeev Chandrasekhar, is being restored at his expense as a gift to the Indian Air Force (the MP's father commanded an IAF Dakota squadron, though all retired Indian Dakotas have been sold for scrap).
The restored aircraft is likely to undertake an eight-day ferry flight from Coventry to Delhi early 2017 after a series of test flights in the UK.
When initially purchased, it was barely an airframe. The Dakota had a bare metal paint job done in Kemble, UK right after it was procured in 2010, then was flown to Coventry with borrowed, old engines and propellers, Edwards tells me. "In Coventry (with Reflight Airworks who did restoration of the IAF's vintage Tigermoth and Harvard trainer) it has been stripped down with all major 10-year engineering checks done so it is in the best condition to start ops in India without major, deep, engineering work for 10 years (still enough to be done annually though to keep my technicians in Hindon busy!). It will be gifted to IAF early in new year and then we will fly it (about 8 days) to Delhi from UK,' says.
Other aircraft likely to be part of the IAF's vintage flight in the future include a Supermarine Spitfire, de Havilland Vampire and Hawker Hunter.