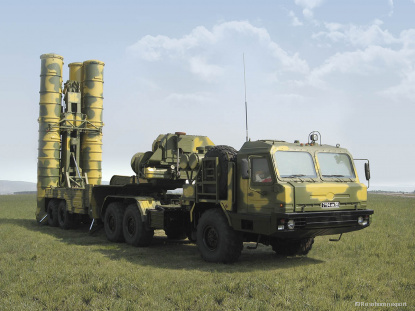 Russia has always openly cocked a snook at American strategic sanctions. So it's no surprise that the chief of Moscow's armament sales & export agency would make light of Trump's season of sanctions in light of a slew of Russian military sales to countries including Turkey and India that centre around the S-400 Triumf anti air missile system.
India has been in negotiations for over two years to acquire the S-400, with a deal expected to be signed during a Modi-Putin summit in October this year. But the fist-thump of sanctions has shaken proceedings enough to afford both some humour and a plea from Moscow to keep the ship steady.
'The US cannot think of anything beyond sanctions. They think of sanctions before they think of breakfast,' Dmitri Shugaev, chief of Russia's FSMTC, which administers arms exports, said to a group of Indian journalists, including Livefist's Shiv Aroor in Moscow.
The humour works to offset the dangerously hard-nosed stakes at play here. But all things considered, Russia is certainly feeling the pressure afforded by the looming shadow of sanctions that hamper contracts that are central to Moscow's vulnerable economy.
When Shugaev was done strafing President Trump's trigger-happy stance, he opened up on where things are at with the deal with India.
"The contract has been finalised almost completely. There can be nuances that may arise before the signing ceremony. But we are confident that it is final. We believe it is logical and natural for it be signed in the upcoming summit. We are not putting pressure on our Indian partners but hope it is signed before the end of the year. It's about production of the system. If contract is signed, will be streamlined with current production. The system is in high demand, therefore production cycles need to be adjusted," Shugaev said.
India's reported decision to additionally acquire the US-built NASAMS air defence system has raised eyebrows over the number of different weapon types it plans to plug into its air defence umbrella, but Russia justifiably sees a clear strategic decision as a threat.
"As for S-400 and NASAMS system integration, the interface is a technical issue we won't delve into. But we don't see a need for procurement of the NASAMS system since India is buying the S-400," Shugaev said.
Amidst the geopolitical quake around India's acquisition of the S-400, and unless a major derailment occurs in the weeks ahead, the $5.5 billion deal should be signed this October.