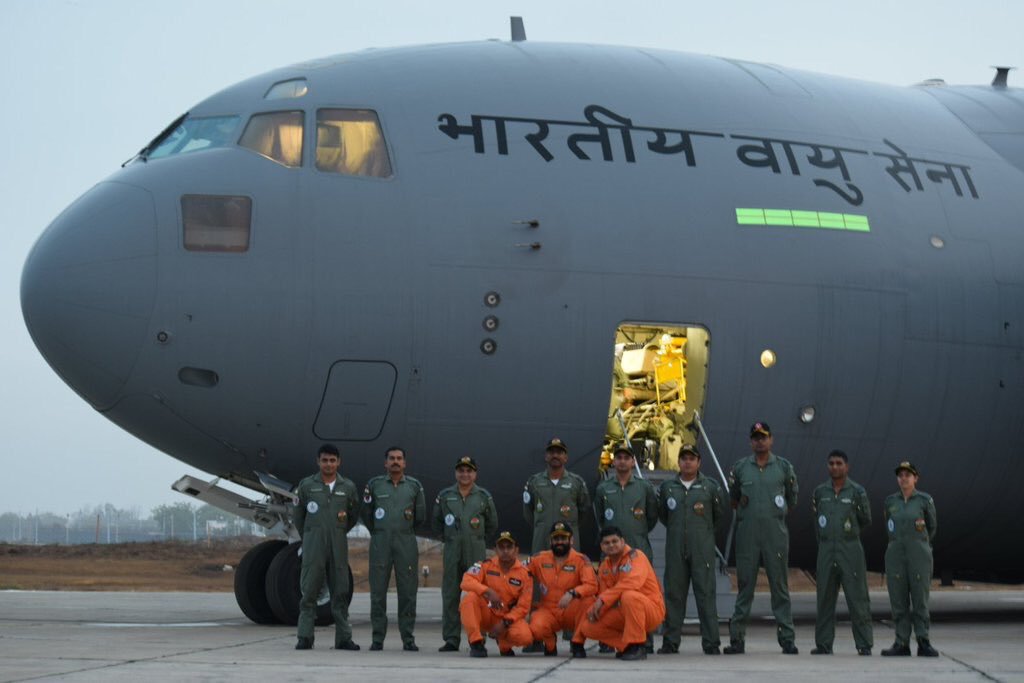 The Indian Air Force will receive its final Boeing C-17 Globemaster III heavylift jet in the third quarter of 2019, sources have confirmed to Livefist, taking the fleet up to 11 aircraft. The last 'white-tail' from Boeing's Long Beach, California facility, is currently being fitted with India-specific systems in San Antonio, Texas, and will join 81 Squadron, 'Sky Lords' in August-September 2019.
India won a scrappy three-way joust against Qatar and Australia to grab the final airframe in March, though the win was still a bitter one — procedural red tap had constrained the Indian Air Force from procuring at least three of the last few jets to roll out of Boeing's now shuttered heavy jet shop. Having to settle for just the one, India will be paying $262 million for the last jet.
Coming as the contract did months before India and the U.S. signed the foundational Communications Compatibility and Security Agreement (COMCASA), the last C-17, like the ten before it, will come without specific pieces of encrypted communication equipment, including the SINGCARS radio system, TACTERM secure voice terminal, and a handful of other pieces of kit. Theoretically, with COMCASA now signed, the Indian government could now choose to retrofit said equipment onto its American platforms should it choose to do so. Livefist can confirm that this remains a possibility on the IAF's C-130Js and, especially its AH-64E Apache and CH-47F Chinook fleets that begin arriving three months from now. The Indian C-17s plug into the U.S. Air Force's Globemaster III Integrated Sustainment Program (GISP) for infrastructure on the move.
While the contract for a single jet has underscored everything that is myopic and wrong about Indian defense contracting, the arrival of the last C-17 will likely only amplify the Indian Air Force's heightened need for such jets. Since they began arriving in June 2013, the Sky Lords squadron has been deployed in all manner of logistical activity. The C-17's unprecedented hauling capacity in Indian service has posed a challenge in terms of efficient use, though the IAF has managed to plug gaps through an incrementally evolved system that sees the C-17s operate frequently with in-service Ilyushin Il-76 jets, C-130J Super Hercules transports and An-32 tactical transports.
A senior Indian Air Force officer at the service headquarters in Delhi told Livefist, "It's a pity we couldn't contract for more of these jets. They've been in service for five years, and we've slowly learnt their true worth. There were hiccups initially, since there were times when the fleet would be engaged quite uneconomically. But that has completely changed now. The logistical flight matrix is still being evolved, but the C-17 has pride of place in the scheme of things. We could have definitely done with more aircraft — at least another squadron."
India is meanwhile looking to take steps forward on a deal to buy and locally build Airbus C-295 aircraft to replace a large number of its old HS-748 Avro transports.