This week, on March 25, Meghna Girish wrote to India's Defence Minister Nirmala Sitharaman. The letter was the latest of several she has written since her Army officer son, Major Akshay Girish of the Army's 51 Engineer Regiment, died fighting Pakistani terrorists in Nagrota, Jammu & Kashmir, in November 2016. Meghna, who has campaigned tirelessly for what she says is the truth about her son's final operation, has been an image of composure and quiet dignity in the media spotlight that has followed her since Akshay's death in the line of duty. But in her letter of March 25, it is clear her collectedness is running out.
'Elections are around the corner and while we hope to see our government back, you may or may not be our Raksha Mantri. I appeal to you not to shatter the faith and trust reposed in you to resolve the long outstanding issue of due justice and honour to Major Akshay Girish. Please communicate your decision before 31st March 2019,' she writes.
The story of Major Akshay Girish has lingered in public memory in the two years since his death on November 2016. For starters, he was killed fighting in the first major terror encounter that followed the Jaish-e-Mohammed terror attack in Uri in September 2016, and India's Special Forces trans-LoC revenge strikes on terror launchpads a few days later. That it was the first big flare-up after India's punitive response on Pakistan-sponsored terrorists drew even more public attention. First, a look at what happened in Nagrota.
At 6.10 am on November 29, 2016 Major Akshay Girish was chosen to lead a quick reaction team (QRT) to fight three heavily armed Pakistani Jaish-e-Mohammed terrorists who had managed to infiltrate the Army's 166 Field Regiment artillery unit in Nagrota. The three terrorists had managed to kill four soldiers on entry and had occupied the residential quarters and officers mess of the unit, putting in danger the families of army personnel stationed there. Over two hours into the firefight, Major Akshay moved into the building around 8.30 am, to attempt rescue of the trapped families. Facing a hidden terrorist at close range, he was hit by multiple bullets, but returned fire for several minutes until a grenade launched from a terrorist's under-barrel grenade launcher, blew up his thighs. His body could not be recovered till late in the evening during combing operations after the three terrorists had been killed.
Despite a certain hostage-like situation, no civilian family members of the Army personnel were harmed in the encounter. The operation ended with seven Army personnel killed, including Major Akshay, in addition to the three terrorists.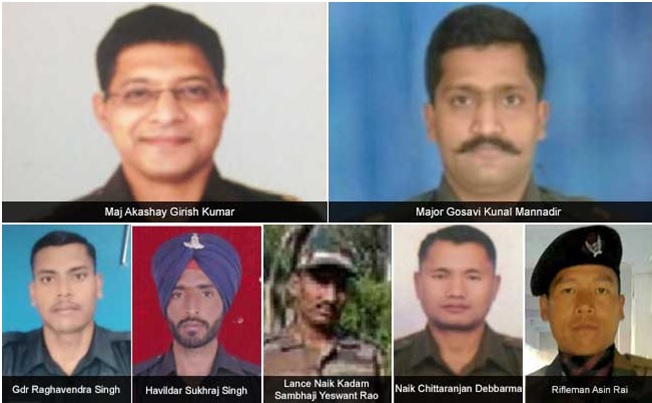 Eight months later, Major Akshay's family would be in for a shock. Informed over the weeks by their son's senior commanders that Major Akshay had been recommended for a Shaurya Chakra, consistent with his 'conspicuous gallantry', on August 15, 2017, the officer was named under 'mention in despatches' (MID), an honour well short of a gallantry award. The officer's mother would go on to express her 'shock and anguish' at what the family felt was a 'highly diluted' honour. On the contrary, the family publicly opined that this was an 'unprecedented denial of due honour to a soldier who gave his all to save precious lives and make his Regiment, Army and country proud', that it was 'morally and ethically, a travesty of justice'.
"Knowing the facts, we could not accept our martyred son's name being associated with a 'mention' that is defined as 'not gallant enough for gallantry award. We would prefer Akshay to be an unsung hero rather than see his courage, gallantry and selfless sacrifice for the motherland being dishonoured in this manner," Meghna Girish tells Livefist. Since August 2017, Meghna and her family have attempted to mobilise public support to seek a review through relevant authorities in government. The following data, highlighting their disappointment over the 'mention in despatches', was also compiled and shared with those willing to listen: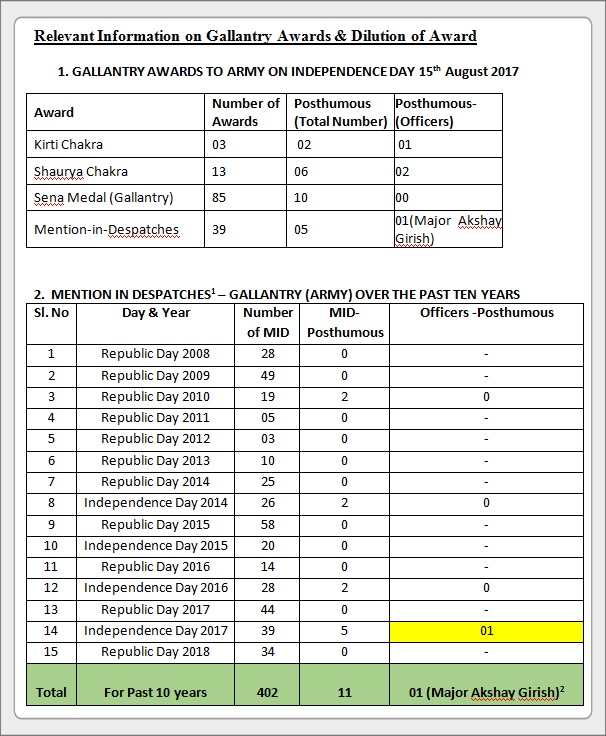 Amidst a fresh media spotlight on the family's anguish, in April 2018 Meghna Girish and her family applied for a review of Major Akshay's honour through official channels. Weeks later, they approached Rajeev Chandrasekhar, Indian member of Parliament and at the time a fresh entrant into the ruling BJP.  Chandrasekhar, who runs the Flags Of Honour foundation that professes to ensure 'our bravehearts are never forgotten', managed to bring the family's case directly to the attention of Defence Minister Nirmala Sitharaman, and got the family an audience with both Minister Sitharaman as well as Army chief General Bipin Rawat in November 2018. On January 3, the Defence Minister made an announcement:
As assured by the Raksha Mantri, a Committee has been constituted with members, inter alia, as suggested by Smt Meghna Girish to look into the supreme sacrifice made by her son Major Akshay Girish. Smt Meghna Girish has been invited to depose before and assist the Committee.

— Raksha Mantri (@DefenceMinIndia) January 3, 2019
It was the breakthrough the family had been waiting for for over two years. Meghna would reply to the defence minister on Twitter, "Thank you Hon. Raksha Mantri for your kind reassurances on concerns. We anxiously await the review by the committee and are hopeful the effective QRT response will get due recognition, as will Akshay's valour and supreme sacrifice that saved many lives in Nagrota."
Meghna would depose before the review committee, providing, among other things, the personal testimony of Army and Special Forces officers who were either involved in or familiar with the November 29 operation in Nagrota. With the permission of officers who had spoken to her, she shared their messages, which included the following piece of text from the then General Officer Commanding (GOC) of the 16 Corps: Major Akshay rushed in to rescue ladies stuck inside the firing zone. He didn't care for this life. He didn't think for his own family, his wife and 18-month-old daughter who were IN STATION at the time, and led his team selflessly to neutralise the terrorists.
Among several text messages and e-mails shared with the review committee is this exchange between Meghna Girish and a Special Forces officer who was part of the encounter: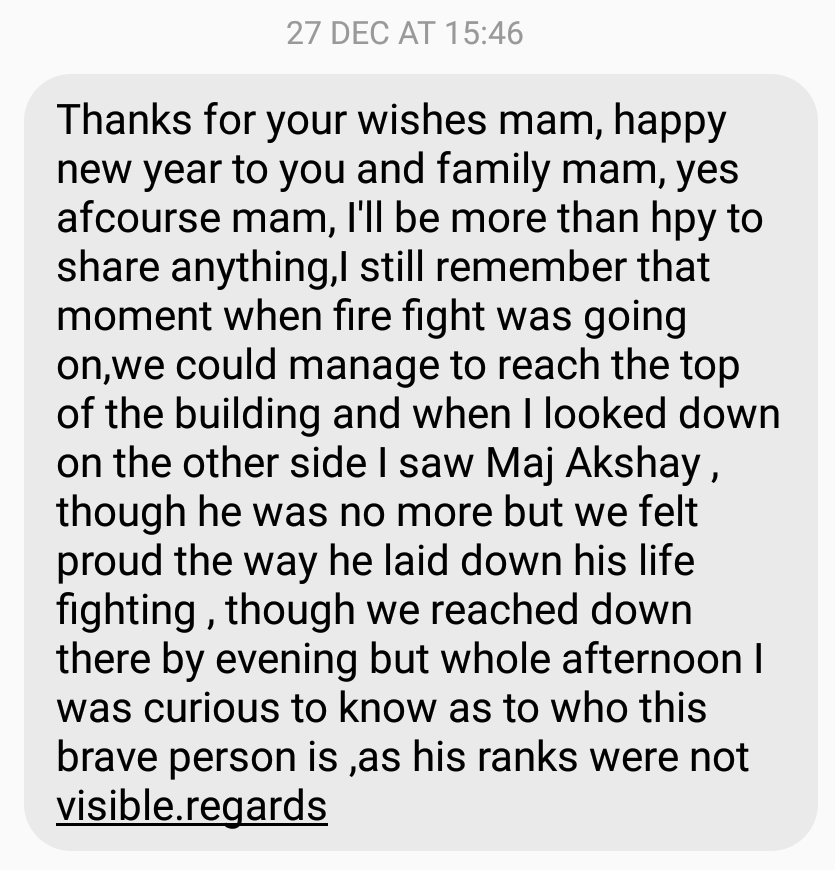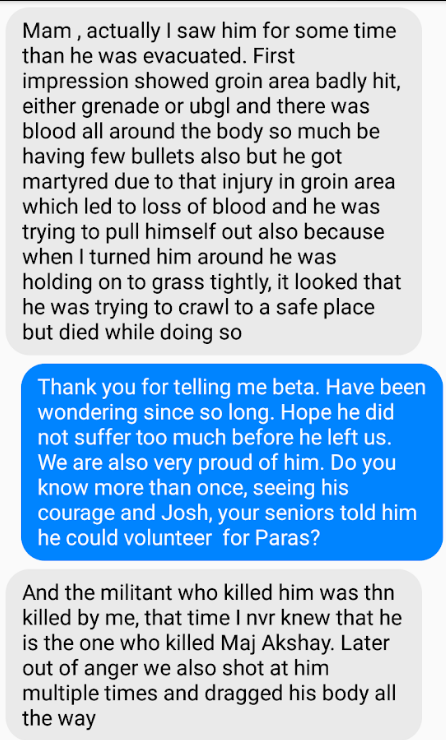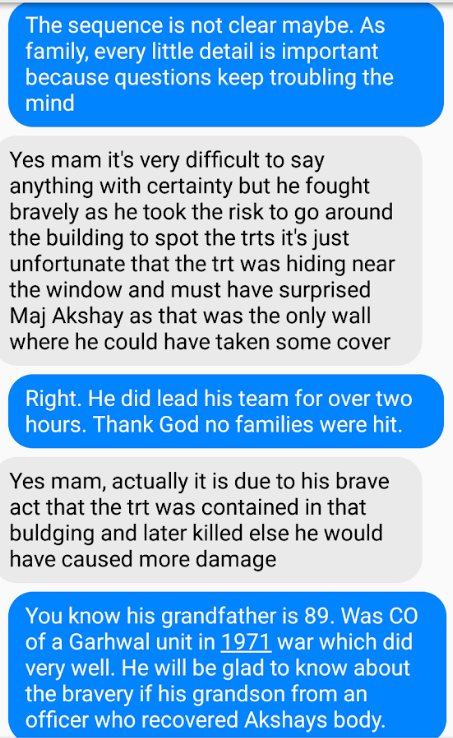 Also highlighted for the review committee was the engraving in Major Akshay's honour at his unit in Nagrota following the operation: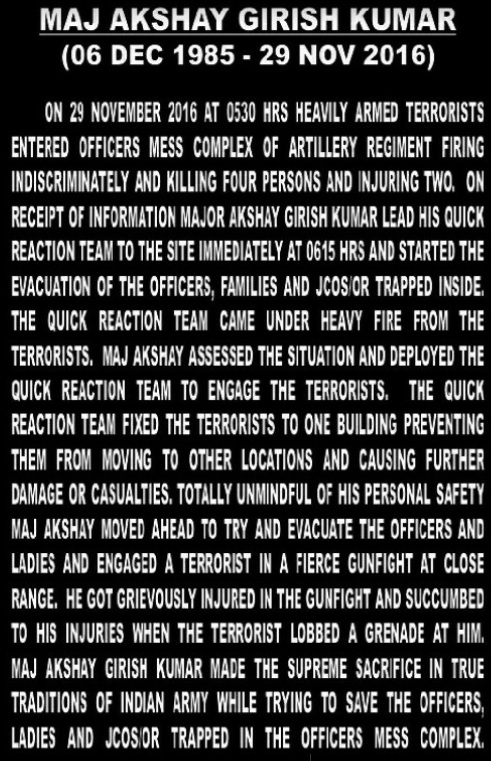 Two months she first deposed, Meghna received word that the review committee had concluded its task and submitted its report to the defence minister's office. On March 17 this year, Meghna would tweet, "Hoping and praying for anguish at this terribly long delay to be mitigated this week. A family needs closure. Cannot explain the pain."
It was after a series of reminders to the Ministry of Defence this month that Meghna and her family decided to write directly to the Defence Minister again. In the letter, she writes:
The issue of review for corrective action was taken up through the official system and has been with you since April 2018. After the meeting with you and the Chief of Army Staff on 15th November 2018, you reassured us of a timebound review and resolution. The process of review has been completed in early January by a Court of Inquiry and despite numerous requests and attempts for your decision, there has been no communication from your end. Akshay did not fail the nation. The nation seems to be once again failing a brave soldier son. Our stand has been consistent. We did not and cannot accept the unprecedented dilution of 'Mention in Despatches' which dishonours Akshay's courage and supreme sacrifice for India. Akshay needs no award and his family needs closure on this issue. Please withdraw the Mention in Despatches though Gazette notification without any further delay and communicate the same to all concerned.
Meghna believes a rightful honour that had been recommended for her son was waylaid over embarrassment within the Army that the Pakistani terrorists even managed to infiltrate the unit that November morning, coming as it did exactly two months after the post-Uri surgical strikes. But she believes otherwise:
"Akshay and his team ensured no hostages were allowed to be taken,' says Meghna. 'ALL the 16 people (2 women, 2 children and 12 unarmed men) who were trapped by the terrorists were saved unharmed. The three heavily armed Pakistani terrorists were pinned down to one location and subsequently killed. Collateral damage to assets in the camp was prevented. A bigger tragedy and embarrassment to our Army and country was avoided by courage, valour and sacrifice. I pray that the system of awards is made much more efficient and accountable as many within the services feel and say not all deserving soldiers are awarded. No one should have to go through such anguish after terrible loss of a brave loved one. Why he was first let down after being recommended for a Shaurya Chakra right through till the final list was announced, and why a process of review and resolution should take so long to bestow deserved honour, is beyond everyone who knows what happened."
A grievance registered with the Prime Minister's Office (PMOPG/E/2018/0191511) continues to show that the request is 'under process'.
The issue is a highly sensitive one. On the one hand is a family that has managed to mobilise public sympathy and keep the spotlight on a young office who died fighting terrorists. Many within the army sympathise deeply, but don't fully endorse any kind of mobilisation for operational honours — mostly because of the repercussions and cascading effect it can have on other operations and the precedent it might set. On the other hand is a system that has its own priorities, pulls and pressures — and the question this case raises on due process, procedure and the raising of hope.