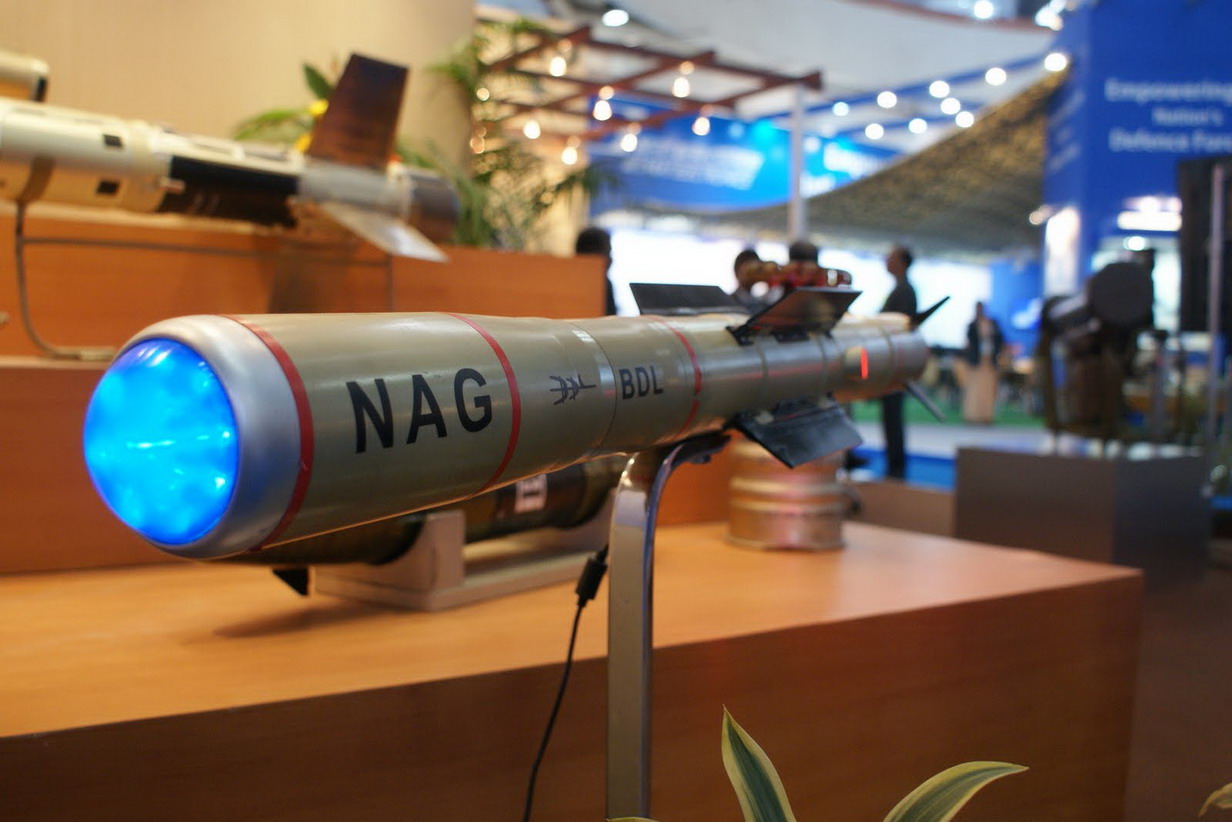 The Indian Army will shortly begin inducting its first indigenously developmet anti-tank guided weaponry. The Ministry of Defence today cleared a $70 million for 300 Nag missiles and 25 modified BMP-2 'NAMICA' carrier vehicles that will deploy the munition. For the Indian Army, which has operated off a staple of  license-built Russian Konkurs and French Milan anti-tank missile variants for decades, the inbound Nag is a major milestone.
In a statement today, the MoD said, "In a boost to indigenisation and in realisation of India's growing technological prowess, the DAC approved procurement of Defence Research and Development Organisation's (DRDO's) designed and developed NAG Missile System (NAMIS) at the cost of Rs 524 crore. The system includes a third generation Anti-Tank Guided Missile, the NAG, along with the Missile Carrier Vehicle (NAMICA). The NAG missile is a third generation anti-tank guided missile, which has top attack capabilities that can effectively engage and destroy all known enemy tanks during day and night. This will give a quantum boost to the Army's capability against enemy armour."
In an exclusive comment to Livefist, Dr S. Christopher, chief of India's Defence Research & Development Organisation which has developed the Nag weapon system, said, "The twists and turns the program has taken are part and parcel of R&D. Thanks to our colleagues in the army, they pushed us a lot, and that has resulted in us getting the best out of the weapon."
The Nag's development has been typically troublesome, with the most recent hurdles accumulating around seeker performance in the extreme temperature conditions of India's desert sector where the missile has been trialed for years.
Speaking of the challenges during trials that have kept the Nag for years in a seemingly endless loop, Christopher said, "In summer, there tank engine heat versus environment heat in a desert setting. Engine heat is hardly above that especially when switched off. It was difficult, we were pleading saying that our technology needs two degrees temperature differential. We especially had a critical problem around mid noon, from 11am to 3pm, because sun is very high and ambient temperatures are at their peak. The Nag's range at this time was seen to fall by a few hundred meters to 3.2 km as against 4 km. In winter, there was no such problem."
A new indigenous seeker that has been fielded in Nag trials over the last 18 months has evidently solved the problems bedeviling tests.
The Indian Army is currently looking to upgrade nearly 700 BMP-2 infantry vehicles, with integrated anti-tank guided missile systems. The Army is also reported to be near concluding a deal for Israel-built RAFAEL Spike anti-tank missiles for infantry battalions.