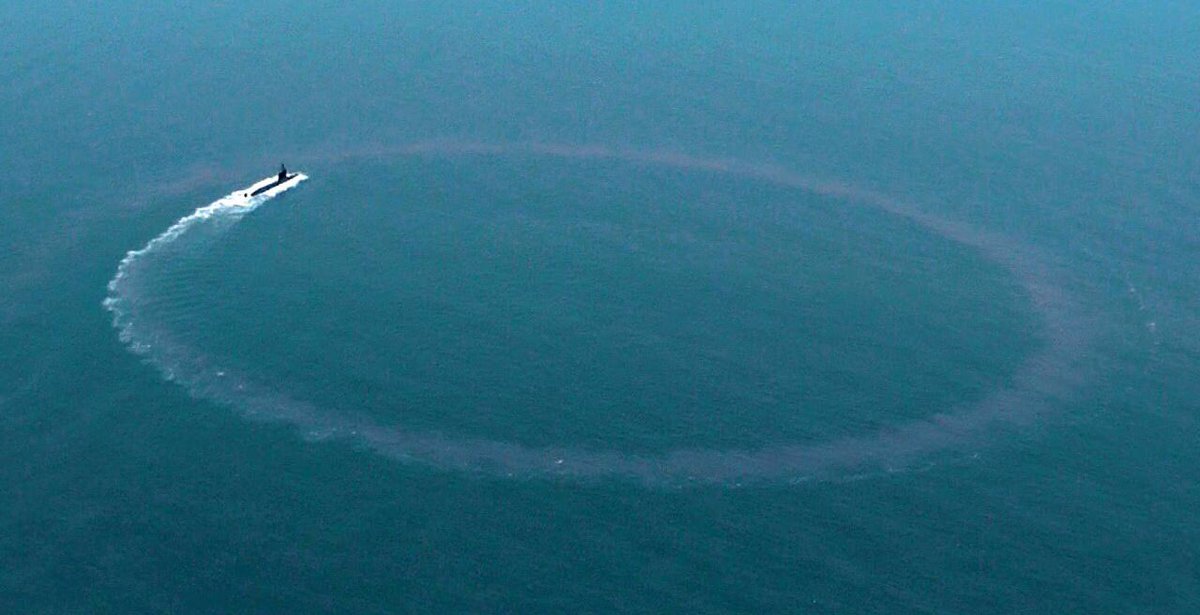 On Tuesday morning, several Pakistani mainstream news agencies put out footage shared with them from the country's military, claiming to be the sighting of an Indian Navy submarine on Monday night. In the sort of typical braggadocio that has come to colour claims of defensive actions from Pakistan's side, the video was accompanied by the suggestion that Pakistan had somehow 'thwarted' the Indian Navy submarine's attempts to intrude into Pakistani waters. The video began with stock footage of the Indian Navy's Scorpene-class submarine INS Kalvari, followed by what appeared to be infrared video of a snorkeling submarine, likely taken from a maritime patrol aircraft, possibly a P-3 Orion.
The Indian Navy hasn't officially reacted to Pakistan's claims, but three possibilities emerge, so let's look at them once by one.
POSSIBILITY 1: The video is authentic in all respects
If the video is authentic in all respects, and the embedded data in the video is accurate, then the submarine was 'spotted' anywhere from 200-250 km off the coast of Karachi and about 175 km from Gwadar — well within international waters. This would also put the submarine somewhere between 500-600 km from its home base in Mumbai, with no technical reason for it surface. The only possibility in these circumstances, then, is that the crew of INS Kalvari wanted to be seen. In the current atmosphere of military hostility between India and Pakistan, it isn't beyond the realm of possibility that psychological warfare, power projection and maritime mindgames could be at play. Pakistan's sensitivity over an Indian submarine 'spotted' well within international waters where Indian submarines routinely prowl could be indicative of just how on-edge things are between both countries.
POSSIBILITY 2: The video is old and doctored
In November 2016, the Pakistan media broadcast a similar video claiming to be an Indian submarine spotted near Pakistani waters. Several Indian media have highlighted the similarity in the videos, even going so far as to categorically state that today's video has been recycled from 2016. If true, this wouldn't be much of a surprise either. The claimed 'sighting' of the Indian submarine comes right after a non-stop cycle of military offensive actions by India against Pakistan-based terror sites, aggressions and apparent snooping attempts. The claimed 'sighting', for instance, came just hours after an Indian Air Force Su-30 MKI jet shot down a Pakistani reconnaissance drone near the international border across from Rajasthan, and a week after Indian Mirage 2000 jets conducted the country's first ever bombings of targets inside Pakistan. The air strikes had sparked a bout of aerial warfare that resulted in an Indian MiG-21 pilot captured after his aircraft was shot down (he himself is said to have shot down a PAF jet too), only to be repatriated to India barely 48 hours later. With sites bombed, a fighter shot down and two drones destroyed in the air in a span of 7 days, Pakistan is likely feeling the domestic heat. In that context, a piece of recycled footage to boost morale and project power against an external 'aggressor' isn't hard to understand.
Veteran submariner and the Indian Navy's former Eastern Command chief Vice Admiral A.K. Singh says, "It's definitely fake. The Pakistanis seem to be using recycled November 2016 footage. Expect more fake news as Pakistan attempts to divert international attention."
POSSIBILITY 3: The video is authentic and the Indian Navy submarine was forced to surface
This is very unlikely. While the Indian Navy has made no official statement — and is unlikely to say anything specific about submarine operations — sources tell Livefist the INS Kalvari has been on routine operations for days and remains at sea, with no record of any trouble forcing it to surface for any reason. If indeed it has been spotted at the surface, then sources say Possibility 1 noted above is the likely explanation.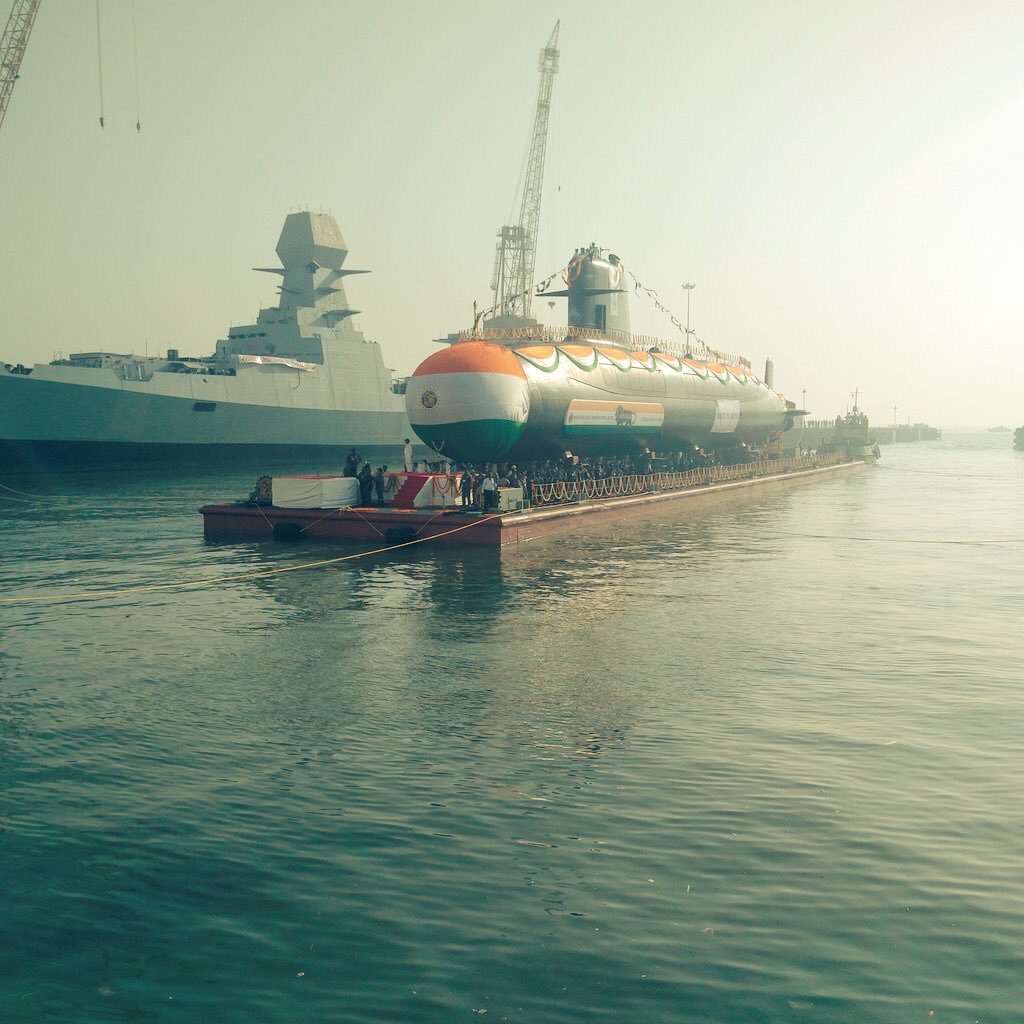 The Indian Navy currently operates one Scorpene-class submarine, INS Kalvari, with the second INS Khanderi to join service next month. Four more will be delivered from 2019-2022. The navy is also in the process of putting its Kilo-class submarines through refit.
After the Indian Air Force air strikes in Pakistan's Balakot and the Indian Army responding to near uninterrupted ceasefire violations with mortars by the Pakistan Army across six sectors on the Line of Control that separates Jammu & Kashmir and Pakistan-occupied J&K (PoJ&K), the spotlight on an Indian submarine makes the current stand-off a proper tri-services affair. Earlier, then Indian Navy strategically paused its TROPEX exercise following the Pulwama terrorist attack on February 14.
Earlier today, Indian Navy chief Admiral Sunil Lanba, speaking at the Indo-Pacific Regional Dialogue, made a significant claim, saying, "You have all witnessed the horrific scale of the extremist attack in the Indian State of Jammu and Kashmir just 3 weeks ago. This violence was perpetrated by extremists aided and abetted by a state which seeks to destabilise India. We also have reports of terrorists being trained to carry out attacks with varying modus operandi including through the medium of the sea."
UPDATE @ 18.04
The Indian Navy has made a statement on the Pakistan Navy's claim: Full text of statement:
"As was stated during the Joint Press Conference on 28 Feb 19, the Indian Navy remains deployed as necessary to protect National Maritime Interests. Over the past several days, we have witnessed Pakistan indulging in false propaganda and spread of misinformation. The Indian Navy does not take cognizance of such propaganda. Our deployments remain undeterred."