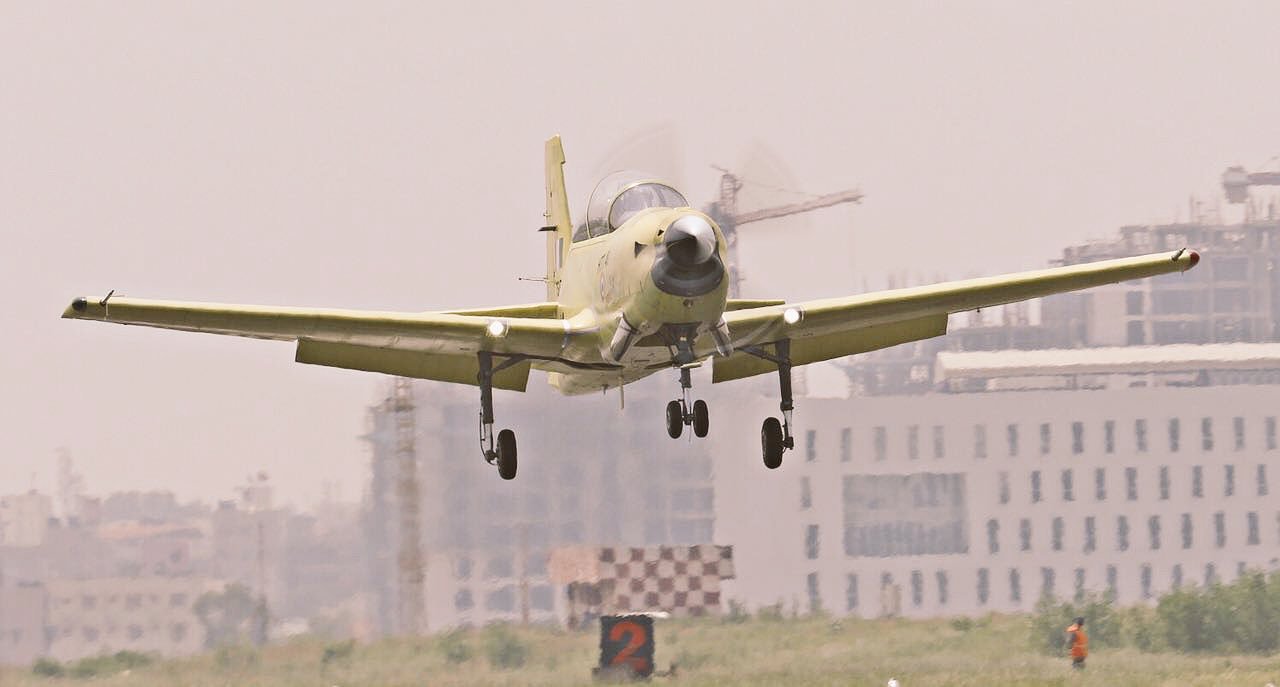 It's prized HJT-36 intermediate jet trainer in the doldrums after failing to prove capable of stall-and-spin maneouvers (and forcing the Indian Air Force to consider reformatting its training curriculum) India's Hindustan Aeronautics Ltd (HAL) is looking to pre-empt similar damage on its newest fixed wing in the skies, the HTT-40 propeller trainer, which made its first flight last year and is looking to complete certification in two years. Looking to meet an order of nearly 200 aircraft to meet an expansive Indian Air Force & Indian Navy basic training requirement, HAL has officially accorded priority to stall/spin trials on the HTT-40.
Earlier this month, in an announcement of its interest, HAL has laid bare the urgency of integrating an Anti-Spin Parachute System (ASPS) on the three planned HTT-40 prototypes, a certain indication that it is wary of what happened with its HJT-36 programme. In its invitation to global firms, HAL says:
"Considering the strict time lines HAL has committed itself for certification of the aircraft, the design team recognizes that stall/spin flight trials are to be taken up on priority. However, it is a mandatory requirement from certifying agencies that prototype aircraft should be fitted with anti-spin parachute system (ASPS) before stall/spin flight trials are undertaken. In this respect HAL is considering engagement of an OEM to design, develop and install the entire suite of components required for anti-spin parachute system in the shortest possible time. Broad technical specifications are given in Annexure-1, which can be jointly finalized after results of rotary balance tests at Onera, France."
Wind tunnel testing of the HTT-40 at the Onera aerospace laboratory in France is currently underway, and HAL will be looking to speed things along for good reason — the airframer has committed to certifying the HTT-40 with three prototypes by the beginning of 2018 to begin deliveries possibly later that year to the Indian Air Force. It is imperative for HAL to test the prototypes with the ASPS before series production begins.
A senior HAL manager told Livefist, "There is no question of any delays in this programme as it pertains to basic training, for which there is no replacement. It was possible to make alternative arrangements for Stage-II training, but nothing can replace ab-initio part of the curriculum. HAL has no choice but to ensure it meets the timelines and proves all safety and recovery capabilities within that timeframe. It will be a blow to customer confidence if that is not achieved."
Intermediate (or Stage-II) training, the first jet training that pilot cadets undergo in the Indian military flying curriculum, is all but dead (This despite an irritated IAF in 2014 publishing interest in acquiring an intermediate jet trainer from abroad). A combination of factors — chiefly the failure of HAL's HJT-36 to prove itself and become available on time — has compelled the Indian Air Force to rejig the time its pilots spend on types, now dividing that time between the PC-7 Mk.II propeller trainers for basic and intermediate flying and the Hawk Mk.132s for lead-in training.