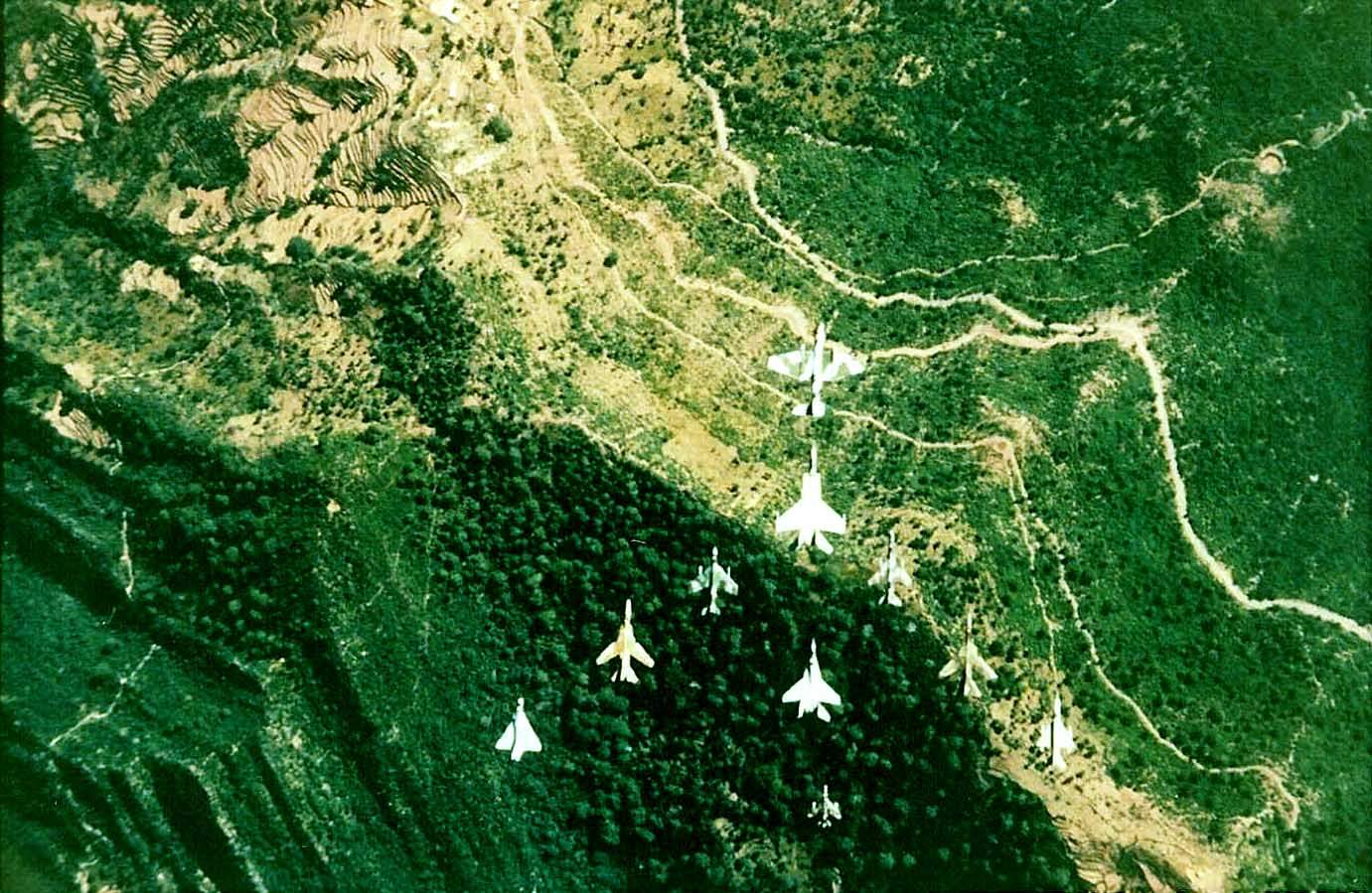 This rare photograph from 1987-88 has just emerged online. From a rare series of pictures taken over two days during a 'mammoth formation' of the Indian Air Force flying from the Ambala air force station that year, the series featured in journals and coffee table books at the time, though for some reason haven't been seen often anywhere else.
Vishnu Som, aviation watcher & Defence Editor with NDTV, says, "An incredible image from the eighties shows an IAF in transition with the induction of the fly-by-wire Mirage 2000 and the MiG-29, both among the finest air superiority fighters of their time."
The image, whose photographer remains unknown, but could possibly be Peter Steinmann, has the following aircraft: Centreline: Canberra, MiG-25 Foxbat, MiG-29 and Gnat/Ajeet. The left wing has a Hawker Hunter, MiG-23/27 and a Mirage 2000. The right wing has a Jaguar, MiG-23/27 and a MiG-21 — all active aircraft at the time. Half of the aircraft in this picture are no longer in service: the Ajeet, Hunter, MiG-25, MiG-23 and Canberra.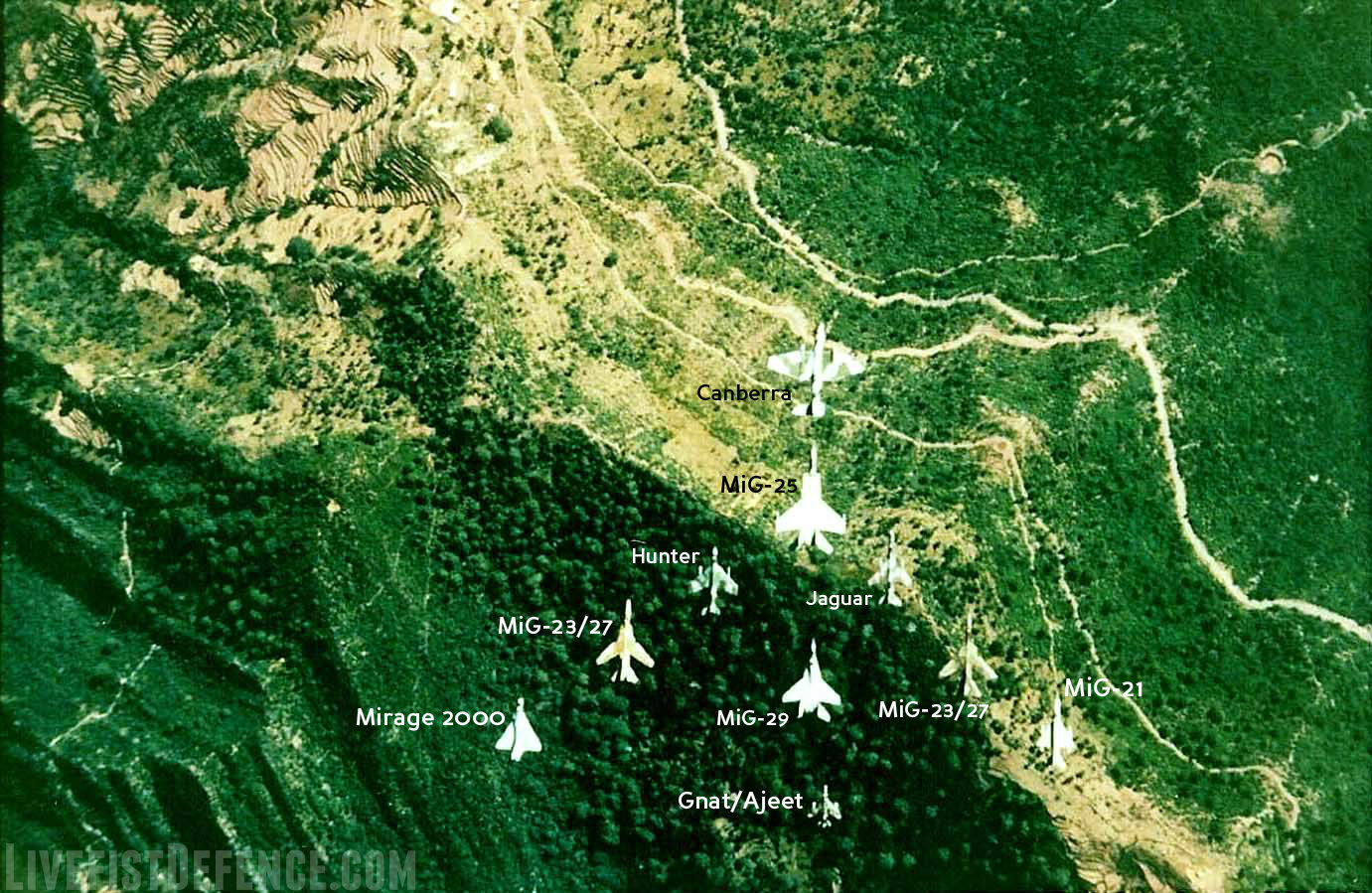 Today's mammoth formation would likely sport a centreline formation of a Su-30 MKI, MiG-29UPG and HAL Kiran, with a left wing formation of an LCA Tejas, MiG-27 and Mirage 2000, and a right wing formation of a Jaguar, Hawk-132 and MiG-21.
[UPDATE @ JULY 26] After reading our post and looking at the picture above, IAF veteran & former fighter pilot Air Marshal Anil Chopra (Retd.) sent Livefist this wonderful from the same mammoth formation captured above. The pictures are from a coffee table book commissioned by former Chief of the Air Staff, Air Chief Marshal S.K. "Polly" Mehra.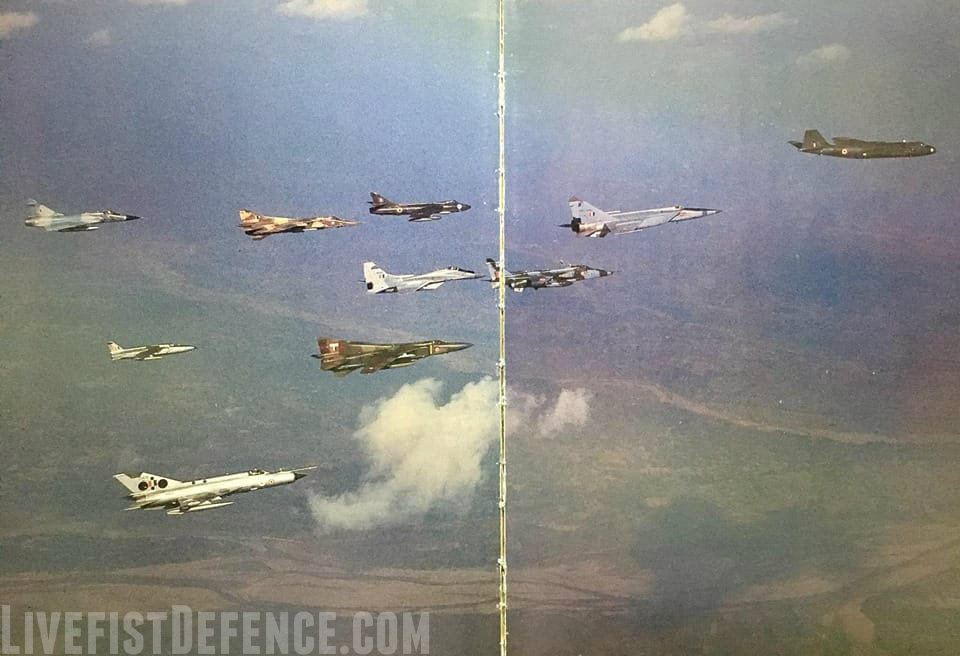 "The Indian Air Force showcases its Air Power through Fleet Reviews, Fire Power Demonstrations. Republic Day and Air Force Day fly pasts. It also does that through coffee table books that record pictorial history. The first modern coffee table book was published in 1990 during tenure of Air Chief SK Mehra. Peter Steinmann was tasked to take aerial shots. Many pictures were taken by IAF crew. The pictures for the book were shortlisted from nearly 8000. Mr Pushpiinder Singh of Vayu Aerospace was closely involved. This picture was reportedly taken from a Canberra aircraft and was one of the double spreads. Historic," says Air Marshal Chopra.
The IAF pilot flying one of the photography missions that led to the above series of photographs has written in to say, "The gathering base was Ambala, the AOC was (Late) Kaddu Kapila and the COO (if memory serves me right) was Bhoji. The famous aerial photographer was Mr Peter Stinemann (an Austrian citizen) was to take the pictures and the famous coffee table book was to be compiled. The photographic media was FILM cameras. Digital had not yet hit the scene. I was commanding 16 Squadron (Cobras) in Gorakhpur. I was happily flying, doing a dual check, when I was unceremoniously summoned and straight to the AOC's office. To the best of my knowledge, neither I or any of the Cobras had pulled any blacks. Jeff D'Souza was the AOC and he told me to take same Trainer that I was flying and haul my a**e to Ambala place my myself under the control of AOC Ambala. The purpose, he told me I would get to know when I reached Ambala. Time frame was ASAP. As a parting shot (as I was leaving his office) he said that he had told my wife, Nina, to send some clothes and a toothbrush. On reaching Ambala, the AOC (Kaddu Kapila) told me "Buddy we are going to chase MAMMOTH". That had me floored. That was the name of this famous formation. We did one sortie on 10 October and two on 11 October. A PR Canberra (I think) was doing the photography. On 12 October, I got airborne with Peter Stinemann in the back seat and we went over the snow capped Himalayas and he had a ball taking pictures of various aircraft, all of them in vics of three, who flew in and we did the filming. We landed in Adampur and I ejected Peter and got back to Gorakhpur. So, that is the story. Mammoth was 10 ship formation gathered at Ambala for the coffee table book."
In related news, the team that refurbished a World War II DC-3 Dakota for the Indian Air Force is exploring the possibility of reviving an old Canberra airframe for the IAF's vintage squadron. As Livefist has reported before though, plans on additions to the IAF's vintage flight are already hamstrung by budgetary constraints, so the prospect of another 'gift' to the air force would likely play well. Mike Edwards, who led the Tiger Moth, Harvard and Dakota refurbishment programs tweeted earlier today:
Working with @rajeev_mp on next gift to IAF Vintage Flight. Canberra types served in IAF 1957 to 2007. Battle of Badin, Kargil, and UN roles. Last flying example if interest from IAF. @IAF_MCC @vayusena @Chopsyturvey @livefist @rhinohistorian @zone5aviation pic.twitter.com/hJCMcKOr2A

— Mike Edwards (@MikeEdwardsMBE) July 25, 2018
We'll be updating this post with more details.