After a decade spent in increasingly confounding uncertainty, the Indian government has finally accorded final clearance to a deal for Rafale fighter planes, a contract that has obtained mythical status for its relentless elusiveness — a rival vendor once described the deal as signature-proof. With India's Cabinet clearing the €7.87 billion deal with France, a contract is all set to be signed this Friday. A search for they keyword 'Rafale' on Livefist gives you a sense of just what a shaky ride it's been. Livefist, which launched a few months after the Rafale was formally fielded by France in India's erstwhile M-MRCA jet contest, has tracked every aspect of the campaign — going on to scoop India's final selection of the Rafale in the competition in January 2012. Since then, it's been over four years of brutal negotiations, friction and a great deal of hard-nosed diplomacy across two Indian governments that has resulted in final approvals today.
Not until price negotiations ended successfully in April this year was it actually truly certain that the deal would go through. France held out till the end, as did India's team of MoD negotiators. Finally, it has been reported, India managed to shave a pretty ample €510 million off the package France put on the table. In the words of an officer familiar with negotiations, "The French don't give away anything during negotiations. One never fully knew what they thought when we made a counter on any subhead. In the end, it was a multi-pronged effort aided by a diplomatic push."
India, which had been tipped to be the Rafale's first export customer, no longer will be. But the Rafale it has chosen will contain a large number of country-specific enhancements. Here's how the deal value breaks up: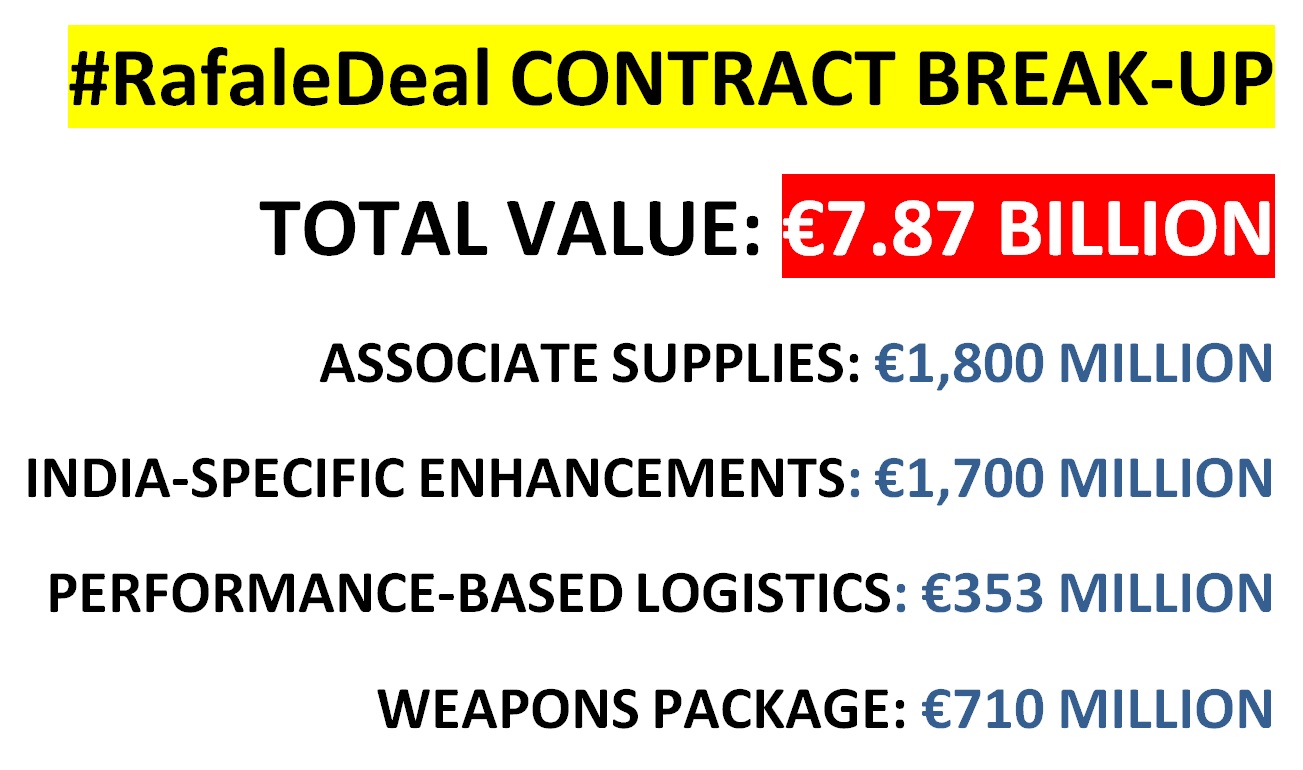 The weapons package will contain the MBDA Meteor BVRAAM missile — a detail that wasn't conclusive until last week, and has been correctly interpreted as a game-changer in the region. The Rafale is a formidably advanced jet, and India will arguably be getting finely tuned airplane to meet an urgent requirement of modern combat fighters. But that doesn't mean the turbulence is over. The Rafale deal has engendered a lively and aggressive debate over whether India should be forking out so much budget on a deal that will finally only fill up a couple of squadrons. The Indian government and IAF have managed to work their way around similar concerns from within the establishment — particularly the Finance Ministry — that threatened to kill even after Prime Minister Modi's assurance in Paris in April 2015 that India would buy 36 Rafales, all built in France.
Much has been said and written about the Rafale. Livefist is about as old as the Rafale's decade-long zip through Indian contracting airspace — a mere moment compared to how a handful of other Indian deals have played out (ask the folks at BAE Systems about the original Hawk deal). But the truth is this: India's first fighter deal in two decades is no small affair. How the Rafale meshes in with Indian Air Force service when deliveries begin 36 months from now will be deeply interesting. The IAF has had a warm affair with its French-built Mirage 2000 jets and has already made known its views on the Rafale. The months and years ahead promise to be more tantalizing than the last decade has been. And that's saying something.