The Indian government has taken the first step in its latest effort to buy and build new fighter jets in country. The government today published an expected global request for information (RFI), alerting aircraft manufacturers that include all of the six firms that competed for the erstwhile Medium Multirole Combat Aircraft (MMRCA) contest. The MMRCA, a contest for 126 fighter jets, collapsed without result, was scrapped and replaced with a 2016 contract for 36 Rafale jets. The new contest that tentatively begins today will see the Rafale tentatively compete once again against the five aircraft it faced off with in the MMRCA contest.
With the cancellation in February of India's proposed single-engine fighter contest, this new prospective competition could pit single and twin engine jets once again at each other. The government stipulates that 85% of the 110 aircraft need to be built in India with a strategic partner, with a total of 75% of the aircraft to be single-seat jets.

To be sure, this RFI document is an all-too-familiar first baby step towards what promises to be a complicated process that remains bereft of clarity on the path forward. If you're looking for the state of play amidst the mess of questions choking India's endless effort to buy or build new fighter jets in the country, we said what we had to here. Probably reflecting the Indian government's need to keep things open, the RFI is expectedly a broadstroked document with a few specifics. Sample this on the jet's intended roles: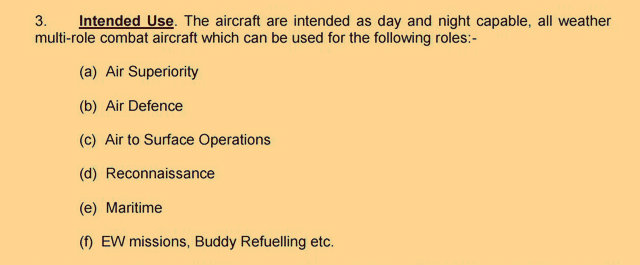 An interesting page in the RFI is this one that hasn't figured in earlier documents released by the Indian Air Force, depicting desired performance parameters on a typical mission profile: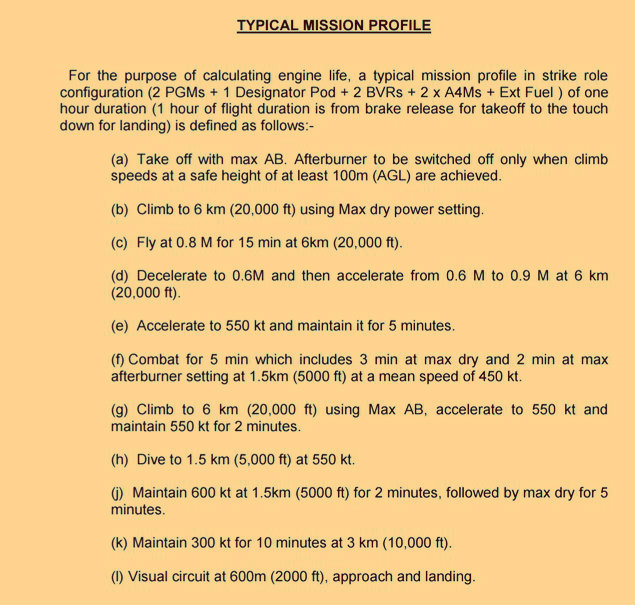 Expect the original pack of six that competed for the MMRCA to field their wares — albeit with variant tweaks — in this new prospective contest, that doesn't yet have an official title. Boeing F/A-18 Block III Super Hornet, Lockheed-Martin F-16 Block 70, Saab Gripen E, Dassault Aviation Rafale F3R, United Aircraft Corp. MiG-35 and Eurofighter Typhoon. While the strategic partnership model makes it incumbent on competitors to lock relationships with Indian firms — and all of them have — it remains unclear if India's state-owned Hindustan Aeronautics Ltd. will be eligible for consideration as an Indian production partner.