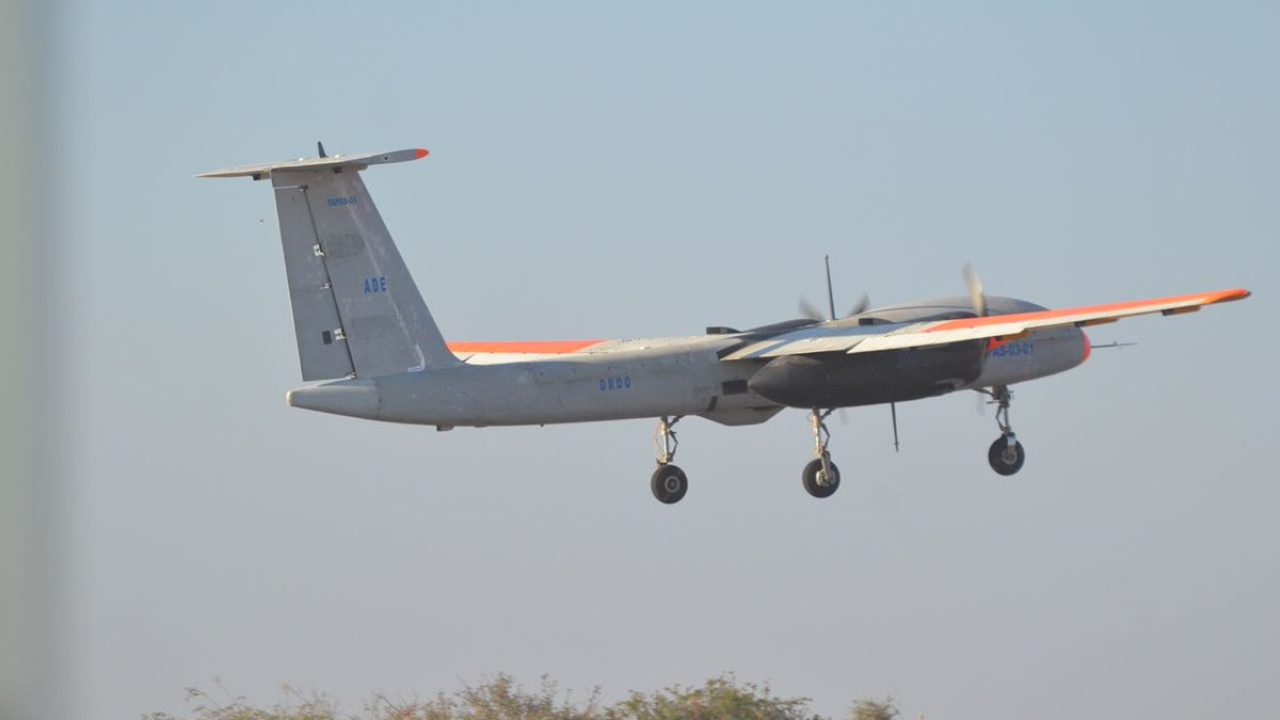 The bloodletting over India's next piloted fighter has become a show staple at Aero India, and this year wasn't going to be any different. From the world's largest aviation and defence manufacturers sparring on social media, to an underdog resurrecting its presence with an unusual media blitzkrieg, the big focus at Aero India 2019 was always expected to be India's biggest and most ambitious defence procurement venture. But tucked away in a corner of the sprawling courtyard between the display halls, almost demurely out of plain sight, is an aircraft that is not only already built in India, but will be in the hands of the armed forces in less than eight months.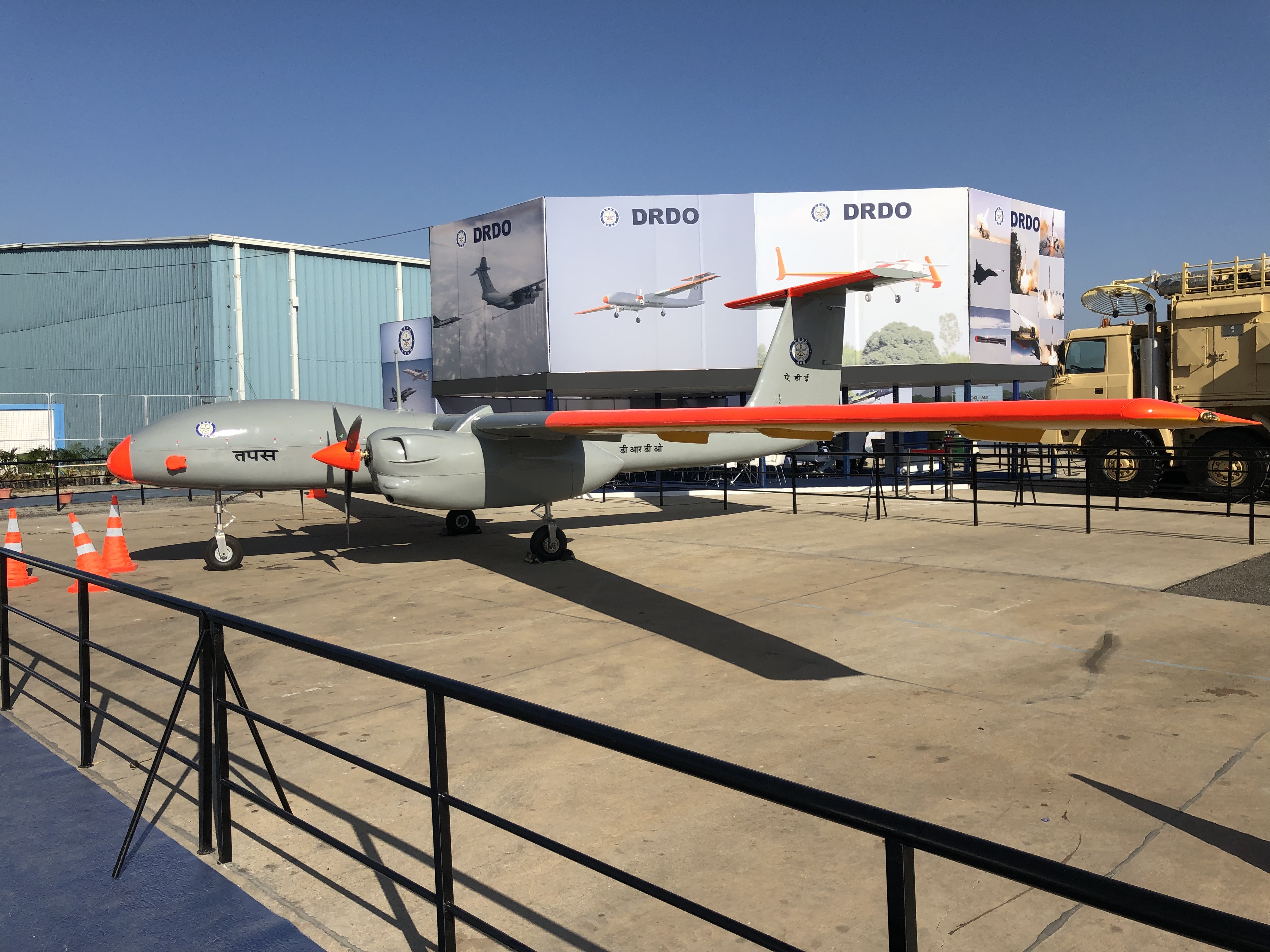 With 53 flights across six airframes at a sprawling 2,600 acre aviation test facility in Chitradurga test facility about 200 km from Bengaluru, India's high performance Rustom-2 drone, designed to remain in the air for up to 24 hours, will be officially handed over to the Indian Air Force, Navy and Army this October for a crucial six month user trial phase that will stretch till March 2020.
Specifically developed for medium altitude lone endurance (MALE) flight, the Predator-sized drone is being developed in two specific variants — a standard surveillance model sporting an electro-optical payload with synthetic aperture radar for the Army and IAF requirement, and a naval variant that comes fitted with a maritime patrol radar. Livefist can confirm that air force and army drone pilots are already at Chitradurga getting a feel of the Rustom-2 before user trials kick in later this year.
The Indian armed forces currently operate the Israeli IAI Heron for long endurance drone duties both over land and sea, and has recently contracted for more, including an armed version. The Rustom-2 will mirror the Heron's capabilities in many ways — while Indian sensor systems are under trial, the test airframes of the Rustom-2 all use Israeli electro-optical systems for the development phase. These will be progressively replaced with Indian systems when ready.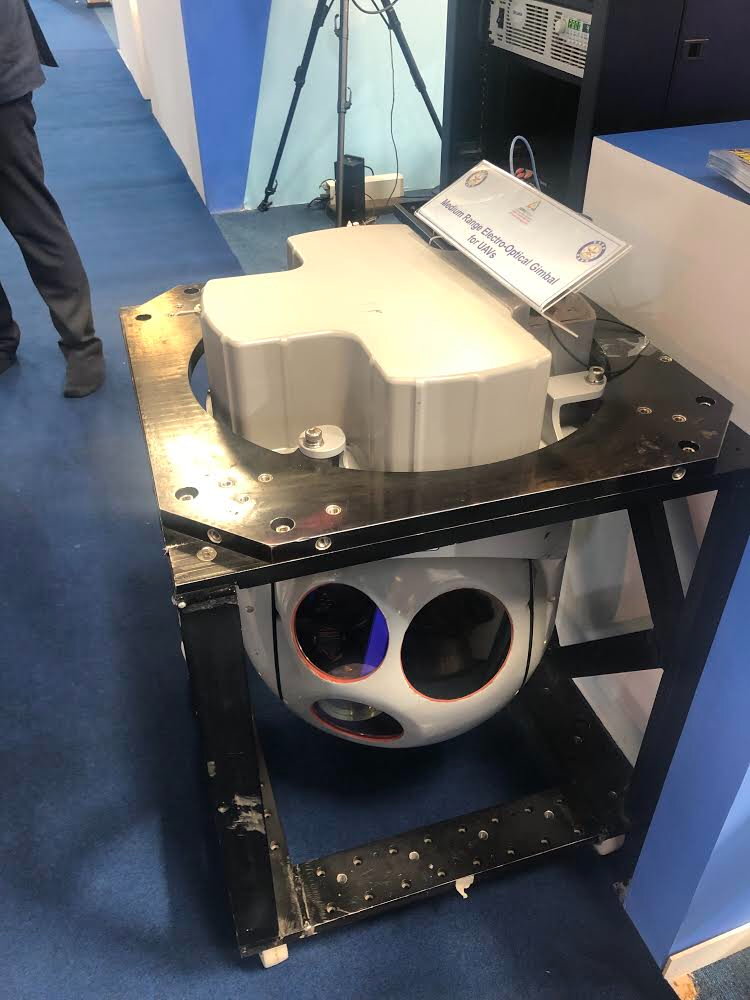 The Rustom-2 is currently capable of operations up to 300 km away from its control center with UHF and C-band links, and much longer away with SATCOM, still under test. Data links have proven — and will prove — to be the greatest challenge facing the Rustom-2 program in the journey to opening up its full stated potential. The user trials will involve rigorous testing of the drone's long range autonomous flight over land and sea. Livefist can confirm that the drone has so far had flights with a maximum endurance of 16 hours, though this was only owing to test requirements — the 24 hours endurance parameter is a given.
The Rustom-2 comes up at a time when India has been cleared to procure 22 General Atomics MQ-9B SeaGuardian/SkyGuardian surveillance drones for the Indian Navy, with the Trump Administration also expected to clear India for a sale of Avenger armed drones. While pressure from the United States is high to complete a sale quickly, it isn't likely to happen before next year.
The armed forces believe there is more than enough place for both ready, high performance drones from abroad, as well as the progressively improved, low-risk Rustom-2 that can be procured in large numbers and deployed across the country. The services believe that it is crucial for the country's 'drone dependence' — as they put it — is decreased, especially since future capabilities of such platforms will necessarily need to stretch into signal intelligence and communication intelligence (SIGINT/COMINT) territory. In October a complex journey begins to stretching the Rustom-2 out — and it is this beginning that is sometimes frustratingly elusive in indigenous development.
"The Rustom-2 will come to us this October and we will embark on a capability discovery and user trial exercise that is crucial to our requirements. The requirement for long endurance surveillance is very high. While we have the P-8Is and Dorniers, the paradigm of maritime surveillance needs to shift in a significant way to unmanned systems given our enormous maritime area of responsibility," an Indian Navy officer  who will be part of the user trials told Livefist.
An Indian Air Force officer familiar with developments on the program said, "This is a long term program of high importance. The crucial aspect is that it is a low cost and low maintenance product with an impressive range of demonstrable features. We have been impressed with it so far and are looking forward to seeing what else it can do. I am quite certain it can be an armed platform later on. The game changer will be the SATCOM link that is proposed."
The  Rustom-2, as Livefist has reported earlier, is almost certain to spawn an armed version, though this is likely to be a far more complex exercise that will come later. Scientists say, however, that as the sensors and navigation-attack systems mature over the course of the next two years, a clearer picture will emerge on what kinds of offensive payloads will be possible on the Rustom-2. An extended range version of the HELINA (titled SANT) is one possibility, said a member of the team that Livefist spoke to at the show.
India's secretive Ghatak flying wing stealth UCAV — detailed here on Livefist — is also under design and wind tunnel test by the DRDO, with new images emerging at the Aero India show (below). The Ghatak is yoked technologically to India's AMCA stealth jet concept development effort at virtually every level, with progress likely to be linked with that program. Indications on timelines could be extracted from this detailed interview Livefist conducted with the director of the AMCA program yesterday.
Spotted this little wind-tunnel shot of India's Ghatak stealth flying wing UCAV concept at #AeroIndia2019. Our detailed report on the program: https://t.co/CmPEu41B41 pic.twitter.com/xWyNT4PLph

— Livefist (@livefist) February 20, 2019