Refitted ahead of schedule by India's state-owned Hindustan Shipyard Ltd (HSL), the Indian Navy will soon transfer Kilo-class submarine INS Sindhuvir to Myanmar. The Russian-built attack submarine will be the Myanmar Navy's first amidst long running plans by the force to develop an underwater arm.
HSL, which received the submarine for the refit in 2017, delivered the submarine back to the Indian Navy two days ago — ahead of time, says the shipyard. The overhauled submarine was undocked last July, shortly after India had cleared diplomatic paperwork for the transfer, which takes place under the line of credit that India has extended to Myanmar for areas of military modernisation.
The transfer of the Sindhuvir to Myanmar, expected to take place quietly in by the end of March, couldn't have come easy. The Indian Navy is already having to make do with a wafer thin submarine force for the kinds of responsibilities imposed on the underwater arm. It is clear that preempting a Chinese submarine foothold in Myanmar was deemed more important than holding onto an old submarine in force levels indubitably stretched very thin. There could be some good medium-term news for the submarine arm though, as Livefist recently reported.
INS Sindhuvir is one of ten Kilo-class boats the Indian Navy commissioned between 1986 and 2000. With the loss of INS Sindhurakshak in a dockyard explosion of ordnance in 2013, the navy will be left with eight after Sindhuvir sails off to Myanmar. INS Sindhukesari returned to India last year after a 27-month refit at Russia's Zvezdochka shipyard. INS Sindhuraj also completed a refit at Russia's Sevmash shipyard last year and is back in service. Two more boats of the class are part of the refit program. The Indian Navy also operates four Type 209 submarines and the first two of six Kalvari-class (Scorpene) boats.
The Sindhuvir transfer, to be sure, is not the first transfer that will be watched closely in the region. In 2006-07, the Indian Navy supplied a pair of BN-2 Islander tactical maritime surveillance aircraft to Myanmar's then Than Shwe dispensation to the consternation of the U.K. The submarine transfer is a far more significant act, though, and comes amidst China's ongoing efforts to push some of its older submarines into the services of countries like Myanmar and Bangladesh. The latter has already commissioned two old Ming-class submarines and is receiving help from China to build a submarine base. The supply of Sindhuvir to Myanmar seeks to build on an ongoing military support effort and to also preclude China from getting a foothold in an area — submarine access in the Indian Ocean — where there has already been concern.
The refitted Sindhuvir has also been fitted with certain Indian systems — activity cleared by Russia before paperwork was completed last year.
The India-Myanmar military support partnership has deepened in the last 15 years. In 2006, Myanmar sent its corvette Anawrahta to the Milan 2006 naval multilateral exercise at Port Blair in India's Andaman & Nicobar islands. The act was seen as Myanmar finally opening up to the region after years in political isolation. The country has since had ship designers trained in India following requests for help in raising a shipbuilding force. Earlier this month, Indian Navy chief Admiral Karambir Singh visited Myanmar where he visited Yangon's 1st fleet and met with crews of Myanmar's indigenously designed Kyan Sittha-class frigate UMS Sin Phyushin (which has an Indian-made BEL sonar) and the country's new South Korean Makassar-class landing platform dock UMS Moattama. He also visited Myanmar's shipbuilding facilities in Thilawa, a site that has a significant infusion of Indian knowhow.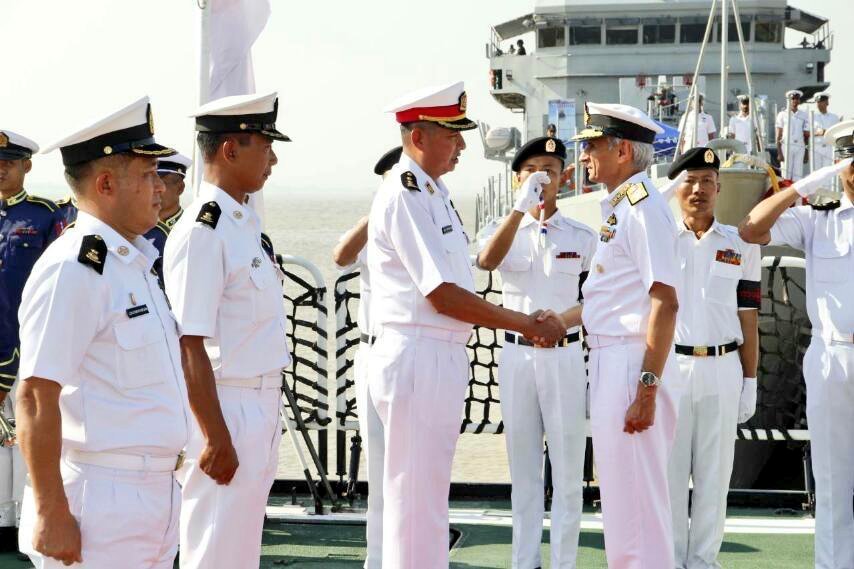 Russia has mounted an aggressive campaign for the Indian Navy's P75I submarine build program, pitching its Amur 1650 as a logical next step from the very well-regarded Kilos. Livefist visited the Admiralty Shipyard last year for this detailed report on Moscow's pitch.
For HSL, the earlier delivery of the refitted Sindhuvir is a confidence boost, both for itself as well as the Indian Navy. The shipyard has struggled to return to relevance, and isn't yet regarded on par with other MoD-controlled shipyards, including Mazagon Docks Ltd and Goa Shipyard Ltd. With the prospect of having to sit out the P75I submarine build program, the shipyard will be looking to acquire as much refit and overhaul work as possible from the Indian Navy.
Also read: After IAF Rafales, MBDA's Naval SCALP On 'Super Scorpene' For India's Project 75I
Also read: Cleared For Design Phase, Here's All We Know So Far About India's SSN Program