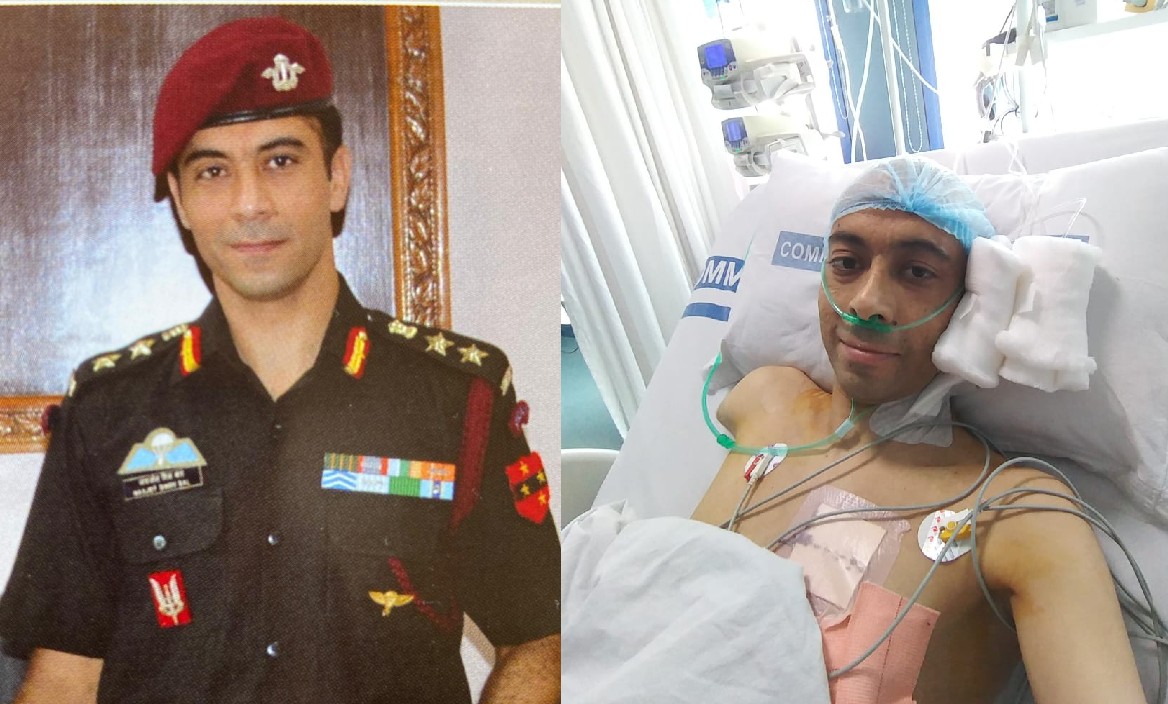 That's Colonel Navjot Singh Bal. And that's the last picture he took of himself on his phone yesterday. As you can see, he's missing an arm. After a two year battle with cancer, he passed away this morning in Bengaluru.
You can imagine the sadness with which he gave up his full-time job last April. At the time he decided to, he was Commanding Officer of the Army's elite 2 Para (Special Forces). This was only two months after the amputation of his right arm, cruelly necessitated by a malignant tumour in the limb. He would continue to lead his Special Forces unit for three more months, until the inexorably metastasizing had clearly spread to other parts of his body.
When he was finally persuaded to attend to his health, he had spent a full year under chemotherapy, while still formally leading the Special Forces unit.
A friend of the Colonel, an officer who was close to him, remembers the circumstances under which Bal gave up command.
"Knowing the man Bal was and his passion or dreams which he had before he took over 2 Para, he would have wanted to be their at the helm of affairs right upto his last breath. The only reason why Bal himself chose to give up the command, and this was in his own words in 2019, was because he knew that for his men it was essential to see their CO fighting fit and more so with both hands when wearing the uniform. A dangling sleeve was never his idea of his CO ever, and he didn't want his troops to undergo the same. It makes a hell of a difference and speaks volumes of the greatness of that man who stepped down not for his health but silently for the pride of his men."
Highly regarded as an officer who didn't spend a day ruing his rapidly plummeting health, and the traumatic loss of an arm, Colonel Bal was known to keep fanatically fit right through his cancer treatment.
Major Sanjeev Malik, regimental medical officer (RMO) of the 2 Para SF recalls the time Colonel Bal's cancer first came to light:
"During routine training in 2018, he observed slight swelling in his right arm after doing a marathon of chin ups. I thought that swelling could have developed due to exertion or haematoma. However, after radiological evaluation it was found to be some mass involving muscle of the right arm. And then commenced a chain of lengthy and tedious work up like biopsy and MRI. Finally, it was revealed that there is some rare type of cancer called telangiectactic osteosarcoma of the right arm. Unfortunately, it turned out to be an aggressive cancer with metastasis occurring at a fast rate and soon cancer spread to lungs, liver and heart. I salute to the indomitable spirit of Colonel Bal. He consistently highlighted it in his routine work despite aggressive spread of the the cancer.
Fighting all odds, once he ran 21 km half marathon in spite of cancer hampering his normal breathing and debunked common notion of defeatability. He was an absolute champion. A true Special Forces warrior. He exhibited optimism and cheerfulness round the clock. He is a perfect testimony of how a person with cancer should live his normal life," says Major Malik.
"He was a rarest of the rare kind of officer. Had the privilege to serve alongside sometime back," says Colonel Aman Anand, currently the Indian Army's spokesperson.
Another Army comrade Amardeep Hooda recalls the conversation he had with Colonel Bal on the day it had been confirmed that the Special Forces man would be losing his right arm.
"Bal was surprising me over and over again with his calmness in discussing such a life changing happening of his life with such ease. Looking at him, I was reminded of the famous saying "You never know how strong You are till being strong is the only choice you have". I remember him mentioning that he was aware it can be sooner than planned and that's why he had already started practising doing his daily chorus with just his left hand, including taking a bath, tying his shoe laces, signing documents which he already was doing when I saw him in his office the other day… This guy was a fighter, the one that fights on his own terms backed by meticulous preparation and unflinching resolve. Nothing in this life could deter either him or his spirit from taking on the challenges that life throws at us," says Hooda.
Colonel Bal was decorated with a Shaurya Chakra in 2008 for a 2007 anti-terror operation in Kashmir's Lolab valley, an encounter in which two terrorists were killed by the officer and his buddy soldier. The Colonel is survived by his parents Lt Col Karnail Singh Bal (Retd) and Raminder Kaur Bal, his wife Arti Bal and two sons, aged 8 and 4.