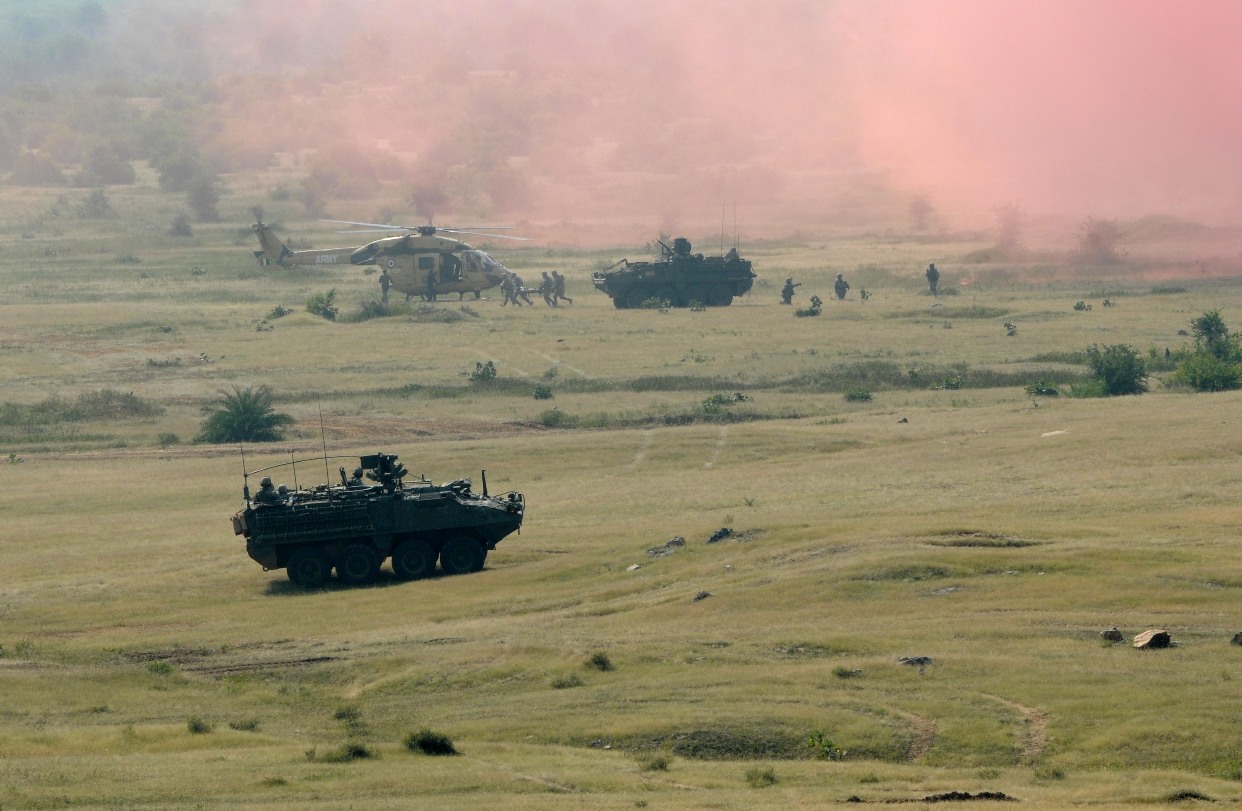 Elevated tensions between India and Pakistan this year have compelled the Indian Army to sidestep an endlessly meandering force modernisation program for an urgent acquisition of fighting vehicles capable of cross-country defence across the border plains in two states facing Pakistan. The requirement is the latest in a slew of 'small' purchases the Army has been forced to look at in the wake of India's air strikes in Pakistan's Balakot in February this year.
With bigger plans for modern infantry vehicles taking much more than their time, the Indian Army announced this week it is looking for a rapid infusion of wheeled armoured fighting vehicles (AFV) that it wants to deploy in the Pakistan-facing border sectors of Punjab and Rajasthan to augment and support in-service tank regiments as a combat support platform. Unveiling plans on a competitive bid next July, the Army says it wants 198 wheeled (8×8) armoured fighting vehicles for the reconnaissance and support roles, armed with guided anti-tank weaponry.
Much lighter and transportable than main battle tanks like the T-90/72, the Army has been looking to create a new wheeled US Army-style AFV capability within mechanised units that would provide military planners with a low maintenance arsenal of vehicles that's quick to air-deploy if necessary in combat-ready configuration. These vehicles would be transportable by C-17 or C-130J in India. The Army hasn't had any trouble acquiring large numbers of tanks (last month it ordered 464 more license-built T-90S/SK tanks from the Ordnance Factory Board), but has failed to make any headway in the wheeled AFV space. Now it wants to move as quickly as possible to acquire a fleet that's super-easy to deploy and brings to the fight excellent firepower and armour, cross-country flexibility and a logistics footprint that doesn't require it to be taken away from the battlefield if necessary.
The Army is seeing itself forced into a raft of such limited stop-gap purchases after watching with dismay as larger long-term capability programs meander endlessly without result.
Literature released by the Army announcing its interest says the vehicles 'will be operationally required to operate cross-country across the developed sector in terrain interspersed with rivers and canals. The vehicle should be provided with high mobility, adequate armour protection and armament configuration suitable to destroy enemy ranks and undertake local protection'
While the Army has indicated it would prefer to use the Buy Indian (IDDM – Indigenously Designed, Developed & Manufactured) route of the Defence Procurement Procedure, it has left the door open to vendors looking for another route as long as they make a case. On the face of it, potential vendors could include Tata Motors, Mahindra Defence, Reliance Defence, L&T and Kalyani Defence. If the latter route is allowed, it would open doors to platforms that could include the U.S. General Dynamics Stryker (which has been on offer at various points before) and the Israeli Eitan, among others. As things stand, though, the Indian Army has already been testing a fully indigenous platform for two years.
While the Indian private sector has made dramatic headway in the combat, light strike and mine-protected vehicle space, the most visible 8×8 wheeled armoured fighting vehicle on the Indian landscape currently is the Indian Kestrel, a platform developed jointly by the DRDO and Tata Group following a competitive selection. The Kestrel, projected as being as capable as the U.S Stryker, is said to have been developed in 18 months and has been demonstrated at the DefExpo show in Goa. The vehicle has been in user trials this last year, with the Indian Army sanctioning a limited initial order. Tata is looking to export 100 Kestrels to UN missions as well, and recently received clearance to do so.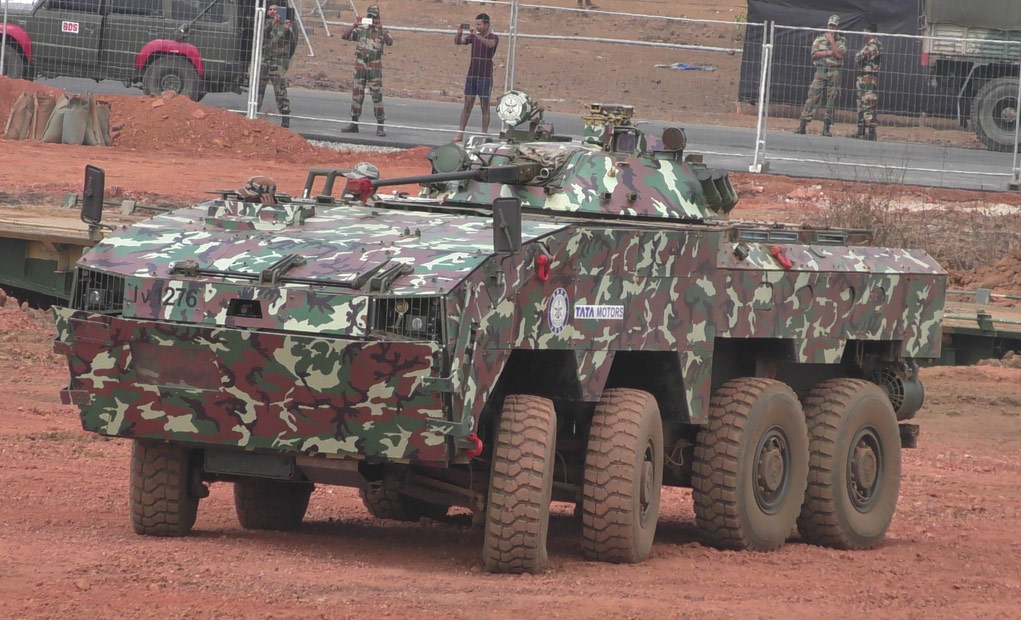 The Army wants substantial armament on its new wheeled AFVs, including two twin launchers for 4-km range fire and forget ATGMs, provision for a man-portable ground ATGM launcher in addition to the vehicle mounted ATGM, provision of internal stowage of eight additional missiles, a 30mm cannon with 7.62mm coaxial machine gun (both controlled remotely if possible), six-tube smoke grenade dischargers to deploy 81mm smoke grenades.
The occupant capacity of the hull is 12 members. The driver in combat mode has visibility through 3 periscopes and a display catching vision through front and rear view cameras, with day and night vision. The back to back seating layout allows firing through the 3 gun ports on each side, with two big hatches for patrolling. The fuel tanks are placed outside the crew compartment for additional safety. The 8X8 independently suspended vehicle has high power-to-weight ratio for mountain terrains. The vehicle can accommodate different variety of weapon stations and turrets as the application demands.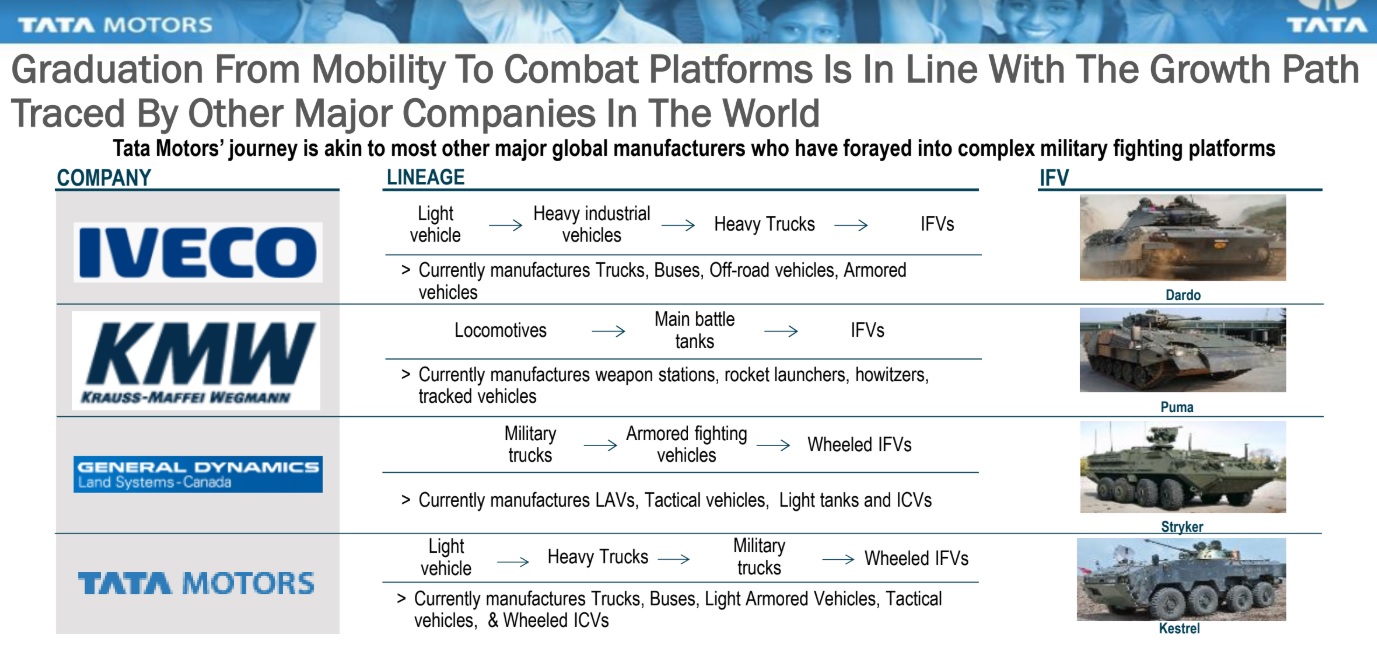 The Indian Army's separate plans for a Future Infantry Combat Vehicle (FICV) have meandered for over a decade without a contest even being triggered. Procedural delays and significant divergences on configuration have kept the program largely in the realm of paperwork since 2009, though the sheer size of the proposed requirement — nearly 3,000 vehicles to replace the Indian Army's BMPs — has at least sustained interest from India's private sector firms, including Mahindra and Mahindra, Reliance Defence, L&T, Tata Motors and Kalyani Defence. Indications are that a formal contest could kick off in the next few months.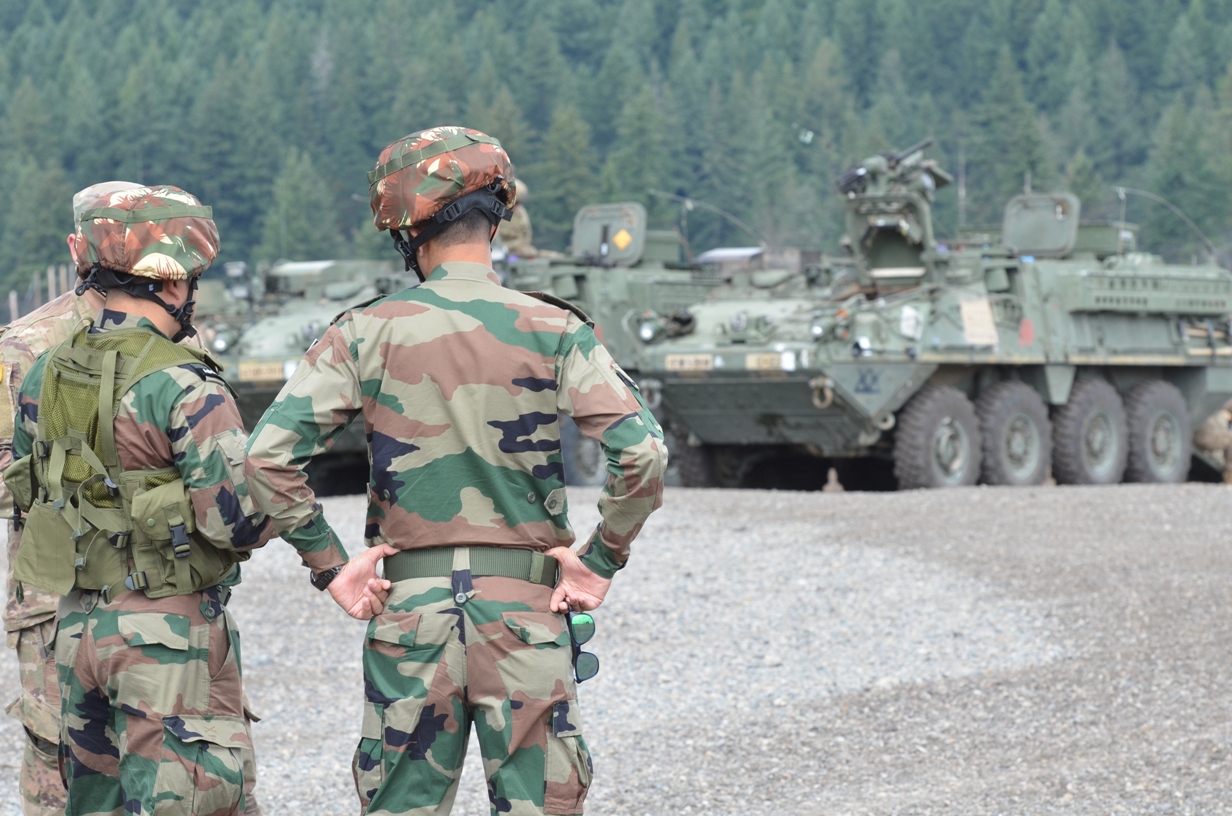 Indian Army soldiers examine a Stryker vehicle during Exercise Yudh Abhyas 2019 at Joint Base Lewis-McChord, USA