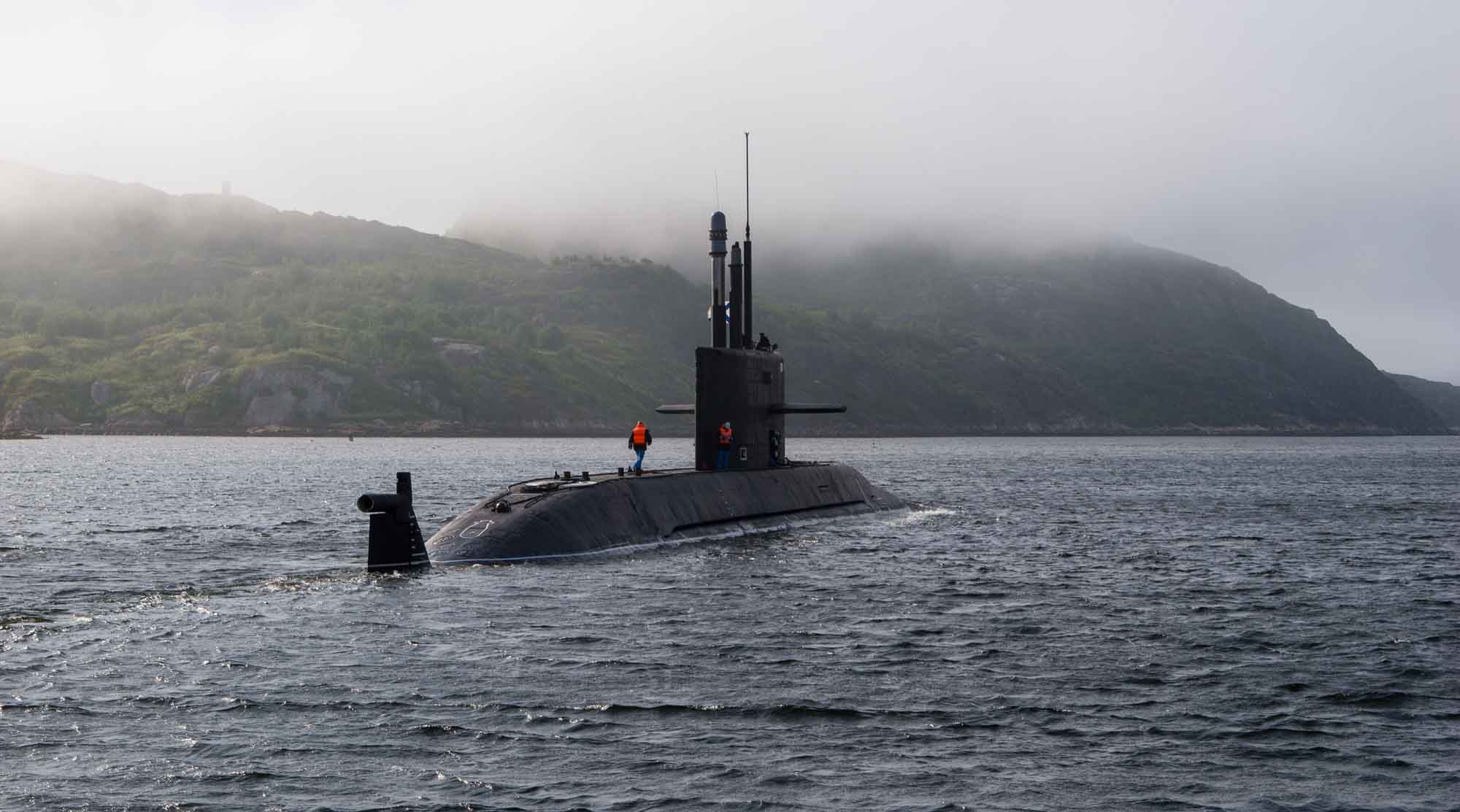 ST.  PETERSBURG RUSSIA. A harbour utility boat cruises out onto the vast Baltic Sea inlet of St. Petersburg, the view framed by a multitude of ships under construction or being repaired by the Admiralty Shipyard, a corporation that, at 315, is only a year younger than its home city. On the far flank, a pair of giant ice-breakers get their finishing touches, and licks of brilliant blue paint. On the other, nearly invisible until it's pointed out, the silhouette of a submarine.
On board the harbour boat, a group of Indian journalists, including Livefist's Shiv Aroor, is being escorted by Russian shipyard officials directly to the latter for an up-close view — the Kronshtadt, a Lada-class submarine. Its engines in a low hum, the submarine will be one of five entering service with the Russian Navy. For the journalists on board though, it has a direct India angle. It is, crucially, the source material for a submarine that India will see compete for its next big submarine-choosing contest — codenamed the Project 75 India (P75I).
As Russia gets set to fight for the P75I @MakeInIndia submarine contest, Livefist's @ShivAroor gets up close with the Russian Navy submarine that will be the source of the 'Amur 1650' that's will compete against French, German & Swedish contenders. pic.twitter.com/R9Y2kTS8IP

— Livefist (@livefist) July 11, 2019
The Amur 1650, an 'export' version of the Lada-class, is officially a contender in the Rs 45,000 crore (about $6.5 billion) competition to evaluate and choose not just a submarine, but also an Indian shipyard that will build six of those submarines under the Modi government's Strategic Partnership policy. India has license-built submarines before — it built a pair of HDW Type 209 (Shishumar-class) submarines in the eighties, and is currently in the process of building six French Naval Group Scorpenes (the new Kalvari-class). If Project 75I moves forward along stated contours, this will be India's third license-built submarine project, and will, on the face of it, see the Amur 1650 compete against the French Naval Group Scorpene, the German HDW Typo 214 and the Swedish Saab Kockums A26.
But that really is the operative question — will the project unfold along a path India says it hopes to? Or could it be bedeviled by its overreaching ambit at a time when the Indian Navy needs new submarines sooner than ever before. As with all defence contests, each of the contenders in Project 75I believes the contest should be subsumed by a deep direct government-to-government handshake that clears the decks for a meaningful submarine-building relationship. Russia's shipbuilding leadership believes India is at a strategic crossroad for several reason. And that a misstep could prove costly in ways more than just sunk finance.
"Yes, we would prefer an inter-governmental agreement," says Alexey Rakhmanov, president of Russia's United Shipbuilding Corporation, the umbrella corporation that administers all state-owned shipbuild firms and design bureaus. "An Intergovernmental Agreement would be a better basis for sharing of technology and intellectual property as well as production. Not just the submarine but also the air-independent propulsion (AIP) system."
Air-independent propulsion — allowing extended submerged operations — is a mandatory requirement on in the new submarines that will be chosen and built. While Russia's AIP system is not operational on any active submarine yet, it has said it willing to demonstrate and further develop the system under the aegis of Project 75I.
"All elements of AIP are functional. Now the target is to integrate it into a submarine section and continue testing. The beauty is we can tailor AIP needs to Indian Navy's needs. This will preclude the need for changes after integration," says Rakhmanov.
Livefist understands that Russia's proposal for an inter-governmental agreement (IGA) instead of a contest would mean full transfer of the intellectual property rights and relevant technologies, including the technologies of the air-independent propulsion system, to India.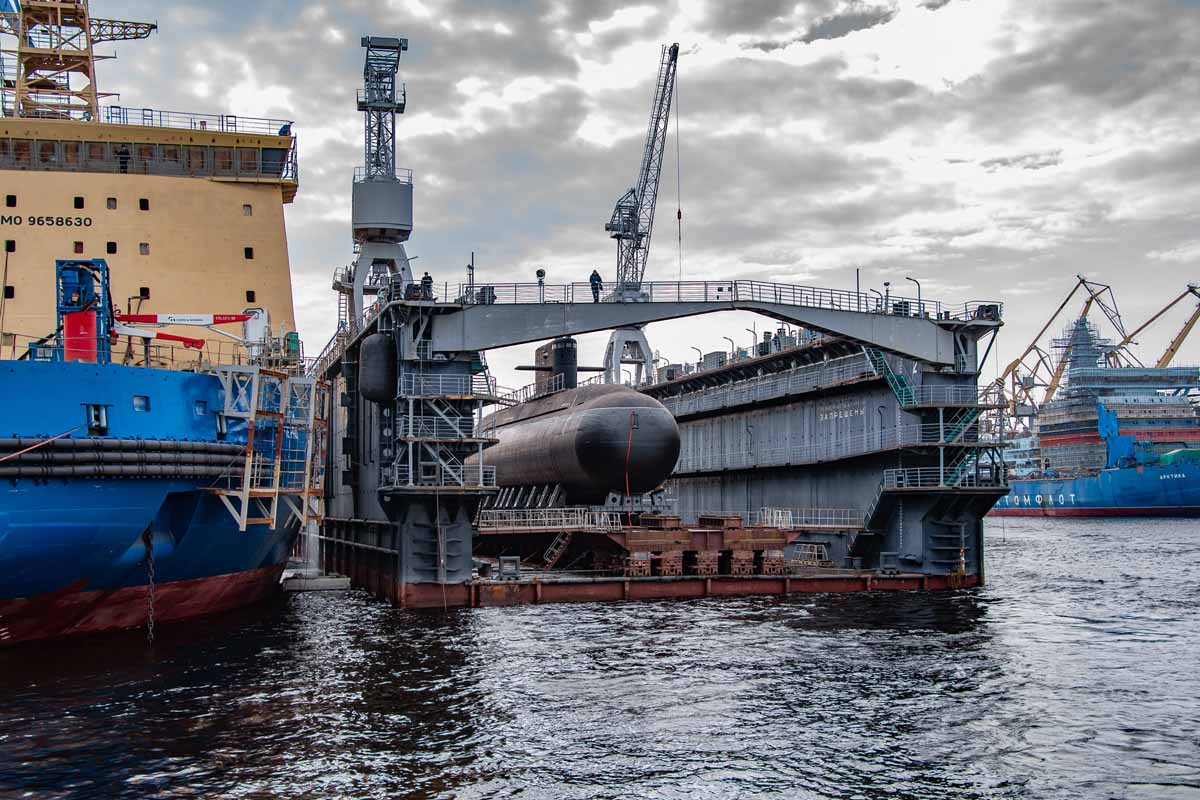 Andrei Baranov, deputy director general at the legendary Rubin Design Bureau, the legendary design house responsible for the Lada-class, and its predecessor, the Kilo class of submarine, says Russia's desire for a more direct approach, rather than a protracted, variable-filled, contest, is more by way of cautioning an old friend, and trying to preempt problems later. That would be the submission of any contender with such enormous stakes at play, but Baranov qualifies it.
"Russia, since it is a well-proven and old partner of India in the sphere of submarines, is trying to prevent you from taking risky steps," says Baranov. "We've been discussing this project (Amur 1650) for more than 10 years with your navy. Everybody understands the risks and responsibilities. We are not refusing to take part in this project. We understand what India requires. We will do our best to meet all the requirements. But we say up-front that there are risks. Not because someone's work is bad. But it's a systemic risk from the very beginning, and we are only saying we are aware of it."
In the event Russia is chosen, the Admiralty Shipyard and Rubin Design Bureau will be the twin entities executing the submarine build project in India at a separately chosen shipyard of India's choice. India's Strategic Partnership policy dictates that India chooses the production partner, not the submarine-supplying country — an ambitious effort to focus efforts in building industrial capacity for defence armament.
USC's Rakhmanov says, "There are two major candidates we are looking at. One is L&T and the other is Hindustan Shipyard. These are the two most competent shipyards for this big goal of building these submarines. Human factor is one of the keys to success. Would refrain from identifying any one shipyard. This is about transfer of technology and choosing the right partner."
Andrei Veselov, deputy director general for military technical cooperation at Admiralty Shipyards says, "We have visited several Indian shipyards and assessed their potential capabilities in submarine construction. We saw Mazagon Docks and Hindustan Shipyard. These are the yards engaged in the submarine program at that moment. We know several yards have ambitious plans. We are ready to cooperate with the Indian yards in development. The MoD will nominate the shipyard as part of the Strategic Partnership process."
The Admiralty Shipyard, since 1966, has built 70% of India's conventional submarines — eight Foxtrot-class and eight (of ten) Kilo-class, a legacy it doesn't fail to invoke when making its pitch for a deeper relationship. Russia's deep involvement in India's nuclear submarine program is another factor.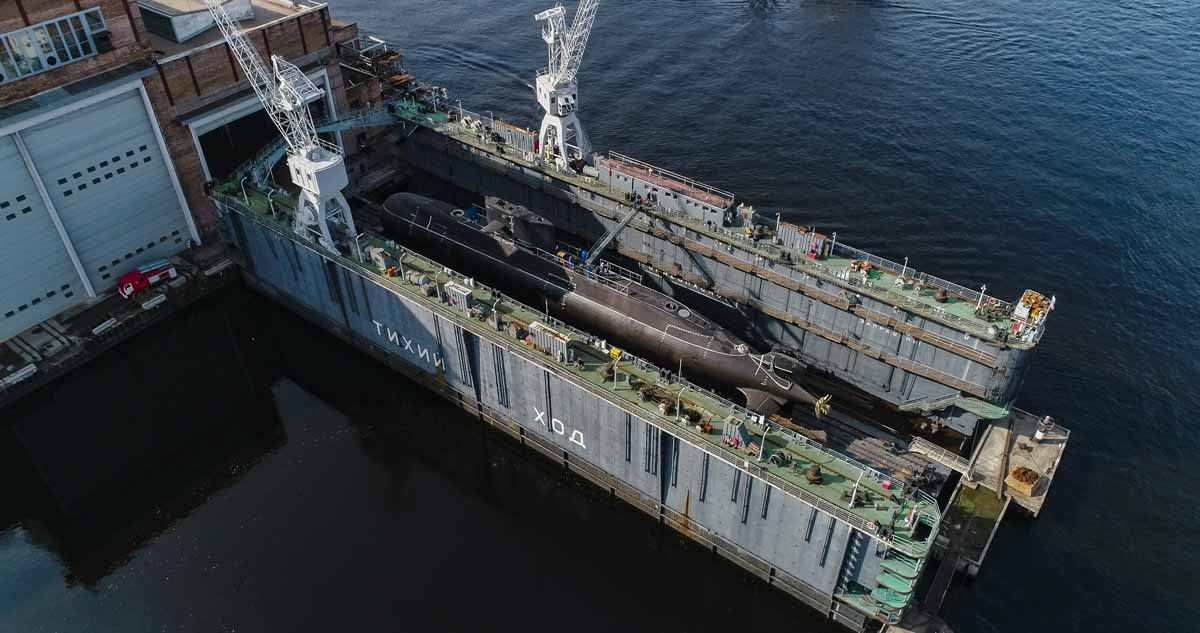 "You wouldn't give such (nuclear submarine) technology to anyone if you had the smallest thought at the back of your mind that this country could one day be your enemy. I cannot think of anything that signifies trust more than this," says Rakhmamov.
But with a contest formally afoot, Russia is also aware that there is a threat that is more current than in the past. India happens to be building new submarines — the French Scorpene class —  as we speak. With one submarine, the INS Kalvari, delivered, and five more to go, the production line is far from cold. Considering the complexity, money and painful effort that's gone into raising such a facility at the Mazagon Docks Ltd (MDL), would it not be simply more economical to license more submarines from the same line? While that technically remains an option — and France has justifiably been pitching it aggressively — Russia is seeking to employ a different track to offset the obvious advantages its French rival has at play.
One, Russia plans to invest energies in persuading India that the Amur 1650 project under P75I will be a 'new submarine' and 'developed from scratch'. The other, most recognisable thrust will be the suggestion that the Amur 1650 is a newer generation and more capable submarine than the Scorpene.
Rubin's Baranov says, "Amur 1650 is an advanced conventional submarine capable of fulfilling any mission required from these types of submarines. Whereas P75I is a national Indian submarine, which has its own specific requirements — it is therefore another project. They are very different submarines. If we get into details, we can compare the specifications and parameters of the boats, but since we have some restrictions on information, we have no right to disclose the requirements of your own navy. This is a new project we keep saying to your navy, and has to be designed from scratch. It's not a modification of Amur or Scorpene or Type 214. This is a new project. Under the umbrella of P75I, indigenisation has to happen on Indian territory. A lot of things will depend on Indian industry to ensure the specifications. It will therefore be a new project."
Veselov of Admiralty Shipyards concurs. "Scorpenes do not have the kinds of weapons that Amur 1650 does. The acoustic equipment on the Amur 1650 is far superior to that on the Scorpene," he says.
While the Scorpene is armed with MBDA Exocet anti-ship and land attack cruise missiles like the Klub-S on the Amur 1650, it doesn't currently have torpedoes, a fallout of the AgustaWestland scandal that ended the navy's planned fit of Black Shark torpedoes. Moving to fix the glaring weapon void, the Indian Navy this week has published formal interest in acquiring 100 heavyweight torpedoes for the six Scorpenes.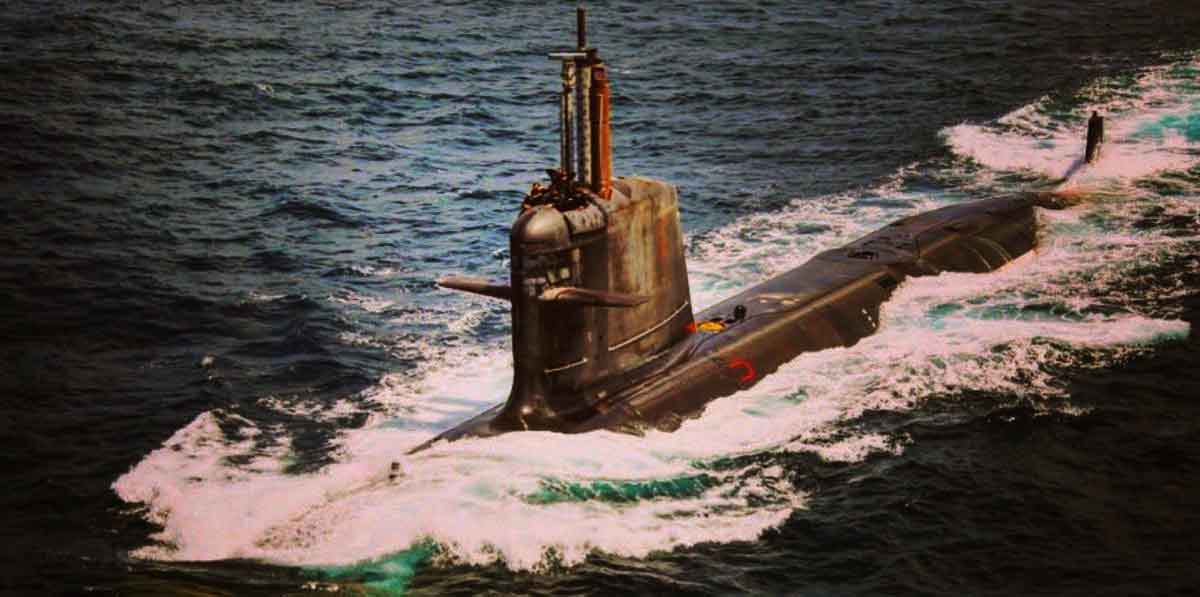 "If we compare Amur and Scorpene, I would like to highlight only one thing — the most important thing for any submarine. Weapons," says Rubin's Baranov. "We do not want to offend India by saying Scorpene is not an advanced boat. It's definitely a modern submarine. Your submariners are among the finest in the world. They go to sea a lot. Your navy therefore deserves better submarines than it has now. Scorpene is built only for export. The French Navy does not use them. That means the French Navy has nothing to share with India in terms of operational experience, maintenance, repairs and upgradation. Whereas Amur 1650 has a specimen already in the Russian Navy. Therefore this experience of supporting the life cycle of these boats is more realistic and valuable. Yes, P75I is a different project. But the prototype for it would be the Amur 1650."
The @IndianNavy's 4th Scorpene-class submarine Vela launched at Mazagon Docks, Mumbai today. The second submarine, Khanderi, enters service shortly: https://t.co/hA20rLAHeZ pic.twitter.com/13whQiclet

— Livefist (@livefist) May 6, 2019
While Russia has a multitude of agencies and bodies that would be activated to execute the sort of partnership that Moscow is proposing, it is the Rubin Design Bureau that will be the soul of any such venture. It is from the blueprints and drawing boards of this 119 year old institution that an Indian shipyard will receive what it needs to put together submarines. Rubin sees its history with India as locus standi for some honest hardtalk.
"There is another source of apprehension regarding P75I," says Rubin's Baranov. "There are too many issues that people want to pack into one project. I would like to say there is no successful precedent to such a project in world history. Either you or the Australians will be pioneers. Therefore, difficult to foresee a timeframe. There's no precedent for this in the world. Normally countries buy off the shelf, where you can quantify delivery time. Even with Scorpene, those timelines were off the mark. But when we want to do everything from scratch, then it is impossible to make a timeframe prognosis. You can judge from the relationship between Australia and Naval Group. Again, lots of ambitions and delays. And nobody can predict the outcome. It's a serious risk in this respect."
India currently operates 14 conventional submarines — 9 Kilo-class, 4 Typo 209s and a single Scorpene class, in addition to an Akula II class nuclear-powered attack submarine INS Chakra on lease from Russia. It also operates the nuclear-powered INS Arihant ballistic missile submarine and has recently embarked on an indigenous effort to develop nuclear-powered attack submarines.