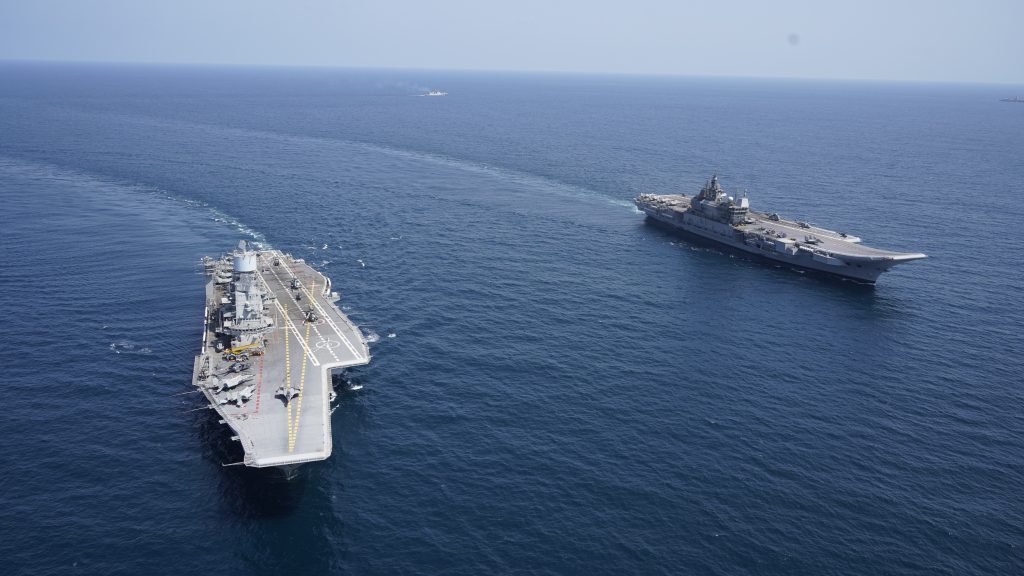 Days after the Indian Navy's two aircraft carriers INS Vikramaditya and the indigenous INS Vikrant were spotted by satellite imagery experts sailing together in the Arabian Sea, the Indian Navy today unveiled that the mission was part of a multi-carrier operations demonstration involving both carrier groups, including more than 35 aircraft off India's eastern seaboard.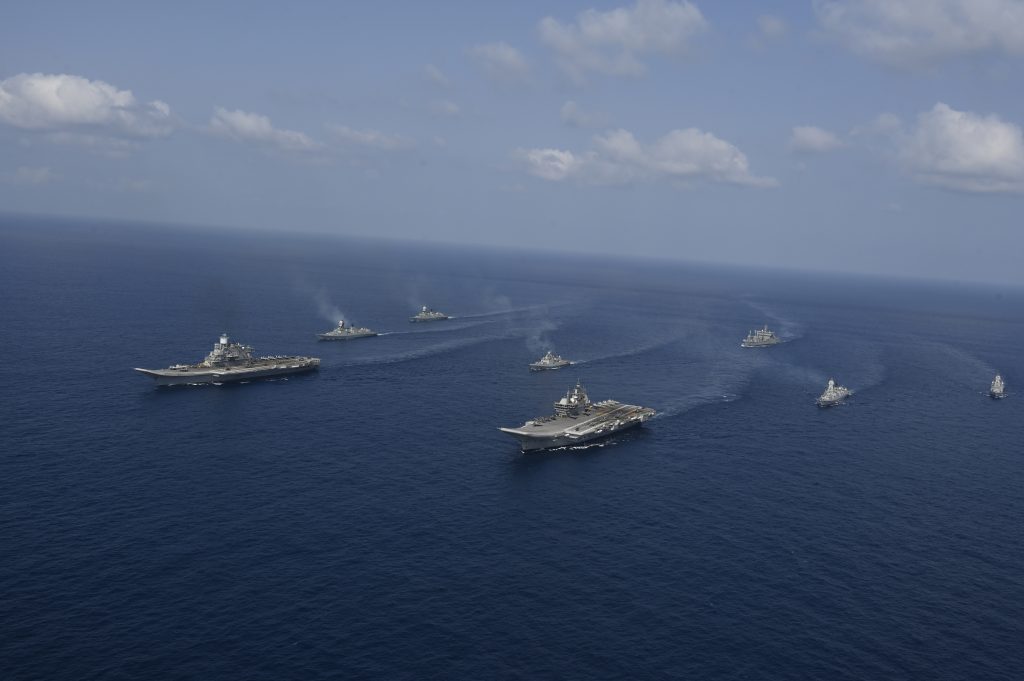 In a statement, the Indian Navy said, "This demonstration of naval prowess underscores India's commitment to safeguarding its national interests, maintaining regional stability, and fostering cooperative partnerships in the maritime domain. It also marks a significant milestone in Indian Navy's pursuit of enhancing maritime security and power-projection in the Indian Ocean, and beyond. The exercise involved seamless integration of two Aircraft Carriers INS Vikramaditya and the indigenously built INS Vikrant- along with a diverse fleet of ships, submarines and aircraft, showcasing India's technological expertise in the maritime domain."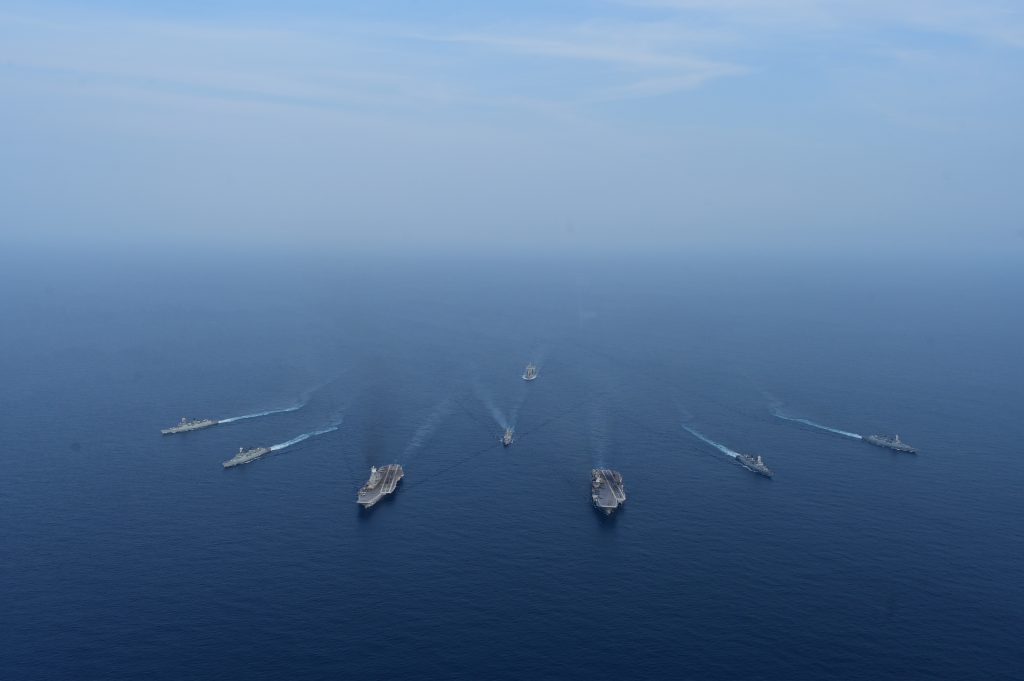 The Russian origin INS Vikramaditya turns 10 this year in Indian Navy service, having been commissioned at Severodvinsk in November 2013. The INS Vikrant, India's most ambitious military shipbuilding effort, celebrates a year in service this September. Both carrier, described by the navy as "centre-pieces of the exercise, serve as 'floating sovereign airfields', providing a launch platform for a wide array of aircraft, including MiG-29K fighter jets, MH60R Sea Hawk, Kamov, Sea King, Chetak and ALH helicopters."
The Indian Navy's new under-delivery MH-60R anti-submarine helicopters debuted carrier operations with INS Vikrant only a few days ago: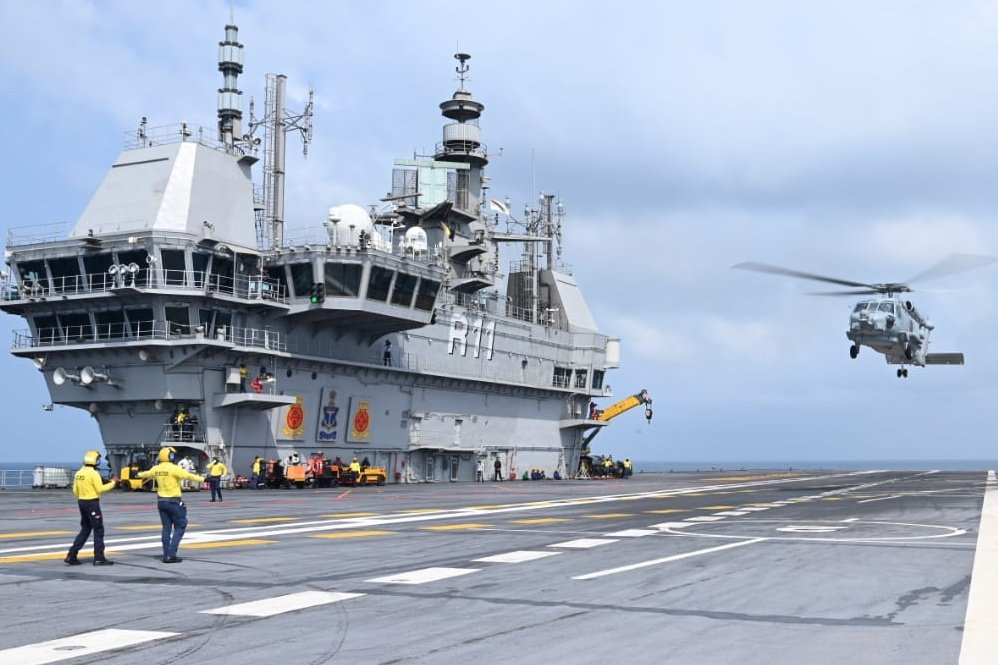 The Indian Navy's statement continues, "These mobile bases can be positioned anywhere, allowing for increased mission flexibility, timely response to emerging threats and sustained air operations to safeguard our national interests across the globe. In addition, they provide our friends with an assurance that the Indian Navy is capable and ready to support our 'collective' security needs in the Region. The successful demonstration of two-carrier battle group operations serves as a powerful testament to the pivotal role of sea-based air power in maintaining maritime superiority. As India continues to strengthen its security apparatus, significance of Aircraft Carriers will remain paramount in shaping the nation's defence strategy and promoting regional stability."
Open source intelligence analyst Damien Symon tweeted out this satellite image of INS Vikrant and INS Vikramaditya together in the Arabian Sea on June 5. See more of Symon's work here.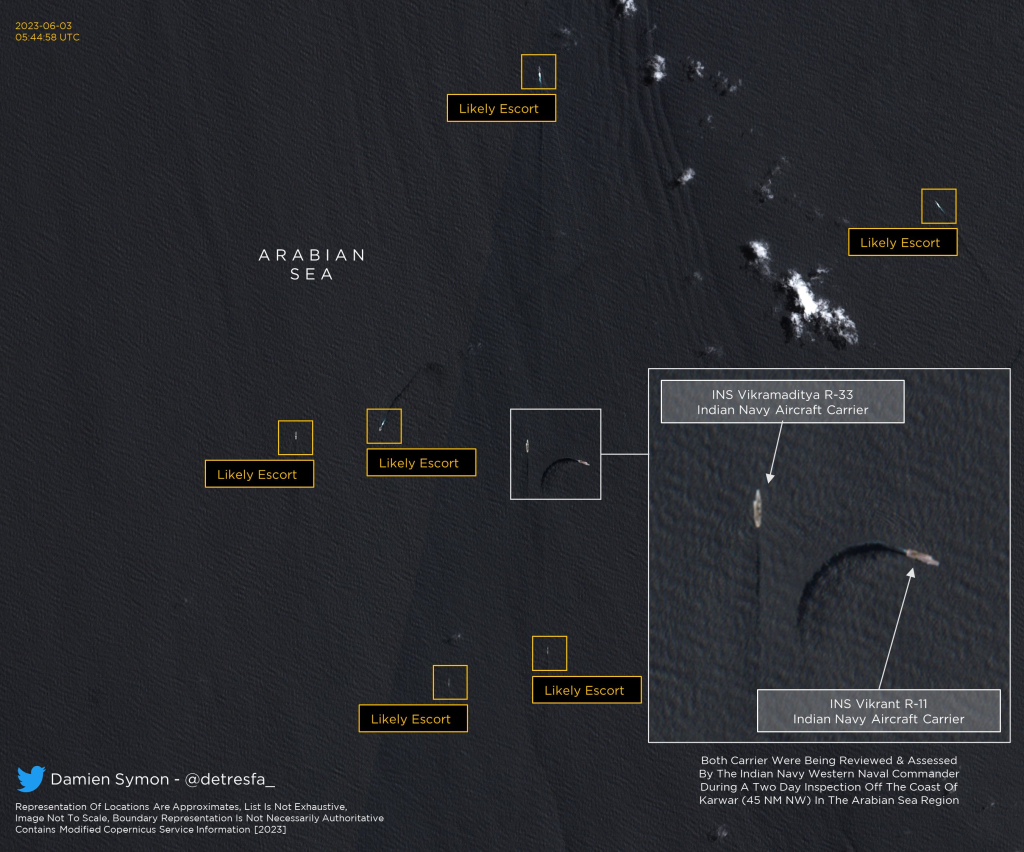 The INS Vikrant has had a busy 10 months since its induction, with its commissioning crew comfortably meeting deadlines to get the ship fully operational in all aspects. In February this year, shortly after the first MiG-29Ks operated off her deck, pilots flew in indigenous N-LCA naval fighters to try out the new carrier deck. You can read details about that in our previous piece here:
Livefist learns that INS Vikrant is scheduled to be fully operational by the end of this year.
Meanwhile, the Indian Navy's quest for new generation deck-based fighters for its carriers is said to be moving forward. Livefist reported earlier this year that the Indian Navy had greenflagged the Rafale in a face-off contest between the French fighter and the American Boeing F/A-18 Super Hornet. You can read details about that here:
The exercises are clearly designed as a flex at an increasing Chinese attempt to assert in the Indian Ocean region. The twin aircraft carrier group flex comes at a time when the Indian Air Force has been conducting a series of long-range anti-surface operations over the Indian Ocean using frontline fighters. The first mission involved a package of Rafales flying a long range mission for over six hours into the Andaman Sea and southern Indian Ocean. According to the IAF, "The aircraft "fought" their way through a large force engagement en route to their Weapon Release Point."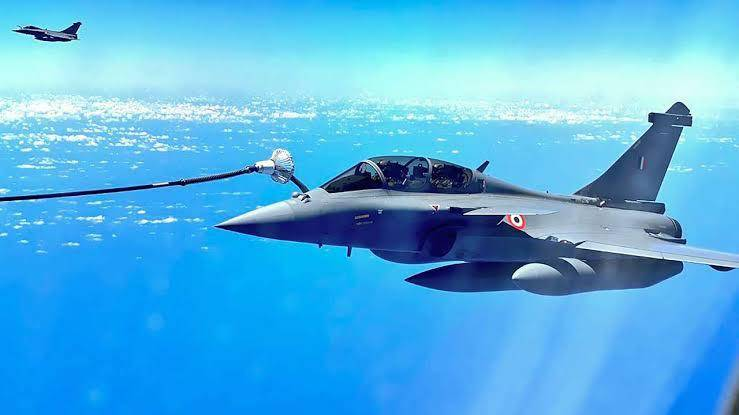 The second mission was an even longer maritime mission involving Su-30MKI fighters with mid-air tankers flying an eight-hour mission deep over the Indian Ocean over both seaboards to demonstrate a long range anti-ship or land attack operation.