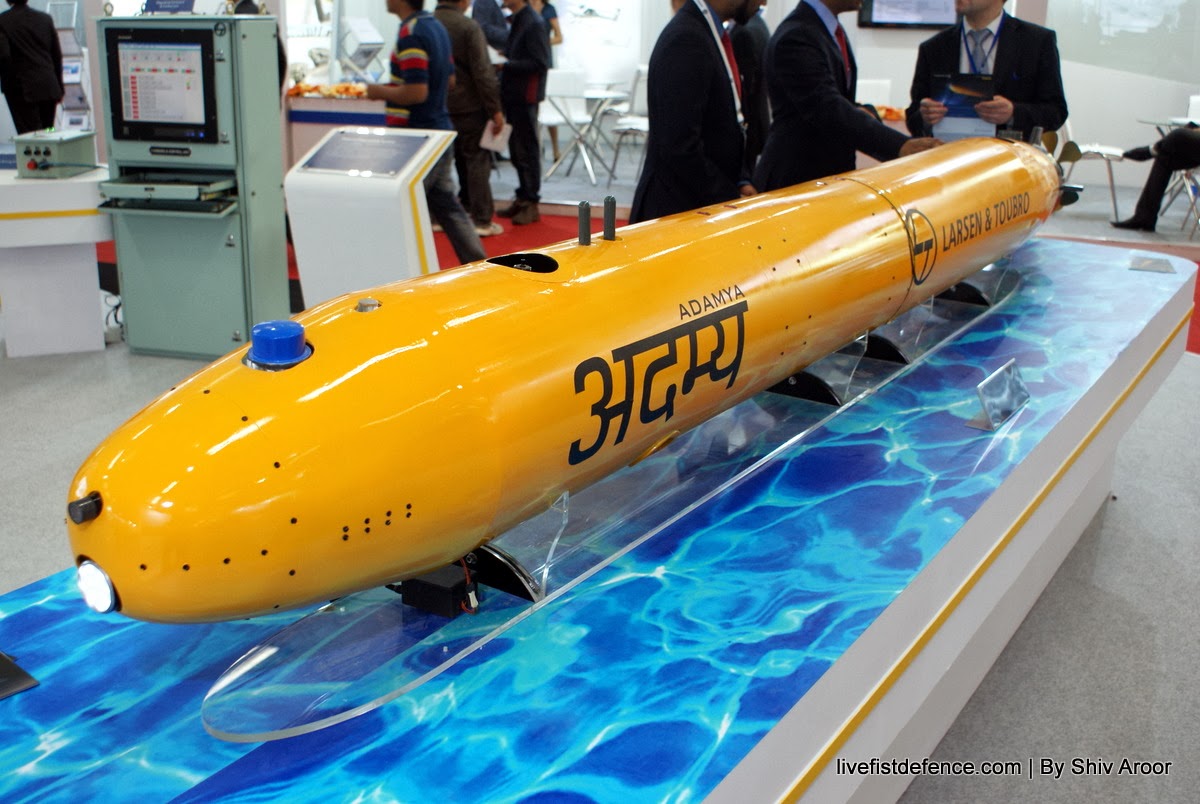 Eight years after the Indian Navy first floated interest in acquiring AUVs — autonomous underwater vehicles, basically mini unmanned submarines built for specific programmed tasks at sea — the service still doesn't have any in full operational service. And in what appears to confirm heightened interest in the capability, the Indian Navy has just re-announced that it still wants AUVs. Except it now wants a much higher performance variety capable of a decidedly more frontline mission profile.
AUVs have been in service with foreign militaries for decades, with their pioneering embracer, the US Navy raising a full dedicated AUV squadron last September, the Unmanned Undersea Vehicle Squadron One (UUVRON 1), making it clear that AUVs would no longer be adjuncts to submarine or warship squadrons but require their own dedicated command and control elements, much like aerial drones have done. The Royal Navy has deployed Remus AUVs for years. Low-medium performance AUVs operate with several other navies and coast guard services. They've eluded Indian service despite a patently obvious case for their use — India's enormous areas of responsibility out at sea, set off from a huge coastline running into over 7,000 km. The use for miniature submarines capable of keeping watch, surveying swathes of territory during operations should shout out for a country with India's maritime interests. But no, not a single one has entered service thus far. And that's why the navy hopes to change things in the next three years with the current push.
The Indian Navy is looking now to acquire 15 'high endurance' AUVs (HEAUV) capable of missions lasting a minimum of 15 days. The navy wants the option of plugging in sensors and devices to the robotic submarines that will kit them up for missions that must include anti-submarine warfare, mine countermeasures, intelligence surveillance and reconnaissance and oceanographic data gathering. Not just is the navy now looking for double the number it once was, it has also doubled the performance it wants from the machines — in 2010, the navy was looking for 10 AUVs that could conduct 7-8 hour missions, focused primarily on surveillance, mine-countermeasures and sea bed mapping. The new profile suggests a much more aggressive plan.
Confirming the new plan to Livefist, Indian Navy spokesperson Capt. Dalip Sharma said, "We are looking to induct AUVs in various roles, including ISR and anti-submarine warfare. We currently operate self-propelled underwater reusable targets (SPURTs — understood to be Saab's AUV-62). The DRDO is also pursuing independent development. While many countries claim that AUVs have matured, challenges remain — and the Indian Navy hopes to be part of exploring and maturing the technologies and how they are deployed operationally."
A senior Indian Navy officer with the Visakhapatnam-based Eastern Naval Command tells Livefist, "If we're going to get AUVs, it makes sense to get long endurance systems that can be programmed for extended missions with appropriate sensors. We've seen such systems with other navies during exercises, and it is crucial that we acquire the capability now. The game in the Indian Ocean is changing."
The Chinese military has at its disposal a slew of indigenous AUVs, including the long endurance Qianlong III and Haiyan, said to be part of its underwater 'great wall'. The Indian Navy has per force been late to the game for a combination of reasons — acquisition priorities, budgetary issues, the unavailability of technology, the inability to sell the idea perhaps to the political leadership — but there's no doubt that it recognises the need, an urgent one now, to get on the AUV wagon within the next three years. That's where the current acquisition attempt comes in.
To be acquired under the Defence Procurement Procedure of 2016 (DPP-2016), experience has compelled the navy to keep the method of its purchase open to include the possibility of acquiring an Indian system, an Indian-built foreign system or a fully imported system. It has importantly stipulated, however, that the government is interested in acquiring the technology to build a potential winner in India for units required after the delivery of the first fifteen.
While the Indian Navy has wanted AUVs and tested a clutch of them over the years, there's no shortage of platforms already in the Indian domain. From the DRDO's NSTL AUV that has seen trials with the Indian Navy to the L&T Adamya AUV built to be operated from a submarine's torpedo tube, AUV tech has moved steadily in country over the last few years.
Veteran submariner and former Flag Officer Commanding-in-Chief of the Indian Navy's Eastern Naval Command Vice Admiral A.K. Singh tells Livefist, "The sad part is that while our submarine force is in dire straits, the navy is now talking of high endurance AUVs. As regards DRDO, they were promising AUVs whilst I was in service." Singh retired a decade ago.