India's HAL Rudra armed helicopters have had an unusually low profile since they entered service four years ago. Handed over to the Indian Army with great fanfare in 2013, they've melted quietly into operational service, never really showing themselves again since. Which is why, it was a pleasant surprise when a Rudra popped up in photographs of India's new defence minister Nirmala Sitharaman on a visit to the IAF's Naliya air force base in western India. The minister, accompanied by Army chief General Bipin Rawat was specifically given a 15-minute tour of the Rudra by an Army Aviation Corps. pilot apparently in keeping with her professed focus on modernisation with a focus on indigenous products.
Not spotted often in service, an Indian Army Rudra visible in this photo of @NSitharaman visiting the Naliya air base in Gujarat today. pic.twitter.com/YaNyIC0mCy

— Livefist (@livefist) September 11, 2017
HAL's Rudra, a weaponised and hunt-focused Mk.4 version of the trusty Dhruv, is still settling in with its primary customer — the Indian Army signed on earlier this month for 18 more, taking the total size of its intended fleet to 78 aircraft. The Army currently 23 Rudras across three operational squadrons, with plans to raise four more squadrons. A further 21 airframes are currently under test at HAL Bengaluru. HAL will produce a total of 34 more Rudras to complete the Army's current confirmed order book of 78. More from Defence Minister Sitharaman's tour of a Rudra at AFS Naliya: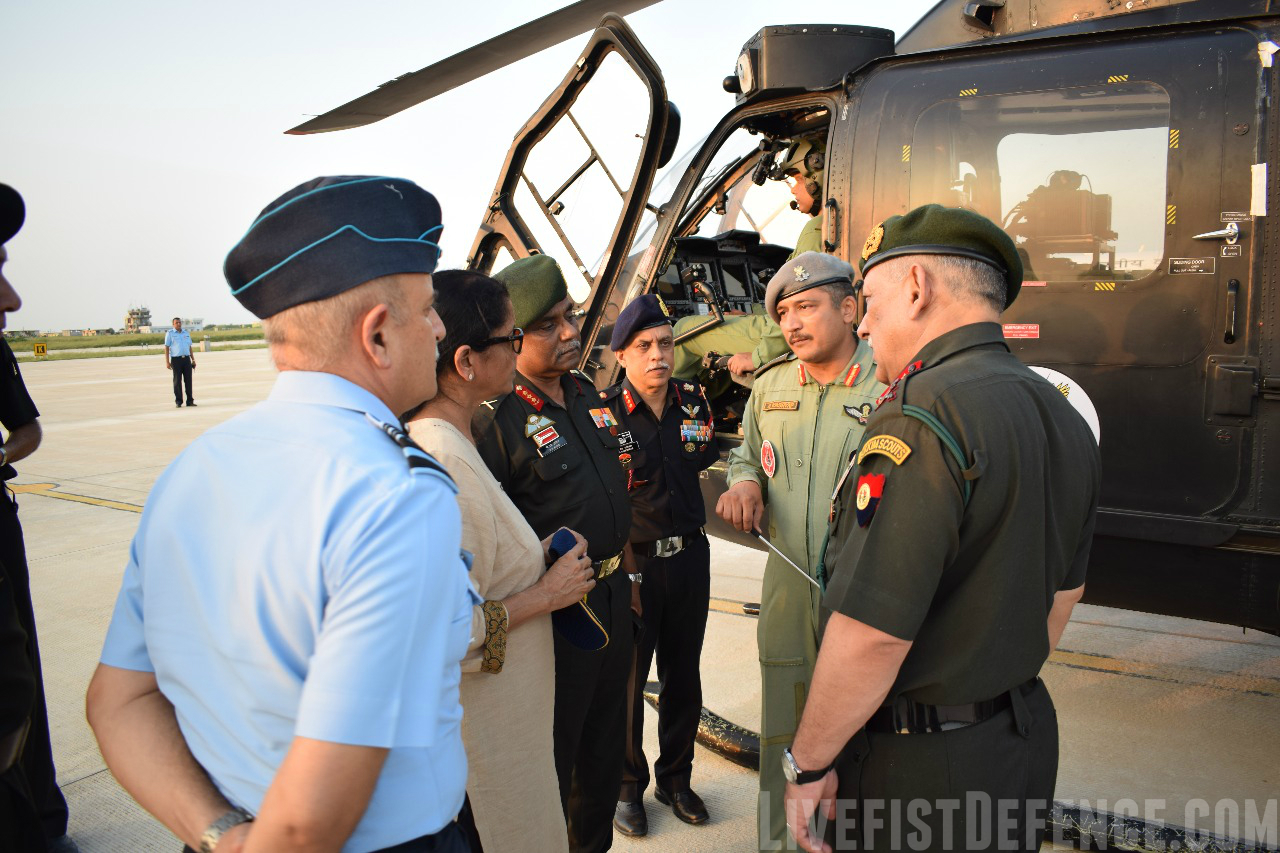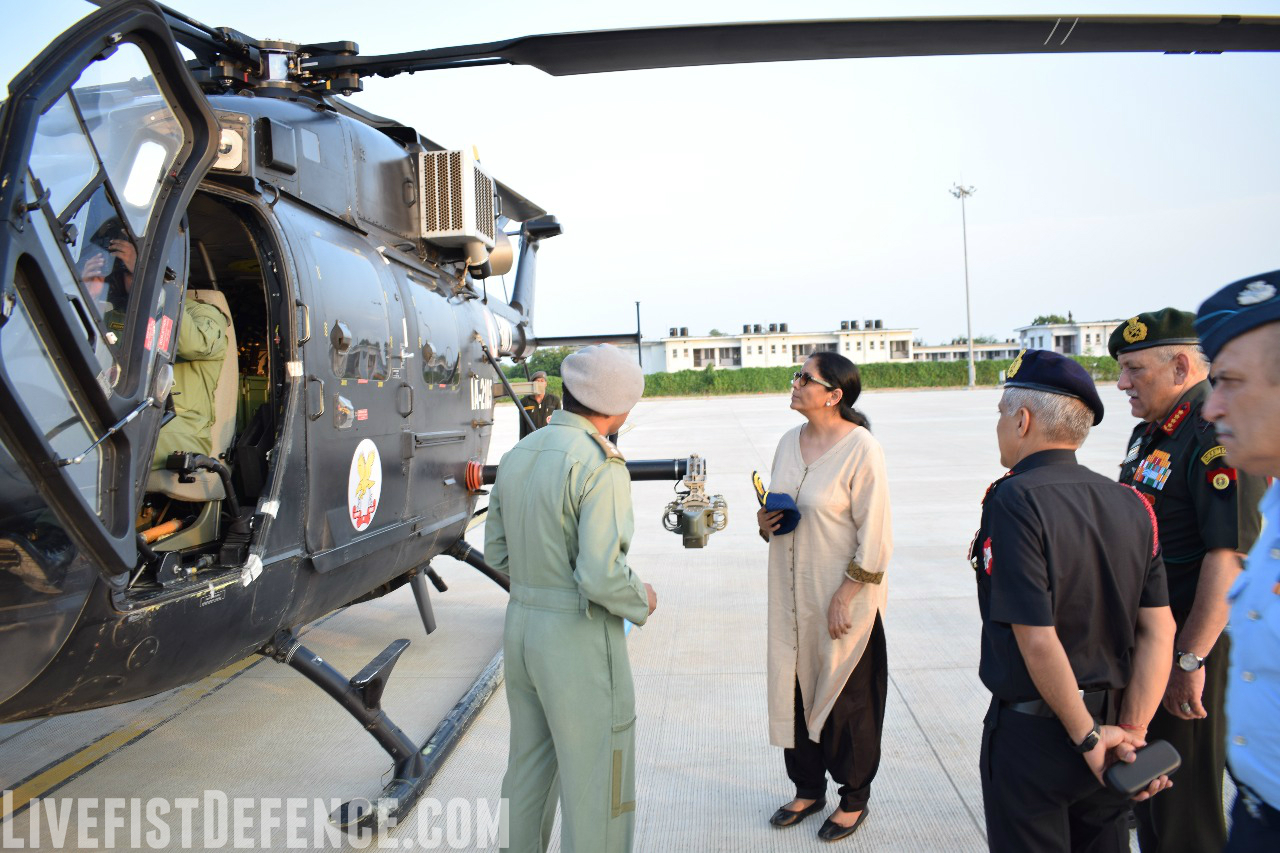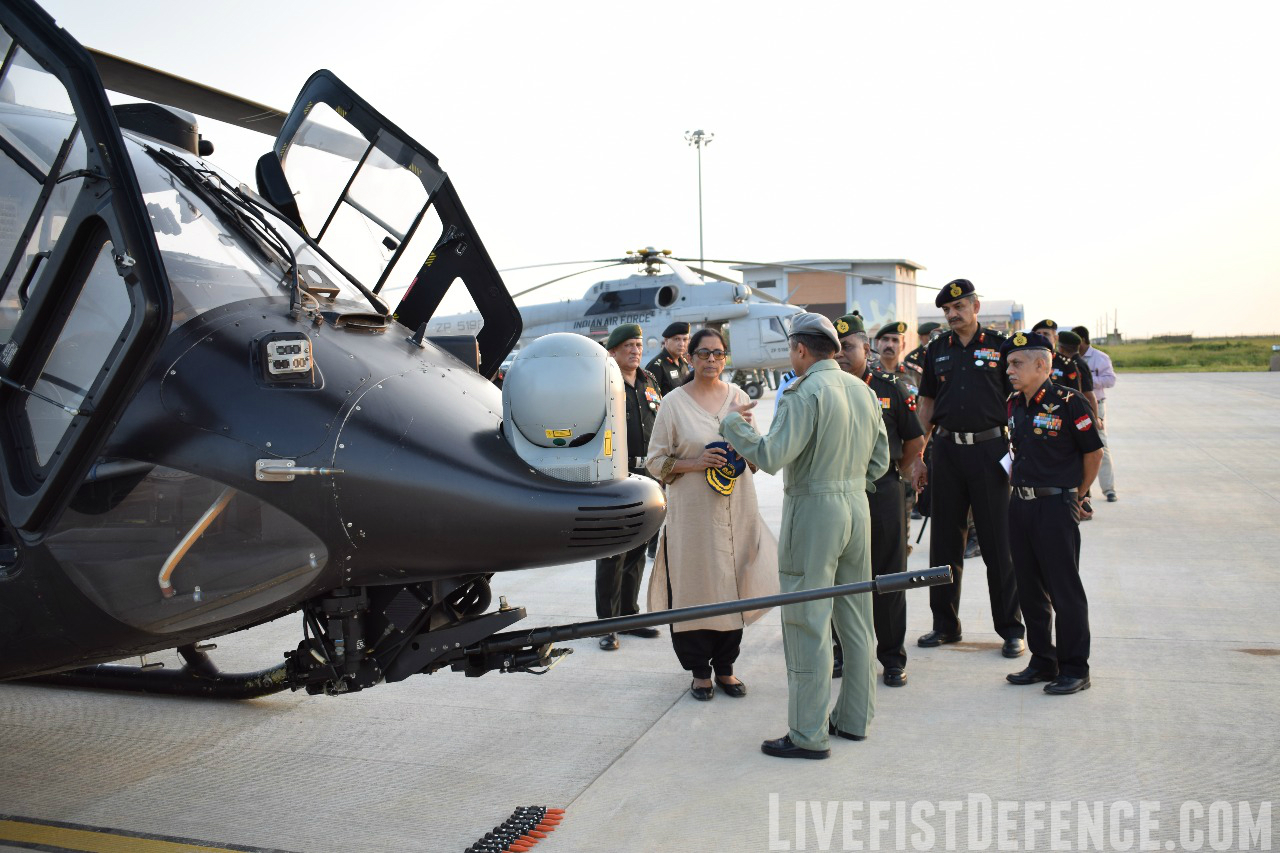 While the Army is largely pleased with the Rudra, save some niggles being sorted out with HAL, a serious unresolved flashpoint between the Indian Army and the copter remains its lack of an anti-tank guided missile. India continues to stall on a decision to award a contract for 124 launchers and 1,362 missiles to either MBDA or Rafael Defence for the PARS L3 or Spike ER respectively. The indigenous HELINA ATGM is still at least two years away from proving itself on the Rudra's launchers. Livefist can confirm that Minister Sitharaman has been brought up to speed on the Rudra's pecular 'armed-but-weaponless' situation and moving forward on a decision will be one of the things on her table soon.
Sweet slowed down shot of India's HELINA air-launched anti-armour missile exiting its launcher on a Rudra. pic.twitter.com/1Nkdwpwty3

— Livefist (@livefist) February 13, 2015
Official HAL literature on the Rudra details the platform thus:
The Rudra can deploy 48 70mm rockets at standoff ranges of more than 8 km, a turret mounted 20 mm cannon cued to its electro optical payload or the pilot's helmet mounted cuing system. This provides Rudra immediate and accurate firepower against ground and aerial targets. Pilot only has to look at the target and fire. With an advanced ballistic computer, the guns are very accurate even at extreme angles. Fire and forget anti-tank guided missiles with 7-km range make Rudra an ideal platform for ground support roles. Rudra can carry four air to air missiles. These are infra red guided fire and forget missiles with off axis boresight capability. Pilot can engage the target using the helmet mounted sight or with the electro optical pod, while manoeuvering. State of the art sensors complement this tremendous firepower. Gyrostabilised electro optical sensors work on both visual and IR spectrum. Any type of target will be picked up and tracked at large distances, whether by day or by night. These targets can be handed over to the guided missiles or attacked with rockets and gun. The laser designator can designate the target for any compatible weapon. A comprehensive self protection suite would empower the pilot with essential situational awareness of the elctromagnetic and laser environment.