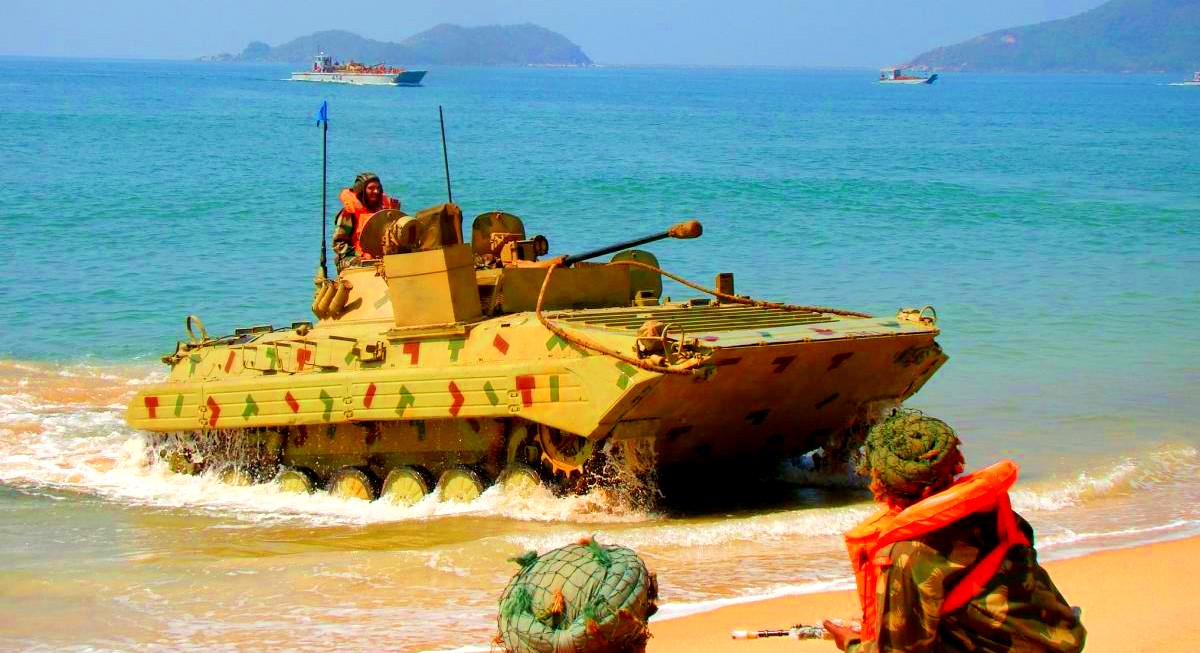 Chinese hostilities in eastern Ladakh appear to have compelled — and coloured — the Indian Army's latest effort to upgrade the firepower on over 800 BMP-2/2K infantry combat vehicles. In a formal request for information (RFI) scouting armament packages from Indian industry, the Army notes, "The terrain along our borders lends itself to conduct of large scale mechanised operations and the belligerence of our adversaries on the borders necessitate that our capabilities are adequately built up to match the threat."
That ongoing military tensions have found mention an otherwise staid procurement document is telling, and perhaps points to the all-consuming nature of the standoff with China which has escalated steadily since early May and seen multiple violent clashes, most notably one on June 15 in the Galwan River valley where 20 Indian Army personnel and at least 16 Chinese personnel lost their lives. Incidentally, Indian Army BMP fighting vehicles, the kind it is now trying to fit better weapons on, were deployed in the area of the Galwan clash, and withdrawn over a month after the bloodshed.
An element of exasperation also appears to have filtered into the Army's RFI document, especially the curiously categorical declaration that the BMP fleet is 'night blind as on date' and that this is a 'critical operational void'. Documents like these are generally pretty vanilla when identifying the nature of the requirement being addressed, and always stay away from articulating voids of any kind, even if they're obvious.
"Battlefield illumination does not limit itself to specific ammunition but also to have inherent night fighting capability existing in each weapon system. The present equipment of Mechanised Infantry i.e BMP-2/2K was inducted into service in 1985 and has been the mainstay equipment of Mechanised Infantry since then. The armament system is night blind as on date and needs to be upgraded with modern sights thereby fulfilling the critical operational void," says the Army's document published on September 4.
The Indian Army wants Indian vendors to prototype an upgraded weapons package for the BMP and outline its offer by October 16. The Army has stated that the package must include a 3rd generation thermal imager based gunner sight, 3rd generation thermal imager based panoramic commander sight, a modernised fire Control System, automatic target tracker. The Army wants all of these to elevate the existing weapons on the BMP.
The Army goes on to provide reasons for the nightfighting upgrade request: "The present armament sighting system in use is based on image intensifier technology which has its limitations and is not fit for modern day warfare. Present system is also deficient of modernised fire control system and automatic target tracker which adversely affects the capability of BMP-2/2K to fight both during day and night. All these aspects are critical requirements for Mechanised Infantry to operate in armour intensive battlefield. The capability being sought is to offset the existing deficiency in BMP-2/2K platform and thereby bringing it at par with other modern war fighting equipment of Indian Army."
In June, the Indian MoD cleared decks for the Indian Army to order 156 upgraded BMP-2/2K infantry combat vehicles from the the Ordnance Factory Board which has license-built them for years in Medak, Telangana. Deliveries begin next year, and are to be completed by 2023. In July, the MoD's Defence Acquisition Council also approved specific upgrades for the BMP fleet. The current quest for night-fighting upgrades is part of that effort. The Indian Army also has ongoing efforts to acquire new powerpacks and fitting new anti-tank guided missiles (ATGMs) as part of a larger upgrade thrust that's been on for years.
Upgrading the BMP fleet also popped up in a recent video interview that Livefist did with Indian Army Armoured Corps veteran Maj Gen Birender Dhanoa on the topic of the Indian Army's light tank requirement in Ladakh. In the interview, he speaks extensively on how the Army ought to prioritise the modernisation of its BMP-2/2K fleet before considering new platforms. You can watch that full illuminating interview here: