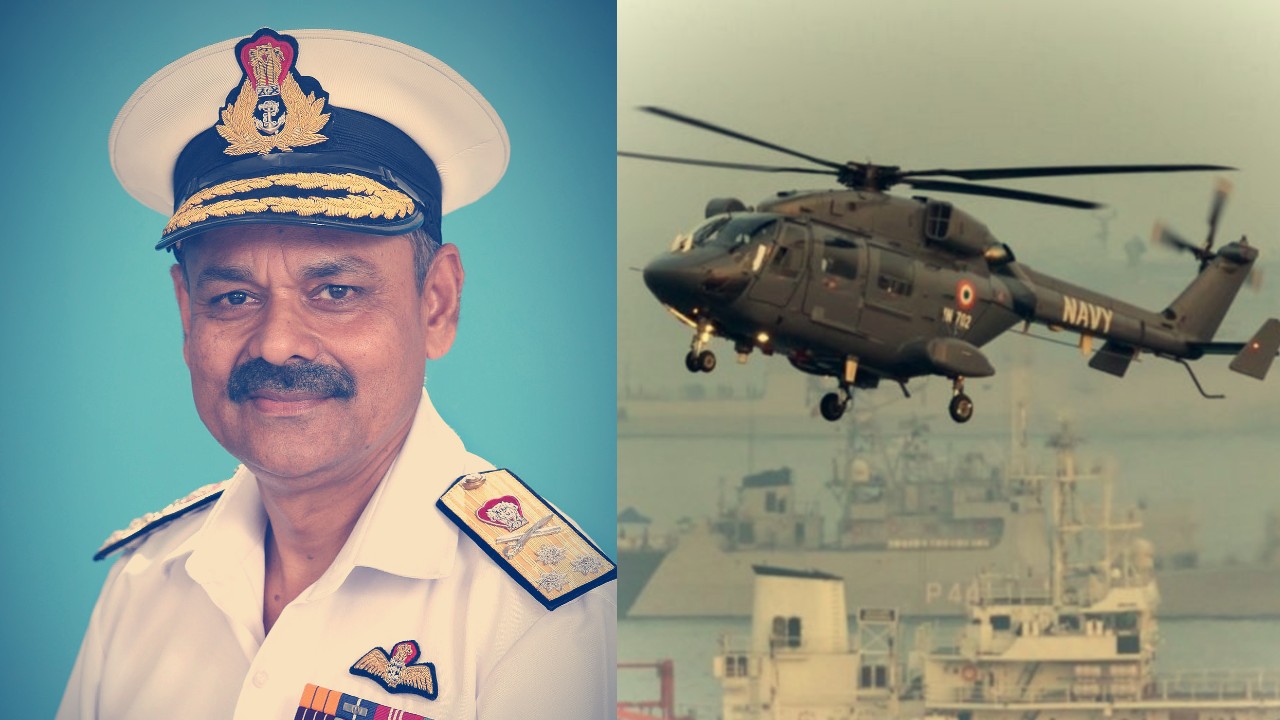 A war of words over HAL's Dhruv helicopter for the Indian Navy, sparked by an interview on Livefist this week, has escalated further. After an angry HAL took issue with a former Chief of Naval Staff calling them 'lethargic, deadbeat' for their lack of initiative in delivering a ship-worthy Dhruv helicopter, several veterans — both from HAL and the Indian Navy — have reacted.
Inputs from officers involved in key decisions around the naval Dhruv now add detail and texture to a program that has been described as a 'sad story' by Admiral Prakash in his interview to Livefist.
The most prominent among them is Vice Admiral Shekhar Sinha, former chief of the Western Naval Command & of the Integrated Defence Staff. Speaking to Livefist, he said, "It is with utter dismay that I see HAL's response to Admiral Arun Prakash's comment. It is surprising that HAL has retorted in this manner. With conviction I can say that HAL dragged the issue of NUH (naval utility helicopter) for a number of years after it failed to meet NASQRs (naval air staff qualitative requirements) in 2003. HAL must also be reminded that in 2011 they gave in writing that they (HAL) cannot meet the NASQRs of NUH, since they cannot manufacture auto blade folding mechanism."
Vice Admiral Sinha insists that it was HAL that signed off on MoD's decision, therefore, to approve steps to identify an import option for the Indian Navy.
He says, "It was in the 2011 Services Capital Acquisition Procurement (SCAP) meeting I was part of that a decision was given on behalf of MoD that the Indian Navy can use the 'Buy' option for NUH. I was chief of the IDS during that period and part of deliberation. There was no choice but to ask the navy to go ahead with the 'Buy' option. The requirement at that time was lesser than what it is now because of delays and helicopters finishing with technical life. Many ships have been commissioned without helicopters since then. It is integral part of a warship. HAL may like to go through their files before making lose statements against a former Chairman of Chiefs of Staff Committee and CNS who has supported indigenisation to the hilt."
The 2011 SCAP meeting that the officer refers to is significant, since it is basically the Indian Navy's documented proof that HAL had green-lit plans to import helicopters, since HAL had assessed itself to be incapable of delivering a compliant helicopter. In the best traditions of Indian bureaucracy, the SCAP comprises two committees — the SCAPCC (categorisation committee) and SCAPCHC (higher committee), both of which consist of representatives of all departments of MoD. The SCAPCC is populated by Joint Secretary-level officers and chaired by the by Deputy Chief of Integrated Defence Staff (Policy Planning and Force Development). The SCAPCHC was chaired at the time by Vice Admiral Sinha himself, and included the 3 service Vice Chiefs and Additional Secretary-level officers.
Only when a proposal of a service headquarters (in this case the Naval HQ) passes collective scrutiny of both committees is it put up to the apex Defence Acquisition Council ( DAC) chaired by the Defence Minister (AK Antony at the time) and includes all Secretary-level officers of the MoD , the Minister of State for Defence, service chiefs, DG Acquisition, DRDO chief and CISC (Vice Admiral Sinha at the time).
Livefist will update this story if we hear back officially from HAL or the company's chairman at the time of these decisions in 2011, Ashok Nayak.
A senior HAL official, who asked not to be named, told Livefist, "Yes there have been some misgivings in this project regarding requirements for shipborne compatibility, but there is a view that such attacks will only alienate those working on such projects. We respect the views of the customer above all, and can understand the emotions that are involved, but the intention must be to fix what has gone wrong, however long it takes, and ensure we are on the same track."
The top-level spat over the naval Dhruv has come into particular focus owing to the Indian Navy's reputation as being traditionally more accepting and supportive of indigenous equipment than the other two services. In turn, that explains the intensity of the exchange.
Rear Admiral Sudhir Pillai, former Director Naval Air Staff at Naval Headquarters tweeted today in response to Livefist's report, "The naval Dhruv development was requested in 2003/04 by Admiral Arun Prakash as CNS when he made a fervent plea for the development of an ALH Mk 2 to a high-powered team including HAL chairman (NR Mohanty at the time) after the ALH review revealed shortcomings. He offered Indian Navy support for funds. But was this ever pursued by HAL?"
Captain Dalip Kumar Sharma, former Indian Navy spokesperson and now a military affairs commentator, tells Livefist, "HAL needs to be reminded that the officer (Admiral Arun Prakash) making comments is not only a retired Chief of Naval Staff, but a revered naval aviator who has played an extremely important role in shaping the navy's air arm."
Capt. Sharma continues, "The first naval qualitative requirements for the ALH were provided to HAL in 1978, including dimensional requirements for fitment in ship hangars. These were found stringent, and on request from HAL were modified by the Indian Navy. However, these also could not be met. How can a navy procure helicopters that cannot be stowed onboard ships? Certainly, the navy will not procure helicopters for operations from ashore."
While the Livefist interview has amplified a bone of contention that has festered over the Dhruv helicopter for long, several officers have also sought to dismiss the notion that the Indian Navy has been dismissive of HAL's helicopter.
In a detailed blog post today on the helicopter blade-folding debate — one of the points of divergence between HAL and the navy on the Dhruv — veteran helicopter pilot Commander K.P. Sanjeev Kumar writes, "It may be fashionable to say 'navy was never interested in ALH' or 'navy loves imports'. But it is patently unfair & completely untrue… The Indian Navy has remained engaged with ALH & continues to do so even today. From an initial order of over a 100+ ALH, navy almost closed the project, only to revive it with orders for 16 more Mk-3 ALH in shore-based role… A world-class manufacturer should target global customers. This is unlikely to happen if domestic customers are unhappy. Being dismissive doesn't help either."
Capt. Sharma, who retired from the Indian Navy last year, says, "120 helicopters were sought from HAL in 1994, signed by Admiral Arun Prakash who was then the ACNS (Air). This was again echoed to HAL in 1996 by Vice Admiral Sushil Kumar, the then VCNS. Despite not meeting QRs, the navy accepted 8 ALHs commencing 2003 with the hope of HAL undertaking modifications to meet original naval requirements. It has been 17 years since and 900 modifications later, as indicated by the navy to HAL, that ALH still does not meet the requirements. The design and development cost to make ALH compliant to naval requirements was sought from the navy. Funding by navy to meet its QRs is akin to a car manufacturer asking the buyer for R&D cost to install a brake system on the car."
HAL's Dhruv has been successfully inducted in significant numbers with the Indian Army, IAF and Indian Coast Guard, with units exported to countries that include Ecuador. The current tensions of the navy's NUH stand in contrast to the creditable strides the helicopter itself has made in its standard and weaponised variants, though bureaucratic indecision has created significant hurdles there.
Livefist will have updates soon from HAL.