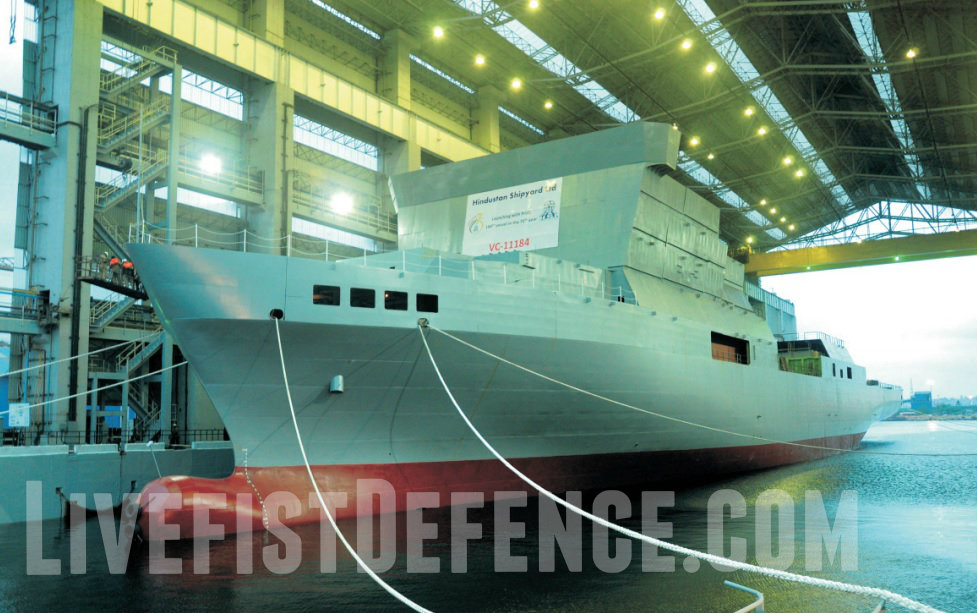 There won't be a public commissioning ceremony or any fanfare for the cameras. Not the sort that usually accompanies the entry into service of a frontline warship. In fact, much like India's first nuclear ballistic missile submarine INS Arihant, known all its life simply by its euphemistic project title Advanced Technology Vessel, this new ship will likely slip into service in silence. Revealed first over two years ago here on Livefist, the secretive vessel, known only by its mysterious yard designation at Visakhapatnam, VC 11184, will be India's most advanced electronics and tracking/surveillance vessel — a missile range instrumentation ship. And it will be the first ship to be a dedicated element in Phase-2 of India's ballistic missile defence (BMD) setup and also be deployed for duties to support India's strategic weapons programme. The build programme is being monitored directly by the Prime Minister's Office in Delhi.
The photograph you see here is the first of the ship being floated out last year. Livefist can confirm that VC 11184 is currently in a phase of systems trials and will be handed over to the Indian Navy after sea trials in the summer. The vessel will have on board a specialised team from the National Technical Research Organisation (NTRO) — India's principal technical intelligence bureau, which reports directly to the National Security Advisor's office at the PMO. The ship will be primarily tasked with missile tracking using two sensors, possibly an X-Band AESA primary radar and an S-Band AESA secondary radar, ranging and electronic intelligence (ELINT) gathering, making it the first ship of its kind to join Indian service. Only four other countries — the US, Russia, China and France — operate similar vessels.
India's state-owned Hindustan Shipyard Ltd (HSL), a dying institution, was handed the roughly Rs 725 crore on 25 Feb 2013 — likely a strategic move, given that HSL has been well out of India's industrial spotlight for year
s, a status that was perhaps conducive to building such a ship in relative secrecy. Originally to have been delivered by August 2015, the build has been delayed for a variety of familiar reasons: logistical, delays in procurement of on-board equipment, propulsion systems and sensors etc. The Indian Navy is not authorised to speak on record about the vessel.
Very little is known about the vessel beyond what your correspondent reported here in 2014. What we do know is that the VC 11184 won't be a small ship — at 175 metres, it will be among the largest ships in service under the aircraft carriers, roughly as long as the amphibious landing ship INS Jalashwa and Deepak-class fleet replenishment tankers.
NOTE: While the Indian Navy and other government agencies are not authorised to speak on record about the VC 11184, Livefist has ensured the information being put out in this post is of a non-classified nature, and has had it vetted with the agencies involved.