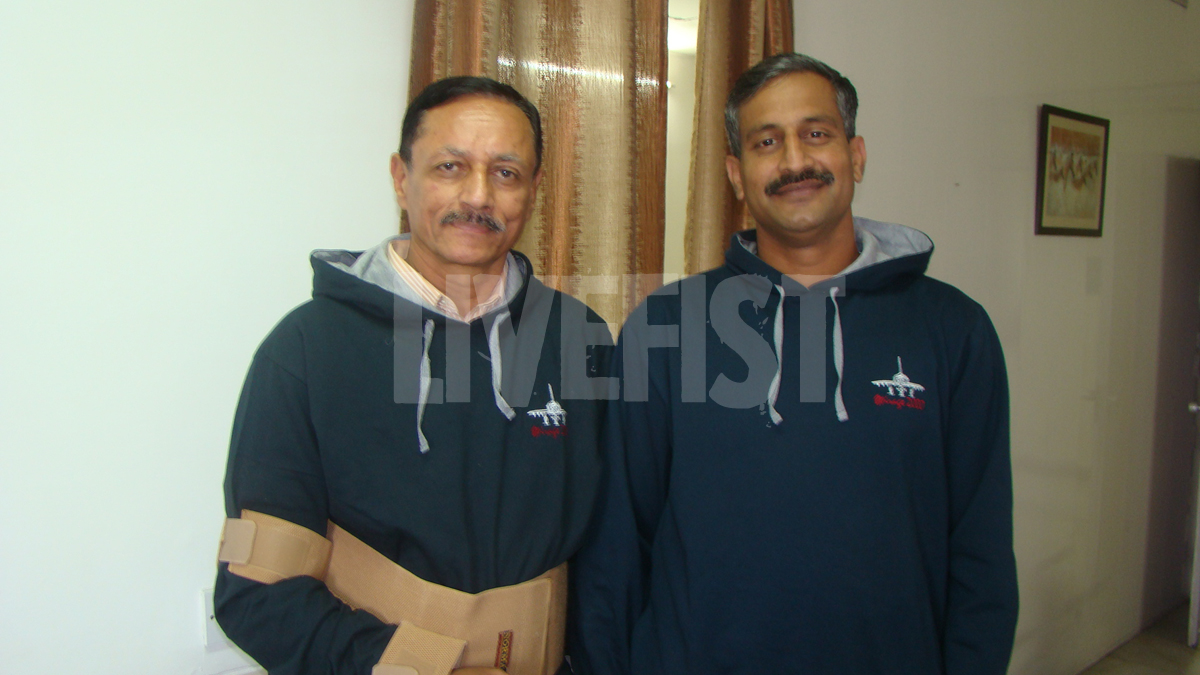 On Saturday, 25 Feb 2012, I was driving to a work lunch when I got a phone call about a Mirage 2000H crash in central India. My source at the Gwalior Air Force Station, from where the fighter had taken off, told me the two pilots had ejected. When I heard who was in the front seat on the flight, I remember stopping my car on the side of the road, switching off my engine. It was Air Marshal Anil Chopra, then Air Officer (Personnel) at IAF HQ. As Commodore Commandant of the 1 Squadron 'Tigers', Air Marshal Chopra was on a general flying mission with the squadron commander, Wg Cdr Ram Kumar. Earlier published internally by the IAF in a flight safety journal, Air Marshal Chopra has been kind enough to allow me to reproduce his amazing first-hand account of the incident that made him, as he mentions in what follows, the world's oldest person to eject from a fighter jet:
A Fighter Aircraft Ejection Over Chambal
By Air Marshal (Retd.) Anil Chopra
[There] was a big explosive thud behind the aircraft cockpit. Followed by a grinding churn of the turbine blades. Lights on the failure warning panel all of a sudden lit up. A variety of warning horns started blaring.The aircraft speed started washing off till we put her into a glide. We knew the time of reckoning had arrived. We were 11,000 feet over the Chambal ravines. The altitude was good enough to make a few attempts to re-crank the engine.
Just five minutes before,
Wg Cdr Ram Kumar and I
had taken off in a Mirage 2000 two-seater for a routine general flying mission. It was a blue sky and the weather was picture perfect. We were still in a climb towards the sector when that '
it will never happen with me
' happened. We immediately attempted a 'hot' and two 'cold' engine restarts (relights). The turbofan had slowed down and then seized. Years of training were under test. It would be the first ejection for both me and Wg Cdr Ram. We were both unnaturally cool, something later confirmed by cockpit recordings. There was time for us to quickly recollect and revise all checks before ejection, most importantly to tighten seat and helmet straps and lower our visors. While Ram was trying to get the engine going, I was monitoring our height loss. As we crossed below 4,000 ft above sea level, I gave the final call: "Ram, time to go, pull the handle".
To pull the ejection handle is a difficult decision. The comfort and safety of the cockpit have taken many a crew into the ground. To eject at a very ripe age of 59 years plus has its own dynamics. The spine and the neck are most vulnerable. My full attention was on taking a posture to save these two very vital parts of an ageing man's body.
Ram pulled the handle. The final event happened. Front canopy, rear canopy, rear pilot and front pilot is the sequence in which they go. The entire sequence from the pull of the handle to opening of the main parachute took exactly 2.6 seconds. In physical reality it is a timeline that appears never to end. I last remember having seen the front canopy cartridge fire to crack open the glass. Thereafter a rocket went off under my seat,instantly blacking me out. As the seat came out of the aircraft, a blast of air hit me. In this blacked out state, I could feel a tossing motion with considerable forces acting on my body. I could hear the sequential firing of a large number of cartridges/rockets. I could see stars flashing in the dark of my eyes. Then all of a sudden it was all quiet.
I guessed those dreaded 2.6 seconds were over. My eyes opened. The beautiful Chambal Ghatti with millions of earth mud mounds were below me. There was general peace. I had noted the location of a small patch of green which looked like a village for future use. Downward parachute motion appeared very slow. There was a severe pain in my right shoulder and I could not move that arm. Apparently it was injured. A few sheets of paper and a map were also floating down along with me. These were part of the check list and the map the pilots carry in their anti g-suit pockets for each sortie. Soon I saw Rams parachute nearby and I waved at him with a thumb up confirming all was okay, in actual signaling Thank God we are alive.
All of sudden Ram's parachute came charging at me with his boots heading straight for my parachute canopy. It scared the hell out of me. I shouted to him to get away, not realizing I had a mask on and he couldn't hear me. Then we pulled ourselves away by tugging at the rigging lines.
Finally the earth rushed towards me very quickly. With one hand not available, I could not have cushioned my landing by tugging at the chute straps. The parachute had a sideways motion because of the wind. I hit a mud mound with large force. These mounds are weather beaten and rock solid. But for my helmet and visor, my head would have been in pieces. In spite of the helmet there was profuse bleeding from my nose. There was acute pain in my shin. Still I was relieved that I was alive. In pain, I disconnected my parachute and the anti-G suit. I also tried to climb the mound to get a bird's eye view of the surroundings and to look for Ram, but was in too much pain. I than shouted to see if Ram would hear me but later found he had landed nearly 450 meters away.
With an injured leg, the rule is don't walk. But I was so keen to make human contact that I could not resist looking for a way out of the ravine. Luckily for me, after about 15 mins, which appeared to stretch on for eternity, some villagers appeared. My first question was to find out if someone had a mobile phone. For once I was most grateful for the mobile revolution. I borrowed a mobile which had lost all letters on its keys from overuse. That is also the first time I realized that I did not remember any phone numbers because all were stored in my own mobile which was lying at my take-off base. Memory can fail you at such a time. As luck would have it, I fluked to get the correct number of my son-in-law. He happened to be a die-hard civilian. It took me a few seconds to explain to him what an ejection was and what actually had happened and asked him to convey it to Air Force authorities. He did not have any of our Air Force numbers, but managed to get through to my staff officer. Three minutes later, the Gwalior Base Commander was in touch with me. A few minutes later I spoke to my wife who was also in Gwalior. Meanwhile a village elder tore his dhoti to make a shoulder sling to support my injured arm.
The search and rescue helicopter arrived within 20 minutes of the ejection. With the help of villagers, I had got my parachute opened up on top of the mound. In Chambal, you can see a colored object from miles. So the rescue crew homed in on me quickly. Only, it was difficult to find a landing ground near the ravines. Finally the SAR helicopter landed 300 meters away. Soon I was stretchered on. The pain was becoming unbearable while we waited for Ram to be brought in.
We are lucky that most military hospitals have helipads. On landing, the doctors took charge to prepare for my shoulder operation later that evening. Meanwhile the squadron boys and ladies accompanied by Ram's wife and my wife arrived at the hospital. They carried flowers, cakes and champagne. It is very traditional to celebrate a new birthday at the earliest after an ejection. So still lying in bed in the ICU, they made us cut a cake and then went out to pop the bubbly. While we were being fed antibiotics through drips, we could hear the youngsters celebrating outside in the typical flier's way.
Next morning, we were transported by air to the Army Research & Referral hospital in Delhi. The immediate medical procedures were over in next 3-4 days and I was ready to go home on long sick leave. I told them Air Marshals do not take such leave. Meanwhile someone informed me that I had set a record by being the first ever Air Marshal in the world to eject from a fighter plane. Not that one wants to set such records. The Guinness people also confirmed the same but obviously they wouldn't create such a category lest someone try to break it.
The 'Air Marshal's ejection' made headlines in all forms of media. Questions were raised by a few as to whether a pilot should be flying at my age. It was like questioning the logic of a leader leading from the front. These were the inherently meek guys. Much larger numbers in media supported the brave.
There are lessons to be learned from all incidents. In life, something can happen any day to anyone. Preparing emergency drills is critical. My advice to fighter crews: Always share work load between yourselves. One guy takes actions, the other calls out critical parameters like height and speed and other important information. Preparation for ejection can save a few bones. That may not always be possible. The helmet and boots are critical items. They also help during landing. Take a timely decision to eject if you have to. Let there be no doubt. Better safe than buried. Many injuries occur during landing and therefore one needs to prepare for it. Having a mobile phone helps and knowing a few numbers even more. Don't lose your spirit of life after an ejection. Fulfill your dreams as you go along. Live a wholesome life. Lead from the front. Senior officers must fly.
P.S. Nearly a year after the incident, the Court of Inquiry confirmed that it was a material failure of two engine turbine blades. Who was responsible never did get clearly established. As a result of the injuries I sustained, I never flew again in the air force. I still don't have the full use of my shoulder. And there's still pain.