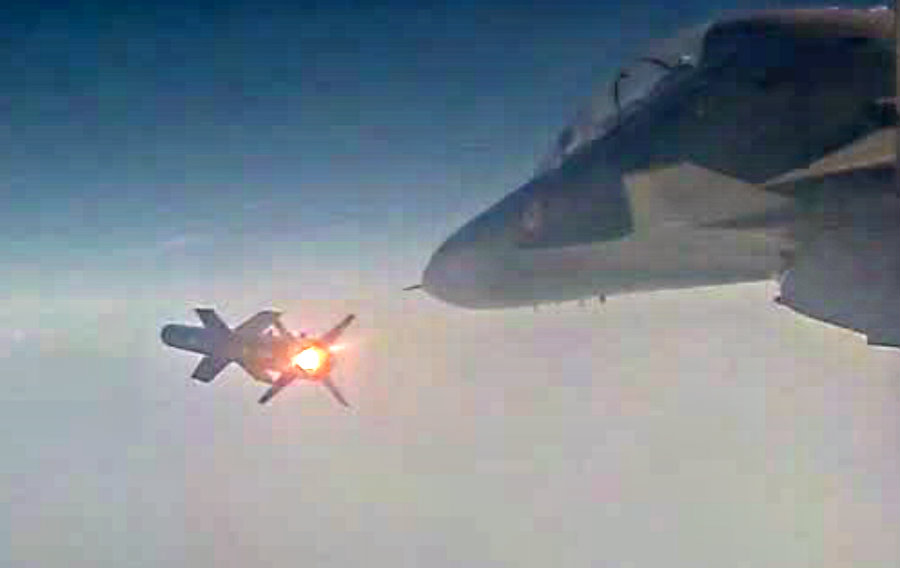 One of India's most ambitious and challenging missile projects, the ASTRA (Sanskrit for 'weapon') beyond visual range air-to-air missile has entered a final round of trial launches ahead of service with the Indian Air Force. With over 20 The missile was fired today in a fully guided mode at a maneouvering aerial target drone. With over 20 aerial tests since it was first fired from an IAF Su-30 MKI in May 2014, the weapon is to be tested a handful more times before being handed over to the Indian Air Force for a cycle of user trials before induction into service.
As Livefist reported earlier this year, the Astra has been tested since September last with an Indian Ku-band seeker developed by the DRDO's Research Center Imarat (RCI) in Hyderabad. Seekers are sensory electronics that guide missiles to their targets and are core to how accurate a missile can be in operations. The Russian Agat 9B1103M active radar used earlier on the Astra has effectively been replaced with a better performance Indian-made alternative.
With an operational range understood to be in the area of 110 km in some firing configurations, the Astra qualifies as a beyond visual range weapon. Comparable air-to-air missiles currently in IAF inventory include the MBDA MICA, Rafael Derby and Vympel R-77. The Indian Air Force's new Rafale jets that begin arriving in September next year will come armed with the longest range weapon of its kind, the MBDA Meteor, which sports a range in excess of 300 km in some firing configurations.
'India has attained a high level of capability in the indigenous design and development of advanced weapon systems,' Indian defence minister Nirmala Sitharaman said today shortly after the successful Astra missile test. The Su-30 MKI fired the Astra over open ocean after taking off from the Kalaikunda air base in country's east.
In a statement, the MoD said, 'The missile successfully engaged a manoeuvring target with high precision meeting the mission objectives. In the series of trials held to date, Astra has been launched in the complete Su-30 flight envelope. The flight test assumes significance as it was part of the series of final pre-induction trials.'