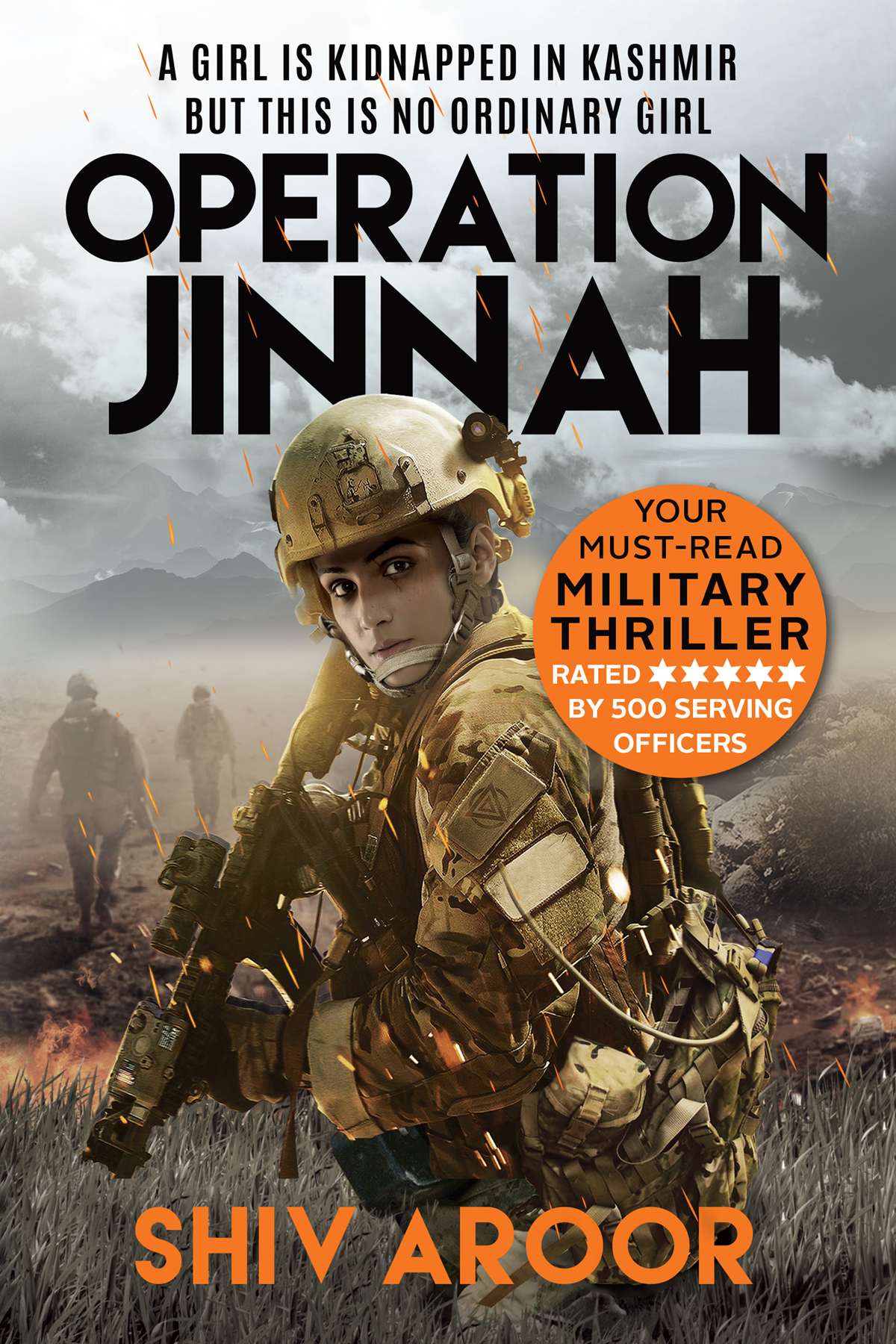 We're very happy to announce the release of Operation Jinnah, the first novel by Livefist's Shiv Aroor. A military special forces thriller. Shiv will be interacting with Livefist audiences on Facebook soon with a signed give-away too. His publishers have permitted Livefist this exclusive extract from the book. Enjoy!
What the hell?' Saraswati asked when she saw the three snaking their way towards her.
'Three SSG men down there,' Akeela said.
'I know, I can see them,' Saraswati said, looking back through her sniper scope. 'And I'm guessing you're all back here because one of you isn't silenced.' She looked up.
Saraswati sighed. Then she got on to her knees and stepped away from her sniper rifle, signalling to Vikramaditya to take her place. The sniper rifle was a much steadier weapon, designed to be fired from a distance of up to a kilometre; 200 metres was a whistle.
'It's just 200 metres. I can get one of them with a normal weapon. You use the sniper,' she said, taking Vikramaditya's assault weapon and cocking it. 'Akeela, you're a better shot than Vikramaditya, so you'll need to get it right the first time with yours at this distance. Are you sure you can?'
'Unless you have another idea, I don't think there's an option.' Akeela sighed.
'Correct. Admiral, if any of us misses, you join the fire. Silencing won't matter then.' Saraswati crouched next to Vikramaditya on the sniper. Akeela lay down with her weapon. The three commandos picked their targets.
'Single shot. No bursts,' Saraswati said. 'Don't want rounds rattling against those walls.'
Rana stood back, the three commandos in front of him on their stomachs, their weapons pointed down the hill at the safe house.
'We've got our men. On the three count. No mistakes.' Saraswati breathed in. One long 7.62mm sniper bullet and two slightly smaller 5.56mm assault rifle rounds silently flew out of the three weapons, streaking down the hill and through the darkness. An infrared picture played out before the death squad as they looked up momentarily to judge their work.
Separated by the tiniest fractions of seconds, the three bullets tore straight into the faces of the three men standing guard at the safe house. The two men crumpled where they stood. The head of the third man was thrown back violently from the bigger sniper bullet, after which he slumped in his seat. The commandos waited, the smell of gun smoke wafting into the air and mixing with the tree-scented breeze. Saraswati turned around to look at Rana, giving him a nod.
'Let's go. Time to storm,' Vikramaditya whispered, handing the sniper position back to Saraswati.
'Nice firing, Akeela,' Saraswati said, placing a hand on her shoulder. 'Think I could make a sniper out of you.'
'Right after we finish this, ma'am,' Akeela said as she signalled Vikramaditya and Rana back to their crawl postures for the downhill trek to the safe house.
'We now move in. Vikramaditya first and then me. Admiral, sir, we'll need you outside the house. Two soldiers to storm. That'll work.'
Rana nodded.
He glanced quickly from one commando to another, looking for even a trace of hesitation or nerves as they got ready to crawl towards possible death. The three got down on their knees, ready to snake their way down the hill towards the safe house, a silent prayer on four pairs of lips that the mission should be over soon.
'Stop. Stop. Don't move a muscle,' Saraswati whispered loudly. The three froze, turning slowly to look at her. Crouched with her eye still on the sniper rifle's telescopic sight, she had held up a hand, motioning them not to proceed further.
'Don't breathe,' whispered Saraswati. 'I see him.'
'Are you sure it's him?' Vikramaditya responded in a whisper, raising his head.
'Head down, don't make a sound. I'm taking a shot,' Saraswati said slowly.
Fifteen seconds passed. Saraswati took her hand off the trigger. She looked up, her face intense. She pointed to the far end of the house, to the second of two windows that had been dark a few minutes before. A dim maroon light now emerged from it.
'I'm going to need more bang than a sniper round. There could be others in that room,' she said as she got to her knees and began to dismantle the front section of her Satevari sniper rifle. From the sniper case, she pulled out a larger front barrel unit.
'This one isn't going to be silent but I say we take this shot,' she said as she reconfigured the rifle, loading up a 14.5mm 'anti-material' round, a significantly larger bullet. Saraswati hoped it wouldn't merely kill the man she could now just about see through her rifle scope but also clear out the room.
'They really didn't see this coming.'
Excerpted with permission of Juggernaut Books from Operation Jinnah by Shiv Aroor, available in bookstores, Amazon and on www.juggernaut.in.