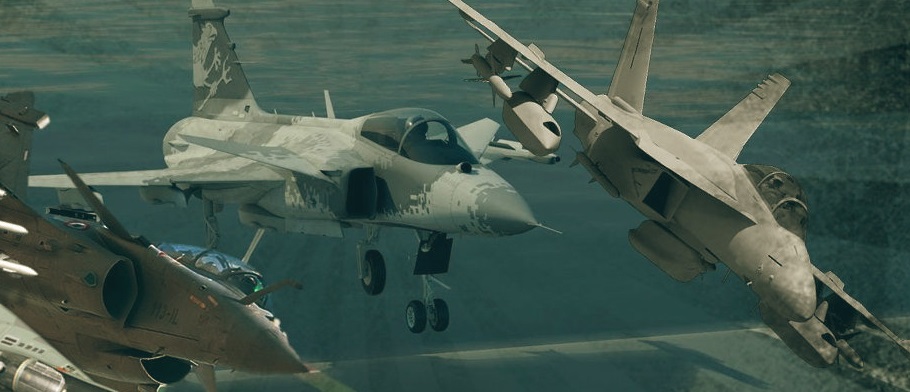 Four months after the Indian Navy announced its big multirole carrier borne fighter (MRCBF) contest for 57 jets, Livefist has the list of four contenders who've formally responded: Boeing with the F/A-18 Super Hornet, Dassault Aviation with the Rafale M, Saab with the Gripen Maritime and Rosoboronexport/UAC with the MiG-29K. Notably, Lockheed-Martin, which has pushed the F-35B/C for an Indian Navy requirement for years, has decided not to respond. That isn't immediately surprising, given that the U.S. giant looks at any prospective F-35 sale to India as birthed by a specific strategic government-to-government move rather than midwifed by a tendered contest.
As Livefist has noted before, it is this contest that could hold the key to important future procurement decisions by the Indian Air Force as well. The four-way state of play provides tantalizing mix of jets now typical to Indian procurement efforts in the military aviation sphere. From two well-worn in service CATOBAR jets to a relatively new STOBAR craft to an airplane concept that doesn't exist yet, the Indian Navy's MRCBF starts off with the one assurance that unites all Indian contests: this is going to be an interesting ride. Let's line the horses up and have a look:
Boeing F/A-18E/F Super Hornet: The Super Hornet has a major Make-in-India bid going that looks to feed a prospective Indian Air Force requirement for twin engine fighters that Boeing hopes will quickly follow the current active single-engine contest.  As part of Washington's wider technological CATOBAR push in India, Boeing's offering gains. On the other hand, Boeing is on record to say it has simulated STOBAR ski-jump operations and that the Super Hornet is capable of operating from a Vikramaditya-class carrier.
Dassault Rafale-M: The Rafale has type advantage. To be in service with at least two Indian Air Force squadrons, and the possibility of more at a later stage, the Rafale gets to push the commonality key. Cost, though, would be a pushback.
Mikoyan MiG-29KThe MiG-29K, it clear by now, has little chance of adding numbers in Indian inventory. A worthy fighter on a trusted platform, but it has run into several problems — not least that it doesn't quite deliver what the Indian Navy needs from deck-based squadron, notably endurance. Other problems with the jet are well-documented, but the very fact that the Indian Navy has invested time, energy and a ton of funds on looking for new fighters means the MiG-29K is pretty much toast.
Saab Gripen Maritime Saab says the Gripen Maritime (known by its far niftier previous name 'Sea Gripen') is ready on paper and has been simmed in both CATOBAR and STOBAR configurations. Design work was completed in 2012, with Saab only really waiting for a fund tap from an interested customer to take the development forward. A single engine configuration works against it — the Indian Navy will be hard pressed to explain junking plans with the LCA Navy (and perhaps the up-engined Mk.2) for another albeit more capable single engine fighter. However, Saab's chances in the IAF's single engine fighter deal will offset some of the downer factor of not being an available, proven aircraft today.
Way too much happens between the cup and the lip in Indian procurement, though. The RFI stage, as vendors and the customer know, is painfully preliminary. And contingent as the MRCBF contest is on several factors, including the Indian Air Force's own forward plans, it could be some time before the next step shows up. The big churn in India's defence industrial policy and strategic partnership roll-out will necessarily slow proceedings for the moment. No one's holding their breaths, but the race has begun.