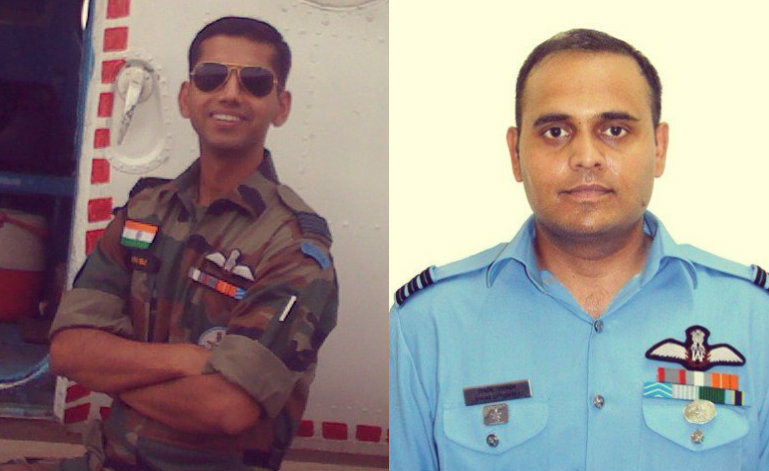 Colleagues, comrades and coursemates from India's National Defence Academy (102 Course), the two men you see in that picture above have a great deal in common and it goes way beyond sharing a first name — Vikas. Both faced pressures of confidence in the academy. Both fought questions and odds to win their flying credentials as underdogs. Both graduated together in the early years of the new millennium. And both went on to become among the Indian Air Force's finest helicopter pilots.
But today, the country's 85th Air Force Day, is fraught with tragedy and unspeakable irony. The two pilots, both deployed far from the national capital on service duties, have arrived in Delhi together. There couldn't be a sadder difference in their circumstances though. While Wing Commander Vikas Puri (left) receives a Vayu Sena Medal (Gallantry) today for his heroism in recovering a Mi-17 from certain doom over the River Brahmaputra in March last year, Wing Commander Vikas Upadhyay arrived last evening in a casket draped with the Indian flag.
Wg Cdr Vikas Upadhyay, 'Uppi' to his air force mates, 36 years old, was captain of the Mi-17 V5 that crashed early on October 5 on the India-Tibet border in Arunachal Pradesh. The freak accident, caused reportedly by a fuel payload hitting the tail rotor and combusting, killed all seven men on board — Upadhyay's four-man crew and two Indian Army soldiers. Their deaths cast a tragic shadow today on India's 85th Air Force Day — observed in full today in the military's inimitable 'show must go on' ethic.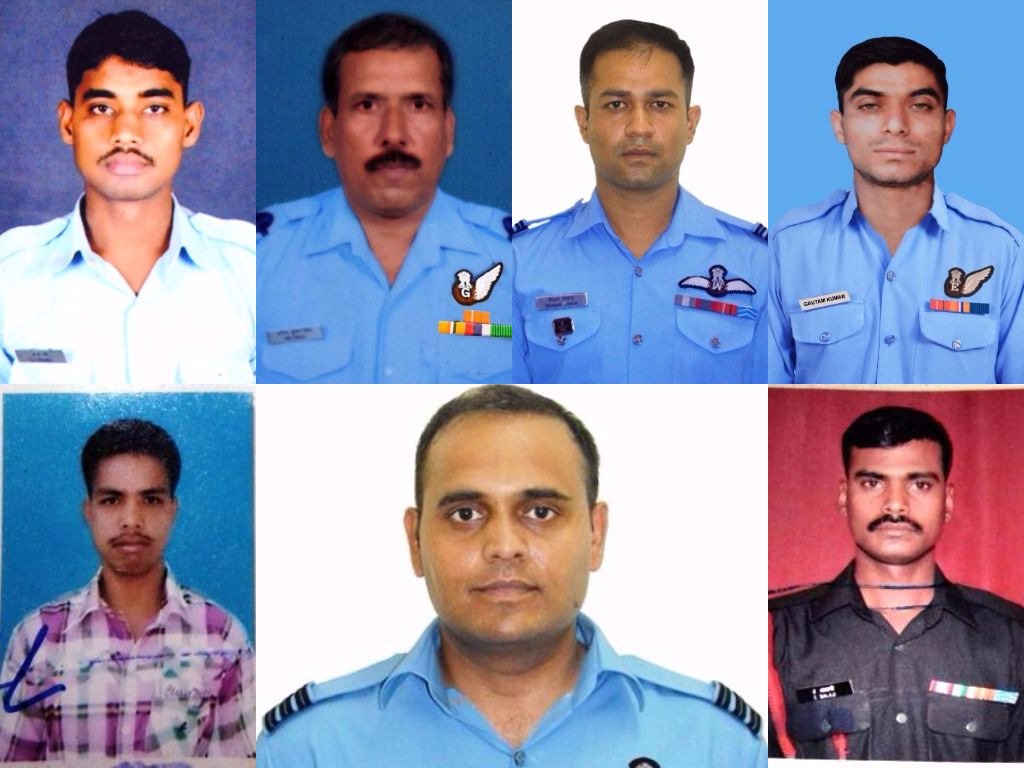 Their mission wasn't remotely unfamiliar — the chopper was transporting a cargo of essential kerosene fuel to an Army post on the border, fuel that ensures the upkeep of troops and crucial continuity of operations in a sensitive area. The terrain is difficult, the weather unpredictable and the airspace not far from a disputed frontier — but nothing the crew of the Mi-17 wasn't used to. Like all crash investigations, the IAF court of inquiry will need to go into every aspect of the flight from the charred remains of the helicopter recovered from a remote glade in the mountains. Nine months ago, Wg Cdr Upadhyay had phoned his coursemate Squadron Leader Vikas Puri. The latter had just been declared a recipient of a Vayu Sena Medal (Gallantry) for his miraculous near-death recovery of a doomed Mi-17 the previous year.
It was in March 2016 that Wing Commander Vikas Puri (then a Squadron Leader) had saved a helicopter full of crew and the leadership of the IAF's Eastern Air Command from certain death. In India's Most Fearless: True Stories Of Modern Military Heroes, a new book co-authored by Livefist's Shiv Aroor, Puri speaks out for the first time on the terrifying mid-air incident. An excerpt:
The Mi-17 was halfway to Tezpur and cruising comfortably at 4500 feet when Natasha broke her silence. 'We were about 55 km from Tezpur, flying over marshy land and paddy fields south of Brahmaputra, when the distress sequence started,' Sqn Ldr Puri remembers. He had correctly deduced that the warning was not a grave emergency, but what happened next made it clear to him that the situation on his hands was what was classified in helicopter flying as 'rarest of the rare'.
Sqn Ldr Puri instructed his flight engineer, Sergeant Surjeet Singh, to investigate the failed service tank pump to confirm Natasha's warning. Just as he did so, Sqn Ldr Puri noticed that the helicopter was not flying steady and straight, but was slightly inclined to one side.
'The artificial horizon ball (a cockpit instrument that reveals the aircraft's orientation relative to the earth's horizon) had jumped to the left at a steeper angle than normal. There was a feeling of being rotated to one side,' Sqn Ldr Puri remembers. This was definitely not good. Quickly, he cautioned his copilot to steady the machine and fly straight so their passengers would not experience any discomfort.
The noise of the Mi-17's rotor might be too loud for any conversation that is not conducted through a headset, but it is also the most reassuring noise when you are suspended in mid-air. 'The noise made by the constant churning of 2 engines, the main gearbox grinding and the rotors beating the air into submission is deafening,' Sqn Ldr Puri remembers. 'But imagine being in a helicopter when all that reassuring noise suddenly falls silent.'
The silence arrived in a heart-stopping moment. Sqn Ldr Puri threw the map to the floor and stared down at his cockpit instruments in alarm. The main rotor's revolutions per minute had dropped below 88 per cent and the power generated by both the engines was rapidly winding down. In seconds, the helicopter would be stripped of all engine power. Sqn Ldr Puri had flown hundreds of hours in Mi-17s and other types of helicopters in service. He instantly knew what was coming. 'One of the worst nightmares for twin-engine pilots. That's what it was.'
Speaking to Livefist today, Squadron Leader Puri couldn't hold back his tears, choosing instead to send us a message for this interview:
"Today I shall receive the medal with a heavy heart when Uppi will be heading to his pyre. Just can't believe that you have left us Uppi. It's a loss to everyone, to the family, to us friends, to your colleagues and to the organization as a person like you who is so committed to his family and his profession, so loyal to his friends, so supportive to his colleagues, always ready to make others' problems his own and help in whatever way possible is hard to come by easily in this world. We feel lucky and blessed to have known you, be your friend and a brother in this life. You'll be remembered forever in our hearts for you leave a deep impression on our heart and on our life. Miss you dear. May God give strength to Teju [Squadron Leader (Retd) G. Tejasvini, his wife, a former officer from the technical branch]. RIP brother."
Wing Commander Upadhyay's flying instructor Group Captain (Retd) Nitin Welde is also in deep mourning today. A note that the retired officer wrote in his former pupil's memory has been shared with Livefist. In it, Group Captain Welde speaks of Upi as a flying cadet:
Flying training takes toll on pupils and some of them start to nurture some idiosyncrasies themselves. The weather, aircraft, sector are many variables, affecting your performance, that one tends to unnecessary get superstitious. Some wear same overall for first sortie and solo check. Some try to manage same aircraft. As I got to spend time with Upi realized that below the transparent map case he was carrying an inland letter. Whatever phase of training, I always saw that he carried it tucked nicely under the map for no one else to see. Half way through the stage, I casually inquired in passing about the letter and Upi mentioned it was from his family. We never discussed anything further than that. As the time for passing out came close I insisted that Upi join helicopters. I knew he needed multi crew environment. I also knew that with his remarkable attitude he would soon be the workhorse in helicopters. He wanted to join fighters and in his polite way tried to reason out with me. Once I spent few hours explaining him the issue at hand, he took the decision in his stride. I think he had immense faith in me and trusted me completely.
[Today] as I hear the news of his air crash, I am reminded of every moment that I spent with the great guy. I see every debrief in front of my eyes, I see his attitude full of helpfulness, commitment and concern for the unit. Goodbye and good luck Upi, you will remain a special pupil, always.
Several troubling questions will necessarily face the air force's Court of Inquiry ordered into the accident, made more perplexing with such a proficient crew on a familiar mission. The fact that the Mi-17 was almost entirely gutted in the crash has stumbled the probe right out of the door. A group of officers will dedicate themselves over the next few weeks and months to nail down the chain of events that led to the fiery tragedy.
Wing Commander Upadhyay is survived by his wife and a seven-year-old daughter. The other men who perished in the Mi-17 crash on Friday morning were co-pilot Squadron Leader Shishir Tewari, flight gunner Master Warrant Officer AK Singh, flight gunner Sgt. Satish Kumar, flight engineer Sgt. Gautam Kumar and two soldiers from the Indian Army, Sepoy Shashi Balaji and Sepoy H.N. Deka. Their remains will be flown by aircraft to their homes in Uttar Pradesh, Bihar, Rajasthan, Assam and Tamil Nadu.
Uppi's unit, meanwhile, hasn't had a moment to grieve. Those forward posts still needed fuel.