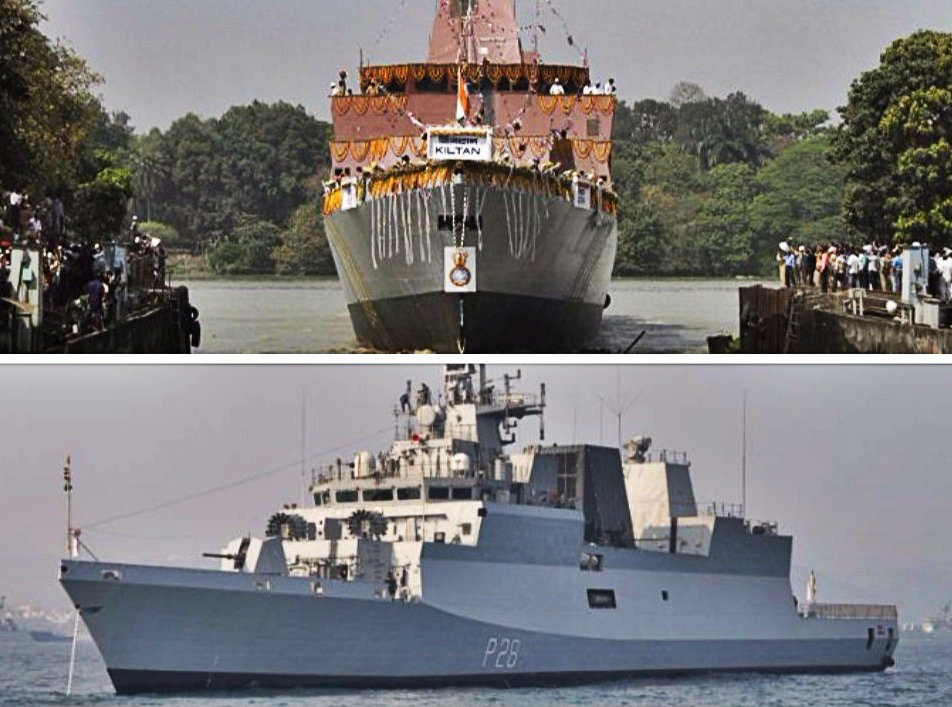 At 9am on the coming Monday, India's new defence minister Nirmala Sitharaman will oversee her first warship commissioning ceremony. At the naval dockyard in Visakhapatnam, she will flag into service the INS Kiltan, India's third Project 28 anti-submarine warfare (ASW) corvette. But there's a significant difference between the Kiltan, and the two class types — INS Kamorta and INS Kadmatt — that came before her. A 100-tonne difference.
While the Kamorta and Kadmatt are built entirely of steel (DMR249A special grade high-tensile steel developed by SAIL in India), the Kiltan's entire superstructure has been constructed with carbon fiber reinforced plastic — instantly shaving off 100 tons in weight from the brand new submarine hunter.
Apart from the weight saving, top sources in the Indian Navy said the advantages of the new material are four fold: (a) It provides essential corrosion resistance to the exposed superstructure, (b) improves sea-keeping ability by increasing metacentric height (a measure of the initial static stability of a floating body). And finally, (c) the use of non-metals reduces radar signature and boosts stealth specifically by suppressing extremely low frequency electromagnetic radiations.
Sources also said the Kiltan will be stealthier, more agile and a more survivable ship at sea than the two previous P28 corvettes. Weight gain from radar signature reduction work had extracted a significant price on the ship's nimbleness and top speed during the final design stages. The decision to explore a composite superstructure was decided as an imperative for the two final ships. The Kiltan will cruise a shade faster than the two previous ships at about 24 knots.
The P28 corvette class, built by the state owned Garden Rearch Shipbuilders & Engineers (GRSE) in Kolkata, are nearly 90 per cent indigenous, says its maker. While the two ships in service are finding their feet, the class ran into rough weather with the national auditor earlier this year over delays and the fact that the ships still don't have their full complement of armament. The Kiltan, for instance, should have been delivered by July 2014 according to the original project contract.
But for all that's progressive about the new ship, like its predecessors, it continues to be without an advanced towed array sonar — inexplicable contracting delays have meant the P28 class, purpose-built as submarine hunters, don't have the primary sensor required for the task and for evasion of enemy submarines, a troubling absence that the navy has sought to downplay amidst the atmosphere of welcome for a new indigenous warship. Livefist has learnt that ATAS kits should be arriving soon for test and retrofitment on the three P28s and the fourth ship that will be commissioned next year.
UPDATE: The Indian Navy just issued this official statement on the Kiltan:
Kiltan is the latest indigenous warship after Shivalik class, Kolkata class and sister Ships INS Kamorta and INS Kadmatt and sister Ships INS Kamorta and INS Kadmatt to have joined the Indian Navy's arsenal where in a plethora of weapons and sensors have been integrated to provide a 'Common Operational Picture (COP)'.
It is India's first major warship to have a superstructure of carbon fibre composite material resulting in improved stealth features, lower top weight and maintenance costs. The ship is also the first major warship to have undertaken Sea Trials of all major weapons and sensors as a pilot project prior delivery by shipyard to Indian Navy and is ready to be operationally deployed on the day of joining the Indian Navy.
The ship's weapons and sensors suite is predominantly indigenous and showcases the nation's growing capability in this niche area. The ship has been constructed using high grade steel (DMR 249A) produced in state-owned Steel Authority of India Limited (SAIL). With a displacement of 3500 tonnes, the sleek and magnificent ship spans 109 meters in length and 14 meters at the beam and is propelled by four diesel engines to achieve speeds in excess of 25 knots with an endurance of 3450 nautical miles.
The installed propulsion and auxiliary systems provides very low radiated underwater noise feature, required for anti-submarine warfare. Enhanced stealth features have been achieved by 'X' form of Hull, full beam superstructure, inclined ship sides and use of Infra Red Signature Suppression (IRSS) system designed by NSTL for cooling the Engine and Generator exhausts. About 81% of the ship is indigenous and it is well equipped to fight in Nuclear, Biological and Chemical (NBC) warfare conditions.
The ship hosts a predominantly indigenous cutting-edge weapons and sensors suite which includes heavy weight torpedoes, ASW rockets, 76 mm caliber Medium Range gun & two multi-barrel 30 mm guns as Close-in-Weapon System (CIWS) with dedicated fire control systems, missile decoy rockets (Chaff), advanced ESM (Electronic Support Measure) system, most advanced bow mounted sonar and air surveillance radar Revathi. The ship in the future would also be installed with short range SAM system and carry an integral ASW Helicopter.