Nearly a decade after a tragic crash of its second prototype that killed a three-member Indian Air Force test crew, India's SARAS light civil aircraft returned to the air this morning in Bengaluru. The twin push-propeller aircraft is being pitched as an aircraft for civil transport, logistics and specific military roles. The project was all but shelved in 2009 after a flight test accident outside Bengaluru.
The 40 minute flight began at 11am from Bengaluru's HAL airport. The aircraft was piloted by Wg Cdr U.P. Singh, Group Captain R.V. Panicker and Group Captain K.P. Bhat from the Indian Air Force's Aircraft & Systems Testing Establishment (ASTE) under the Training Command. A HJT-16 Kiran trainer played chase plane for the flight, flown by Group Captain Badrish.
Here's the Saras PT1N taking off this morning at Bengaluru. More photos follow. pic.twitter.com/xnFfpoDiIN

— Livefist (@livefist) January 24, 2018
In a statement, an NAL spokesperson said, "All the system parameters were found normal. It was a textbook flight.The preliminary objective is to evaluate the system performance in about 20 flights and the data collected from this shall be used to freeze the design of production version aircraft. The production series aircraft will be of 19 seat capacity and will undergo civil/military certification."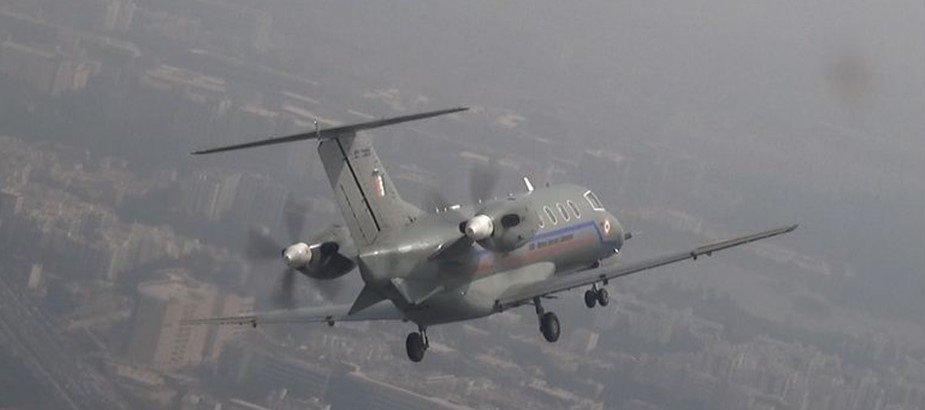 In March last year, Livefist conducted a detailed interview with the chief of SARAS's maker, the National Aerospace Laboratories (NAL) on the difficult journey it has been bringing the project back on track, culminating in this morning's successful flight of the improved first prototype.
As reported here last year, the major changes to the first prototype, designated PT1N, include upgradation of the propulsive system including efficient nacelle, larger metallic rudder for improved controllability, new landing-gear actuators, new brake system to cater to the needs of higher AUW, improved FCS, flame resistant design for nacelle etc. Last month, the PT1N was filmed during taxi trials, a video released earlier this month by the NAL:
The Indian Air Force has expressed interest in acquiring 15 SARAS aircraft, though the NAL is now hoping to expand that interest to at least 50 airframes. With the project back in flight test, those discussions are expected to move forward.
The second prototype of SARAS crashed in March 2009 less than two years after its first flight captured in this video:
While the aircraft's return to flight test is a huge step — and confidence boost — for a team that was virtually written off, the future of the SARAS remains in doubt. Will the SARAS, for instance, really find a niche in the crowded transport aircraft matrix that the Indian Air Force currently finds itself in? More importantly, have requirements shifted — especially with the SARAS's push propeller configuration limiting it from special/para operations and comparable missions? Expect more.