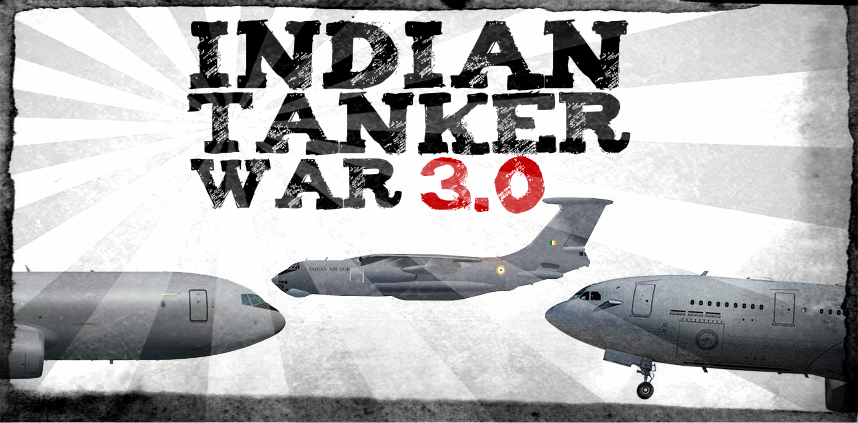 In the wings for over three years, the Indian Air Force has finally kickstarted a highly anticipated contest to procure six flight refuelling aircraft (FRAs) from the international market. This will be the IAF's third attempt at acquiring new tanker jets to build a now indispensable capability that's serviced by a fleet of Il-78M aircraft.
As Livefist reported in November 2016, the current contest announced today was always inevitable. Tanker aircraft figure in the IAF's basket of priority purchases alongside frontline combat aircraft. But considering that cost issues doomed the last two contests — where the Airbus A330 MRTT  emerged top of the pack both — the new attempt will have to be wired very differently. Livefist understands that the Indian MoD and IAF are hoping to refashion their approach to the selection at hand.
Significantly, the Indian Air Force has stipulated that it is only looking for platforms with two engines. This of course cuts the possibility of more Il-78Ms out of the proceedings, clearing decks for what will likely be a big face-off between Airbus and Boeing.
The Airbus A330 MRTT and the KC-46A Pegasus (Boeing sat out the first two contests in India) have competed before and are currently the prime tankers available in the international market. Livefist broke down the state of play between these three jets in this November 2016 piece.
The two-engine stipulation is also a clear message from the Indian Air Force that it is turning down Russia's comprehensive offer that, as reported earlier, involves Russia supplying six new generation Il-78M-90 tanker aircraft in addition to upgrading the six existing Il-78Ms to the dash-90 standard — new avionics, additional fuel capabilities and replacing the Aviadvigatel D-30 KP engines with new PS-90s. The proposal also includes converting one or two IAF Il-76 heavy transports for tanker duties.