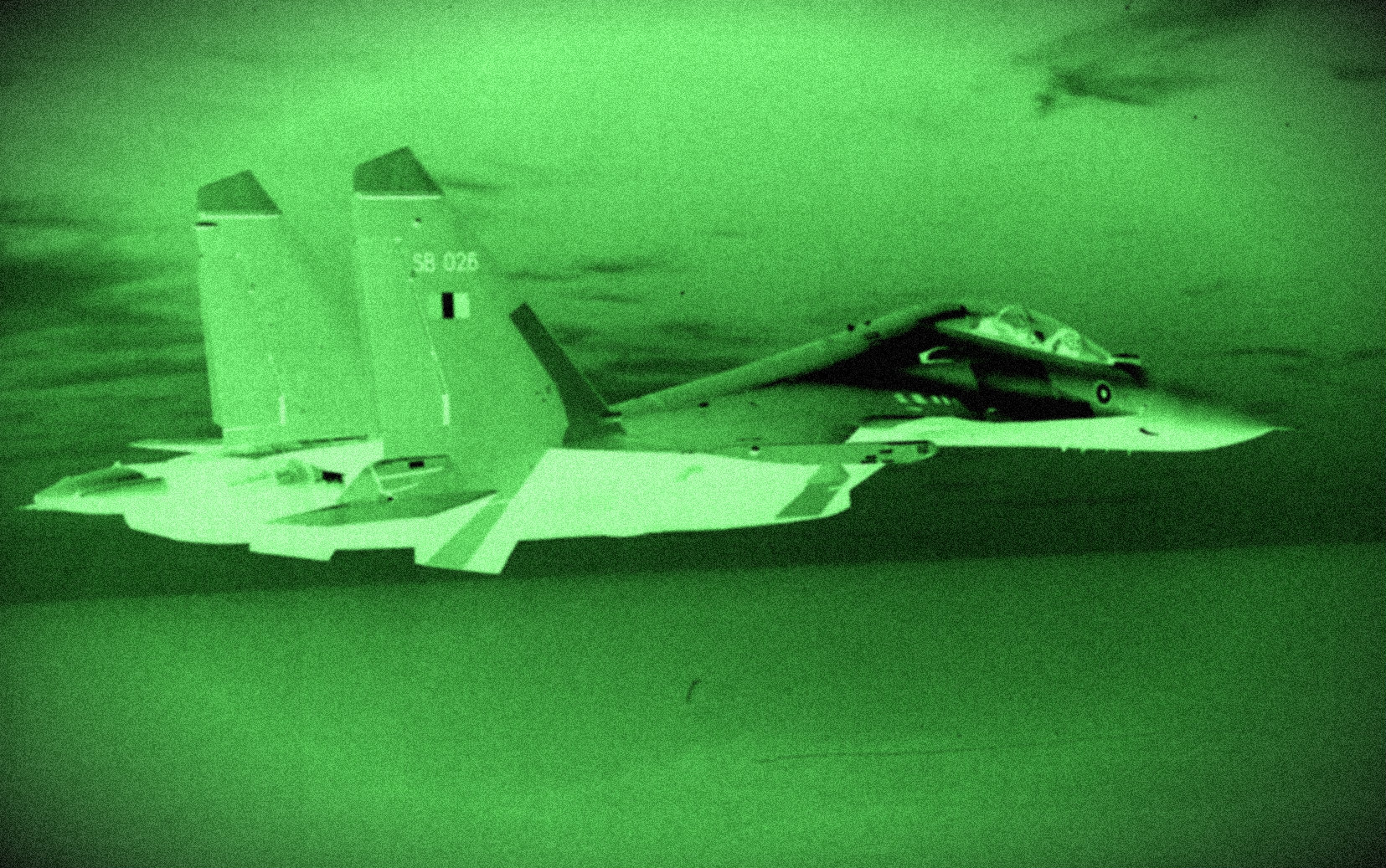 Chances of the Indian Air Force signing up for 40 more Su-30 MKI fighters have swelled considerably amidst an ill-tempered political spat between India's government and the chief opposition Congress Party. While the IAF has nearly finalised an order for 8 additional Su-30s to replace eight jets lost in accidents over the years, Livefist learns that an unsolicited offer made by HAL in February 2018 for 40 jets has shuffled its way to the top of the priority list, with the government regarding the proposal as a possible twin-cure.
Interestingly, the IAF may not have a direct say in a final political decision, though it has conveyed that more airframes of the type is acceptable. In anticipation of an expanded order, the Indian government has cleared the decks to formally extend HAL's license to produce more Su-30MKIs, should the government choose to do so. HAL's license expires once it completes manufacture of the last of its 222 Su-30s this year.
The move to acquire more Su-30s ticks a lot of boxes, both perceptional and operational. On the one hand, it would slow the depletion in the Indian Air Force's fighter squadron strength — a chief worry for the IAF leadership. More visibly, though, it would alleviate the bruising political storm that has raged for months now with HAL, which license builds the Su-30 in western India, being held up by aggressive opposition parties as a company neglected and driven into the ground by the government in power. HAL will build and deliver the last of its ordered Su-30s this year. An order for 40 more jets would therefore keep a fully functioning production line buzzing for at least three more years.
The IAF's possible order, in other words, would serve as a soothing salve on two bruising fronts — equipping the military adequately and political perceptions in an election year. Elevated chances of the 40 aircraft order come shortly after HAL found itself the unlikely centerpiece of a scrappy episode in India's Parliament earlier this month. Defence Minister Nirmala Sitharaman was angrily accused by the Congress Party of lying to Parliament about large scale orders that had been handed to HAL. The Minister was forced to respond with documents indicating 'pipeline' orders for several different platforms.
It's a shame that the president of @INCIndia is spreading lies nd
misleading the country.HAL has signed contracts worth 26570.8Cr (Between 2014 & 2018) nd contracts worth 73000Cr are in the pipeline.Will @RahulGandhi apologise to the country from the floor of the house nd resign? pic.twitter.com/PRWEMFUjml

— NSitharamanOffice (@nsitharamanoffc) January 6, 2019
To be sure, the Indian Air Force isn't against the idea of 40 more Su-30 MKIs, which would take its fleet strength of the type to 312 aircraft. However, a section within the IAF has strongly held that the service needs to get larger numbers of lighter fighters that have less demands on serviceability and availability. This also ties in with the fact that the existing Su-30s are soon to be up for an extensive upgrade cycle that will make them more capable aircraft. Yet another section believes that the need of the hour is to double down and order at least an equal number of Rafale jets, instead of Su-30s, since they're less demanding on maintenance and pilot resources. It remains to be seen which section will finally prevail if the government takes a decision.
The politically-charged suggestion from the opposition parties that HAL was abandoned by the government for offsets and local manufacturing contracts in the 2016 Rafale deal is also a clear compelling factor for the government leaning towards handing this new 40 jet deal to HAL. With the first new Rafales arriving in September this year, an order to HAL would quell perceptions that HAL has been allowed to languish by lack of orders, even if that weren't true.
The Indian Air Force has been watching, with increasing consternation, the manner in which HAL has allowed itself to become a political football without a clear stand on way or the other on the many fast-flying allegations concerning the company. As its principal customer, the IAF believes that HAL — with which it has shared frequently ill-tempered relations — is looking to fish in troubled waters, hoping to gain from the turbulence surrounding it. Reports last week that HAL, a company listed on the stock exchanges, would need to borrow millions to pay salaries, amplified suggestions that the company was a broken shell of its former self and that it had been neglected to its doom by the current government. Again, a 40 aircraft booster shot could stop the political bleeding on that count.
There's another compelling reason why the new order could be pushed through.
In a related development, with the Su-30 MKI production run in its final leg, HAL and its partners have only just mastered all phases of license production of the AL-31FP engine in Koraput, Odisha, including 'Phase V' which involves building brand new engines from raw materials, and not simply assembling them from parts. HAL has also additionally mastered the capital overhaul of AL-31FP engines and its aggregates locally, all of it still monitored though by a guarantee team from Russia.
A senior HAL source said, "The licensed production of the Russian AL-31FP turbofan engines powering Su-30MKI multirole fighters at HAL's engine division in Koraput is being successfully implemented in accordance with the contracts concluded earlier by Rosoboronexport. It's a successful example of Make in India. AL-31FP engines are being manufactured and assembled from the kits delivered by the Ufa-based UEC-UMPO (producer of AL-31FP, part of UEC) production company."