UPDATED ON 15 MARCH. SCROLL DOWN FOR UPDATES.
An India-Japan deal for ShinMaywa US-2 amphibious aircraft remains elusive and has slipped down the ladder in a tightening matrix of procurement priorities for the Indian Navy. But Livefist has learnt of related activity in India which suggests firm and continuing interest from the Indian Navy and Coast Guard in the capability to meet missions including 'search and rescue, inter-island communication, rapid response duties and reconnaissance of islands'.
India's HAL has quietly taken forward what is apparently its least known aircraft development effort. In fact, you're likely hearing about it for the first time here on Livefist: a seaplane variant of the Dornier Do-228 light transport aircraft that HAL builds under license at Kanpur. It started in October 2015 — a year after India and Japan announced negotiations on the US-2 — when HAL quietly called the attention of global airframers and design houses proposing a partnership to desi

gn a seaplane around the Do-228 platform. The spare 13-page RFI plainly stated that HAL was looking to put the Do-228 out to sea and wanted help re-designing the platform for the role, while providing tech specs of aircraft.
While HAL hasn't revealed what the RFI resulted in, it became clear earlier this month that the company is still interested in pursuing plans of spinning off an amphibious aircraft. Three aeronautical engineers from HAL's Aircraft Research & Design Centre (ARDC) in Bengaluru presented a paper at the Aero India Seminar this month titled 'Conceptual Design of Amphibious Aircraft'. The paper, Livefist has learnt, offered what HAL described as 'An optimized design approach addressing key features like hydrostatic stability, dynamic stability, wave handling, and water performance is conceptualized with due care for aerodynamic characteristics and overall performance figures'.
A fleet of over 100 Do-228 aircraft currently fly with the Indian Navy, Indian Air Force and Indian Coast Guard, with more on order. HAL has also indicated it will be unveiling a civilian version of the aircraft later this year.
HAL's plans are ambitious, but understandable at several different levels. For starters, making the Do-228 a seaplane isn't HAL's original idea. In 2010, Australian firm Tigerfish Aviation announced it was looking to fit a Do-228 in the Philippines with its patented Retractable Amphibious Pontoon Technology or RAPT (figure below).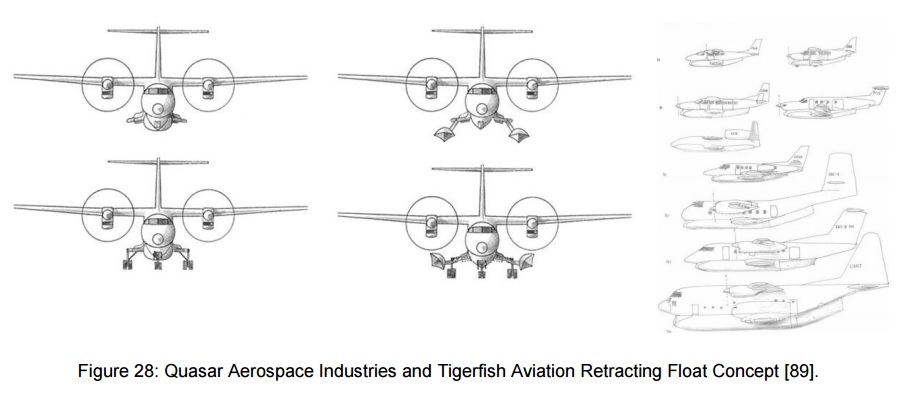 HAL is also fully aware that while an India-Japan deal for US-2 amphibians languishes and is buffeted by price concerns, a real opportunity exists to exploit the tried and tested Dornier platform already in service, with all attendant depot and maintenance facilities, with the Indian armed forces (apart from a possible civil version for the airline and tourism industry). Importantly, HAL anticipates correctly that the requirement for an amphibian capability is likely to only become more pronounced in the months and years ahead. Sending out feelers on a possible partnership to either strap on seaplane module on the Do-228 or convert the platform with a redesigned undercarriage is worth it, and could definitely be a driver for more orders. The Do-228 hauls a lot less weight than a US-2 among other things, but HAL may be correctly betting on the familiar Do-228 platform, given the Coast Guard and Navy have already exploited it beyond the logistical role for active maritime patrol and intelligence gathering.
It is perhaps gratifying, in the circumstances, that this isn't an ab-initio/clean sheet development plan. The HAL effort appears to be a unilateral effort for the moment — there has been no formal proposal to the Indian Navy on a Do-228 seaplane (the Indian Navy is aware of the Dornier Seastar flying boat, but isn't interested). HAL sources said the company wants to get all the groundwork in place before it makes a possible pitch to the Indian Navy and Coast Guard possibly in 2018.
[UPDATED ON MARCH 15 @ 1555HRS]
As it turns out, HAL actually does in fact have an active cleansheet concept for an amphibious aircraft, and Livefist has the first glimpses from the Aero India Seminar last month where details were revealed for the first time. Alongside the tentative aircraft concept, which features overwing engines, a T-tail and, what HAL calls SAGAR (System for Adaptive Guided Amphibious Rowing), a technology keep the aircraft stable in water.