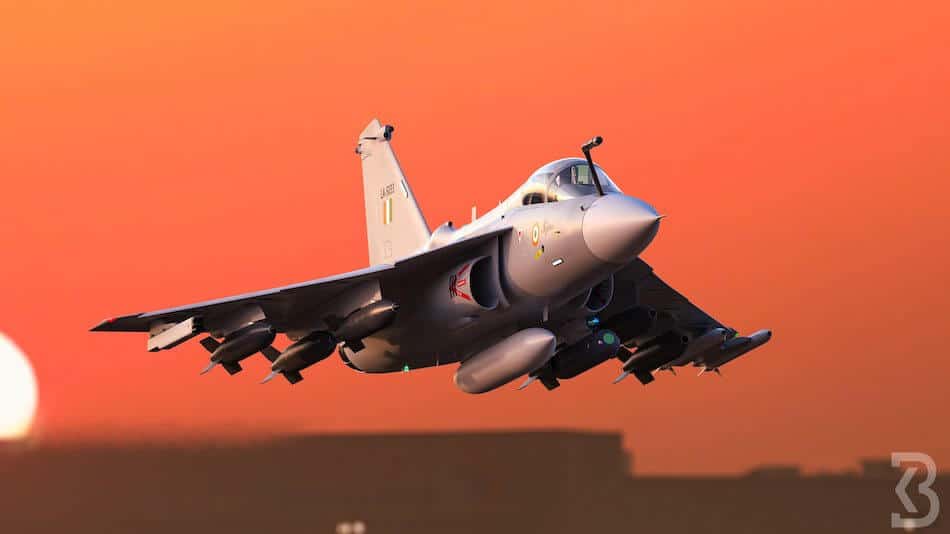 We'd told you this deal would be signed by December 2020. Okay, so we're about two weeks off the mark, but finally, after months of procedural prevarication, the Indian government has cleared the decks for its biggest ever deal for indigenous equipment — a ₹45,696 crore deal for 73 LCA Tejas Mk.1A fighters and ten LCA Mk.1 trainers.
In doing so, the government has shortened what were expected to be two separate orders for 83 Mk.1A jets and 18 Mk.1 trainers, for a total of 101 aircraft, almost definitely to meet budgetary plans on the program.
In a statement today, the MoD said, "Light Combat Aircraft Mk-1A variant is an indigenously designed, developed and manufactured state-of-the-art modern 4+ generation fighter aircraft. This aircraft is equipped with critical operational capabilities of Active Electronically Scanned Array (AESA) Radar, Beyond Visual Range (BVR) Missile, Electronic Warfare (EW) Suite and Air to Air Refuelling (AAR) would be a potent platform to meet the operational requirements of Indian Air Force, IAF. It is the first "Buy (Indian-Indigenously Designed, Developed and Manufactured)" category procurement of combat aircrafts with an indigenous content of 50% which will progressively reach 60% by the end of the programme. The Cabinet has also approved infrastructure development by IAF under the project to enable them handle repairs or servicing at their base depot so that the turnaround time would get reduced for mission critical systems and would lead to increased availability of aircraft for operational exploitation. This would enable IAF to sustain the fleet more efficiently and effectively due to availability of repair infrastructure at respective bases."
The LCA Mk.1A is an improved configuration of the baseline LCA that bridges the capability gap towards the planned LCA Mk.2, which will be a substantially more different and powerful jet. The Mk.1A will be mid-air refuellable, sport an updated internal Radar Warning Receiver (RWR) — likely in-house kit from the DRDO's DARE laboratory — an external Self Protection Jammer (SPJ) pod to enhance survivability and an AESA radar. The Mk.1A needs to be able to fire different types of BVR and close combat air to air missiles. The meat of the Mk.1A, though, will be a slew of major improvements in the LCA's squadron-level maintainability contours. It is difficult to overstate just how much importance the IAF has placed on ramped up no-nonsense maintainability, more than a milestone away from the admittedly unwieldy maintenance architecture built into the Mk.1. On maintainability alone, the Tejas Mk.1A will have the 43 improvements out of 57 planned on the bigger, more powerful LCA Mk.2:
Panel interchangeability: In the prototype stage, composite panels were built and matched to specific airframes. For the Mk.1A, tooling will be built up and panels moulded lending themselves to easy interchangeability between airframes, plus spares. The IAF won't deal with a platform that doesn't allow at least this level of squadron-level maintainability, so this is priority.
Quick access: Several airframe panels that required daily servicing have a large number of screws that need to be removed — a time consuming affair that eats into the platform's turnaround time. These will be replaced on the Mk.1A by quick release fasteners making it easier and faster for maintainers access, considerably bringing down time required to service aircraft. Importantly, quick release fasteners will remain with the panel and therefore minimise FOD chances.
Gromets in composite panels: When fasteners are regularly used for removal and installation, there is a possibility of damage and widening of holes. Mk.1A panels will have to stop this.
LRU positions: A number of LRUs will be repositioned for better access. Current configurations make it nuisance to access frequently used LRUs.
Additional aids: The Mk.1A package will contain ground handling aids and testers to enable speedier turnaround of aircraft
A conversation with aviation writer Angad Singh included a detailed discussion on the possiblity of more LCA squadrons for the Indian Air Force to keep production lines warm. You can watch that full interview here.