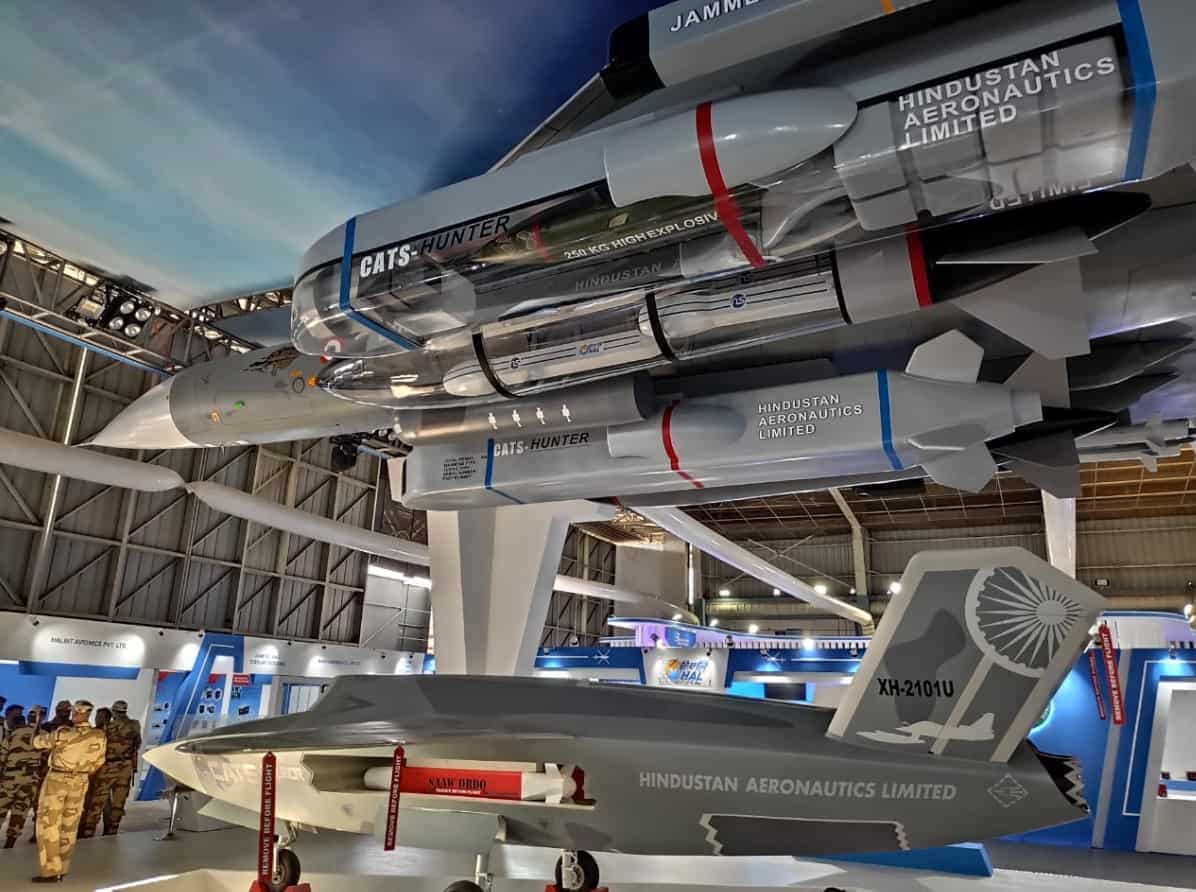 The Aero India show this week at the IAF's Yelahanka air base already has its core flavour nailed — a mammoth and long-awaited deal for 83 LCA Tejas Mk1A and trainer fighters that will be signed during the show — but a quick jaunt around the stalls has thrown up something way, way more significant.
Hanging from the ceiling at HAL's pavilion is an LCA Tejas bristling with munitions — many of them new — with an inaugural mock-up of HAL's Warrior loyal wingman drone sitting on the ground below it.
The Warrior, part of the CATS (Combat Air Teaming System) family, broke cover in 2019 as the 'Unmanned Wingman' as a partnership between HAL and a start-up firm. The Warrior mock-up visible at the show this year is seen with an internal weapons bay deploying a DRDO Smart Anti-Airfield Weapon (SAAW), an indigenous stand-off munition recently tested from a Hawk jet trainer over the Bay of Bengal. The Warrior, structurally a sort of cross between Boeing's Air Power Teaming System (ATS) and the Kratos Valkyrie loyal wingman drone system, is to be a teaming drone that functions with assets that will include the LCA Tejas as well as the Rafale.
The CATS family is an ambitious one that represents the IAF's impulse to leap-frog many steps into a capability that's making major strides in other countries. A member of the CATS family breaking cover in the HAL ensemble is the CATS Hunter, a SCALP-like cruise missile, as is the CATS ALFA-S switchblade swarm drone (being developed by HAL with New Space Research & Technologies) that was displayed at Aero India 2019 as a teaming system with a Jaguar weapons upgrade package by HAL called 'Jaguar MAX'. The Indian Air Force is said to have expressed deep interest in the ALFA-S as a smart hunter-killer system.
The 'CATS MAX' label next to the LCA Tejas in the above illustration indicates the fighter intergrated with the CATS interface that allows it to control the drones.
Aviation analyst Angad Singh says, "The highlight at HAL is definitely manned-unmanned teaming. Some rather enticing UAS concepts on display, from loyal wingman, to air-launched switchblade swarm drones, and cruise missile shaped air-launched wingmen! All centred on the LCA as HAL's flagship product going forward."
The Indian Air Force has been looking to make up for over over a decade of meandering wait-and-watch on technologies, big data and artificial intelligence, and is being helped along by a cluster of focused private start-up firms operating in the Bengaluru area, many manned by former IAF personnel with deep understanding of how leading edge tech melds into the IAF's legacy assets and structures.