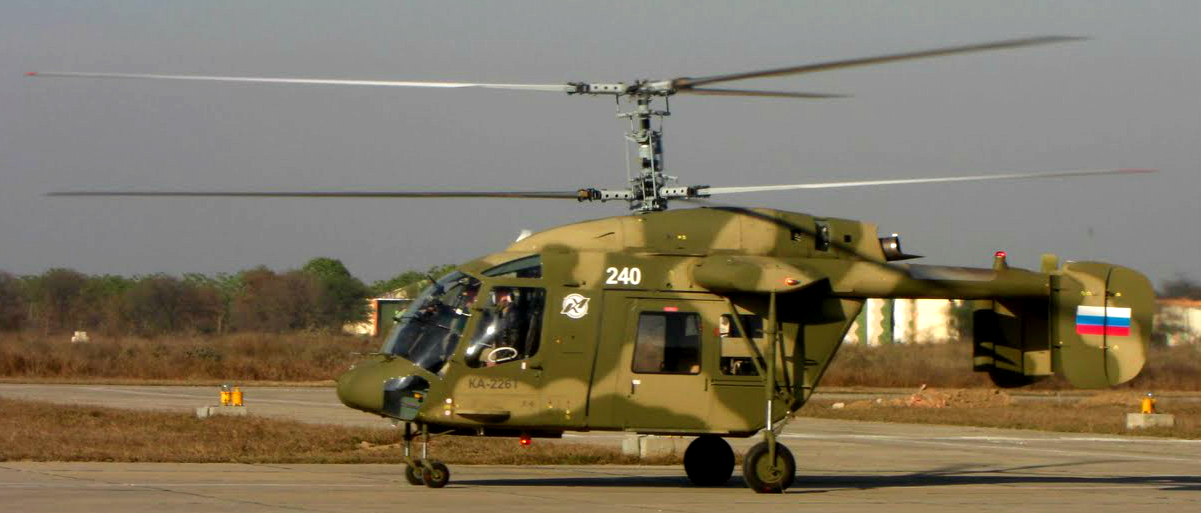 Could the Indian armed forces finally see a path toward desperately needed light utility helicopters for logistics operations at high altitude — including supply at forward posts on the Siachen Glacier and Tibet border? Possibly. With nearly no forward movement over two years since Russia landed a surprise win to build its Ka-226T Sergei light utility helicopter in India, Moscow is pushing what appears to be the panic button.
Amidst speculation that the deal has done nothing beyond remain in a tense hover for over 24 months, top officers from the supplier firm Russian Helicopter Co. are on their way to India on what is being seen as a rescue mission of sorts.
Confirming the development today in a statement, RusHeliCo has that its CEO Andrey Boginskiy is on his way to India to "meet India's defense minister Nirmala Sitharaman" where they "will discuss the Ka-226T helicopter project to assemble this helicopter in India — specifically, they will negotiate when to sign a contract and what production facility to use for a JV manufacturing Ka-226T helicopters."
That's right — an agreement to build critically and urgently necessary aircraft has remained inert, with both sides still to sign a contract, far less decide where or how they will build the airframes.
The statement from RusHeliCo continues: "Andrey Boginskiy will discuss with Ms. Sitharaman possibilities to increase import of helicopters to India and how to arrange aftersales maintenance for helicopters manufactured in Russia and supply of spare parts and components."
In 2015, Russia pulled off a coup of sorts by transforming the erstwhile Reconnaissance & Surveillance Helicopter (RSH) contest into a slam-dunk Make-in-India deal, with its underdog co-axial Kamov Ka-226T product winning out against the Eurocopter AS550C3 Fennec. But since then, literally nothing has moved forward.
The stumbling block centers around the manner and levels of indigenisation mandated by Prime Minister Modi's Make In India rules and the Inter-Governmental Agreement (IGA) that the two sides concluded in late 2015.
Things have remained difficult ever since the IGA was signed, with both RusHeliCo and India's Hindustan Aeronautics Ltd (HAL) wondering just how half of the helicopter will be built in India. Apart from the Ka-226T's Turbomeca engines, several of the product's cockpit and electronics systems are non-Russian, throwing up the complicated paradigm of navigating through 'third party' rules and satisfying very specific clauses set out in the IGA. An internal breakdown of the programme by HAL that Livefist had a chance to peruse suggests that even a low rate production facility will pass off little benefit to local industry, with most of the production restricted to the assembly of knocked down and semi knocked down kits. Russia's rescue mission this week will be centered around ensuring the Ka-226T programme doesn't smash into the ground.
Quoted in the statement, Mr Boginskiy sounds hopeful, but it's hard the miss the nerves that have crept in: "Meetings at that high level are very important for our company, as they allow to establish direct relationship with our key partners, and India is undoubtedly is one of them. Our joint Ka-226T project is implemented in line with the schedule, however, it is much to be done and we are at the very beginning. We also have a huge potential for developing aftersales maintenance and we will certainly discuss this matter with Madam Minister." (Our italics)
HAL's own Light Utility Helicopter (LUH), which lifted off for the first time a year ago, is also understood to be making steady progress, with two prototypes currently in development flight test.
India's efforts to give its military light helicopters have been beset with trouble for over a decade — an ironic parallel to the increasing requirement for reliable platforms to feed India's expanding needs at high altitude. Pulling the plug abruptly (for the second time) on an erstwhile effort to procure 197 helicopters for the Indian Army and Indian Air Force, in 2015 India agreed to buy 200 Ka-226Ts for the services, with at least 140 to be built in India. A joint venture company was established in June this year. The Indian Navy separately floated its requirement for 111 light naval utility helicopters earlier this year.