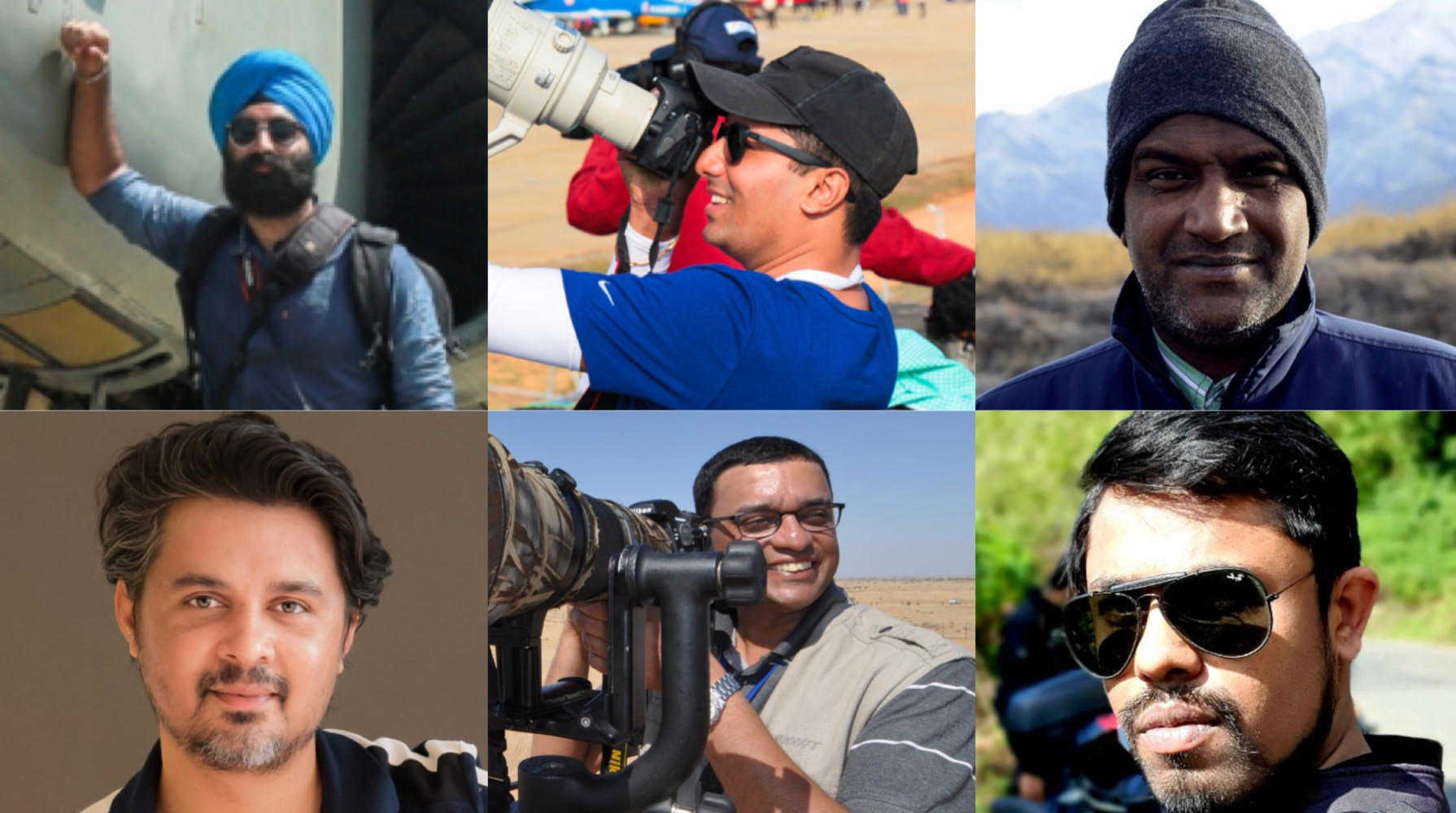 It's true. There are few things lovelier than a great aviation photo. For all the mind-numbing restrictions that continue to exist, India has a terrific community of planespotters and photographers, some of whom have crossed the difficult barrier into professional photography with the armed forces. But unlike the considerably more genial embrace with which planespotters are countenanced in other countries like the US, UK and France, aviation photography in India is still a steep undertaking. Ahead of DefExpo 2020, which involves a flying display as part of the many unaccountable overlaps with the AeroIndia show, we decided to list some of our favourite aviation photographers, and put some questions to them. They're all incredibly talented professionals that the armed forces and others should be making good use of, if they aren't already. So here goes, in no particular order:
1. ANGAD SINGH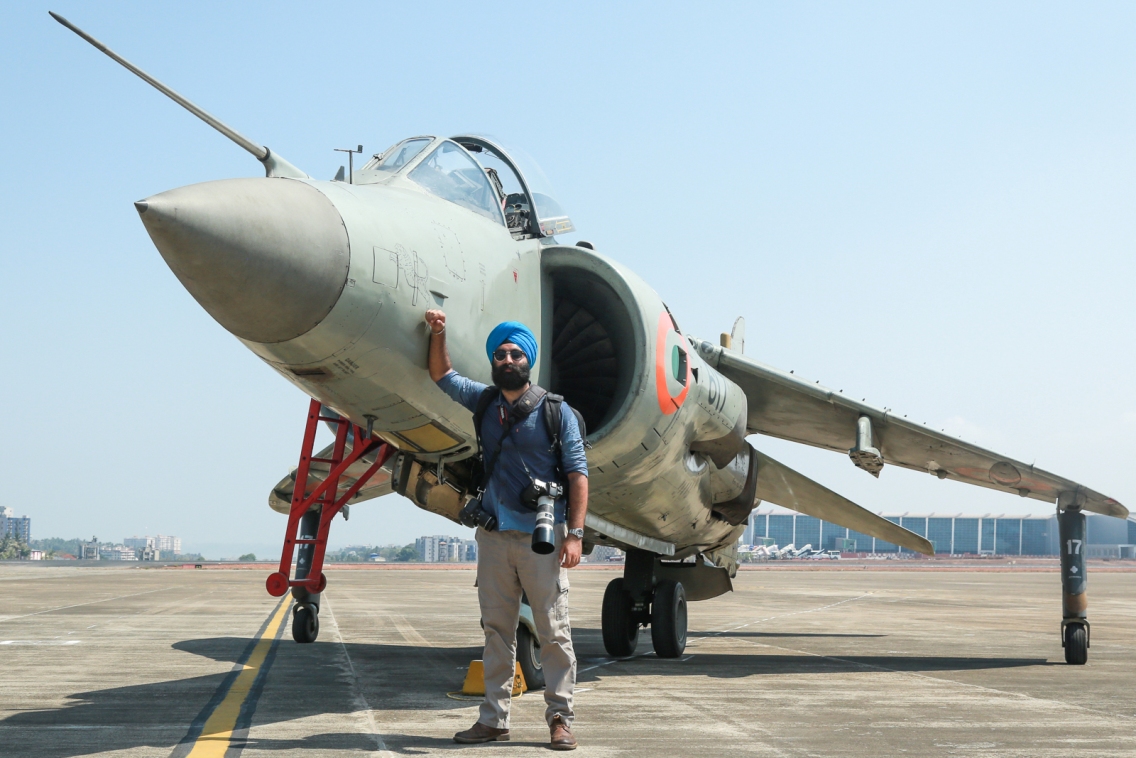 Angad Singh is an aerospace and defence analyst at the Observer Research Foundation. His writing and photography have been published around the world, and he received the Aerospace Media Award for 'Best Young Journalist' in 2016. Follow his work here.
Your personal favourite photo and why
I couldn't narrow it down to just one!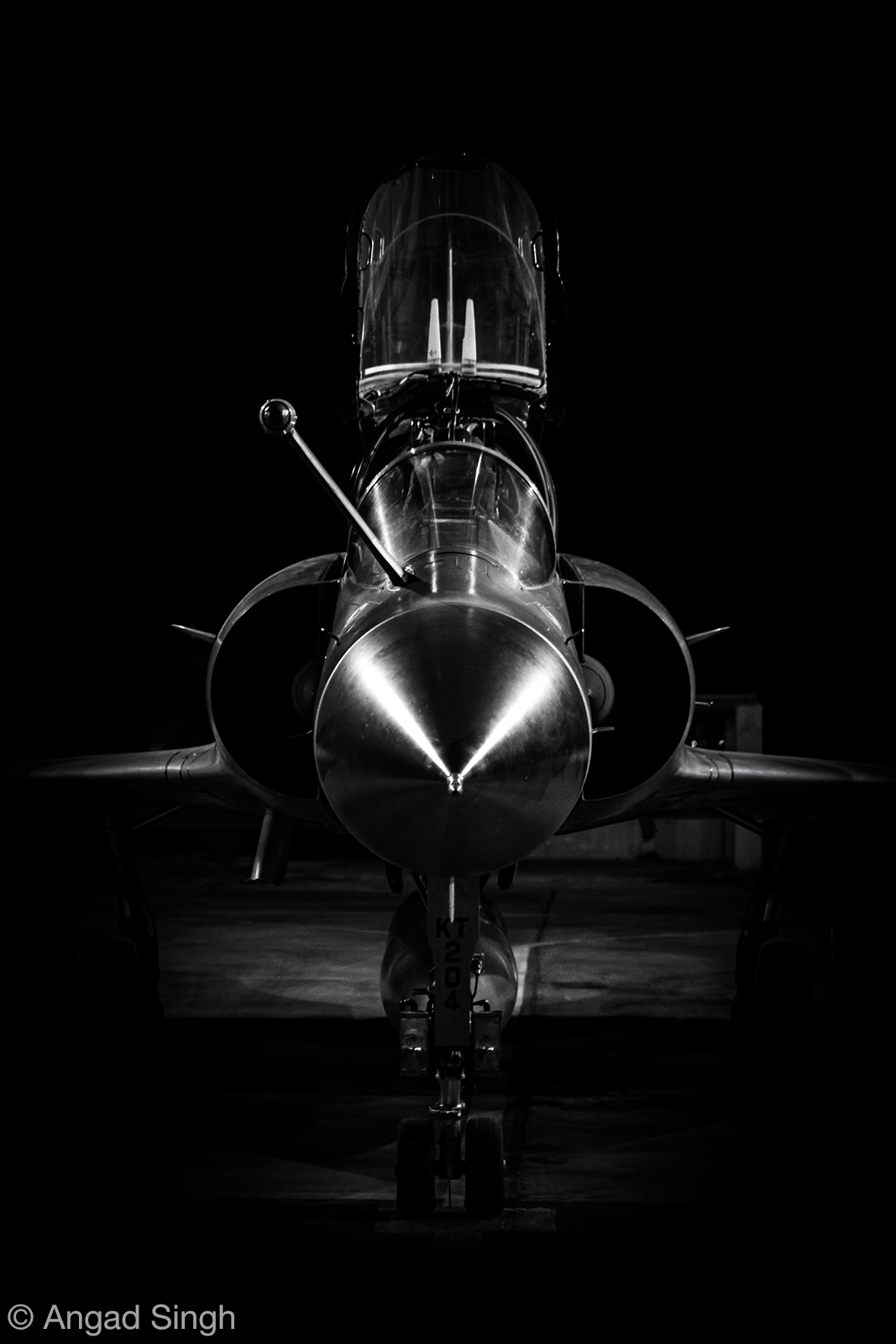 The Mirage, because it is one of those "just as I imagined it" shots, when you have a clear idea of what the final image will look like before you even take the photo. This was also my very first IAF base visit, a trip that was incredibly difficult to put together! (More on that later.) Unfortunately, a long exposure shot on a tripod would have held up two other jets that needed to taxi out and start the night's flying, so this photo lacks the absolute quality that I would have liked because I had to crank up the ISO on an older-generation camera and shoot handheld. On the other hand, it is one of my most popular images, and lives on many smartphone backgrounds and hangs in many offices.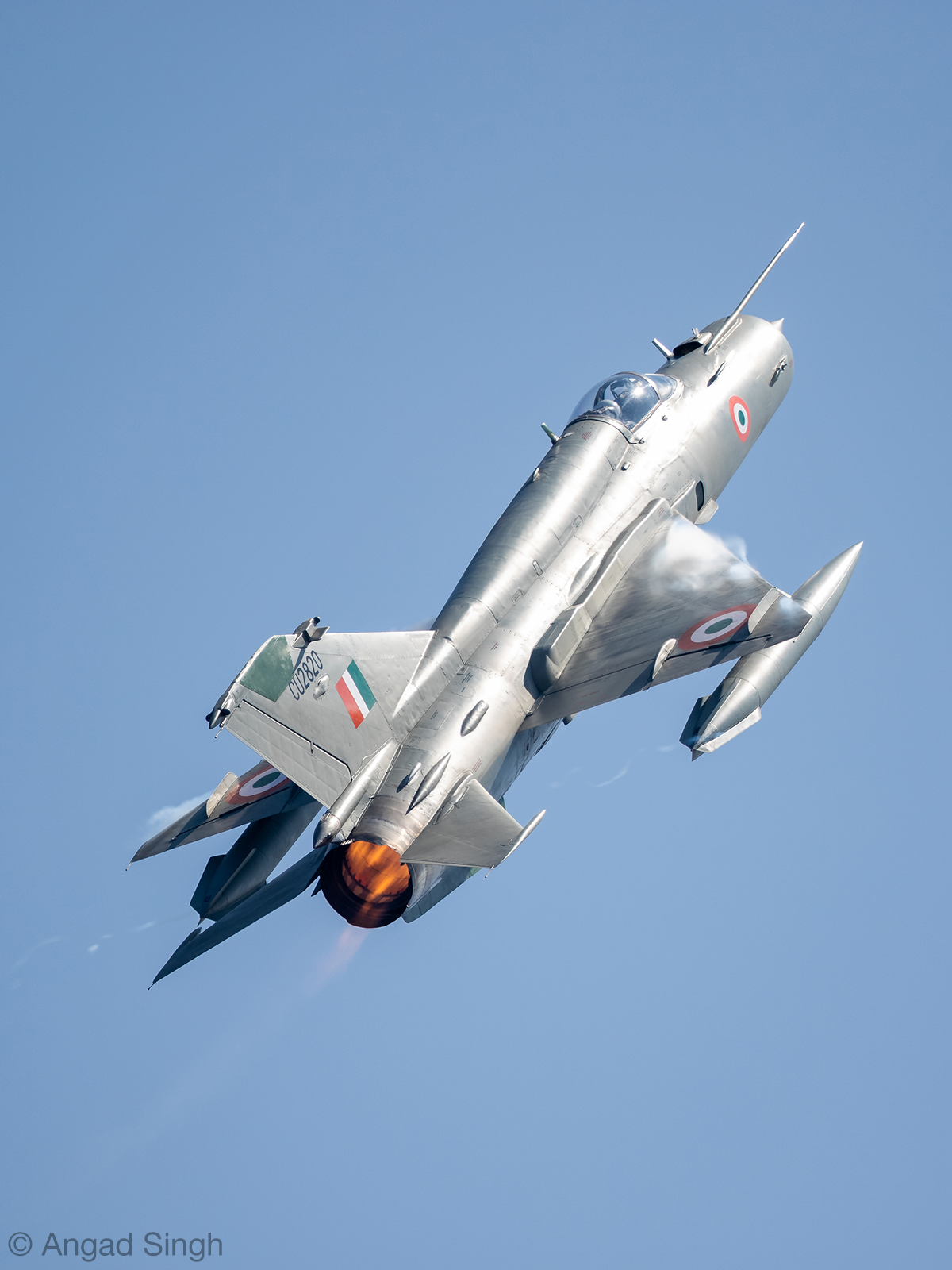 ANGAD: The Bison photo is the opposite of the Mirage — a complete "right place, right time" shot. Taken during the Aero India 2019 opening flypast, I saw the pilot run in at high speed and held off on shooting until I saw him pitch up. The MiG-21 is not a very manoeuvrable aircraft, and doesn't generate visible vortices and vapour the way more modern aircraft like the Hornet or F-35 do — which made catching this brief puff of vapour with the afterburner blazing all the more rewarding. A few days after this was shot, Wg Cdr Abhinandan Varthaman engaged a formation of Pakistan Air Force fighters in the same MiG-21 variant, and the rest is history. Like the Mirage photo, this one is also one of my most sought-after images, from magazine covers to the walls of many serving and retired fighter pilots.
Your favourite aircraft in Indian service
ANGAD: Another two-way tie. It's either the Mirage 2000 or the SEPECAT Jaguar for me.
Your favourite place to shoot
ANGAD: Pokharan! I've only shot there around half a dozen times since I started out, but the range is always great fun because you get to see combat aircraft actually doing what they're meant to do. Also, the light and atmospheric conditions are great compared to other locations in India, which are usually blanketed in the low-level haze that has become so pervasive around the country.
An aircraft on your shoot bucket list
ANGAD: I have yet to properly document the IAF's MiG-21s, if you can believe that. I hope to get a crack at them before they are retired from service.
You could choose one camera to shoot with. Which?
ANGAD: I'm quite happy with my Canon 7D Mark II. Equipment is rarely the limiting factor — it's mostly down to the guy holding the camera.
Your biggest lesson from shooting aviation in India that's different from the rest of the world
ANGAD: My biggest takeaway from the past few years has been to savour the moments when it all comes together, because those moments are so rare! You'll see why in the next answer.
Is India a good place for plane-spotters & aviation photographers? How to make it better?
ANGAD: At the risk of sounding downbeat, this country just isn't conducive for aviation photography. Getting chased around (or worse, arrested!) because of archaic regulations governing photography around airfields makes things difficult. The time and effort required to secure official approval to shoot aircraft — whether civil or military — is another limiting factor. It took seven months to secure permission to get that Mirage night shot — in fact, I spent more time, effort and money getting approval for that shoot than I spent on the shoot itself!
There's an inherent scepticism around aviation photography that just doesn't seem to go away, even though more and more people are out there chasing planes around. To make it better would require changing the mindsets of far too many people in a country where everyone is terrified of risking their own neck for a new initiative. The Indian military PR setup is certainly evolving, and you and I have seen it improve in front of our eyes, but to date I have shot at more foreign airports and with foreign air arms than my own, and that just makes me sad.
---
2. VISHAL JOLAPARA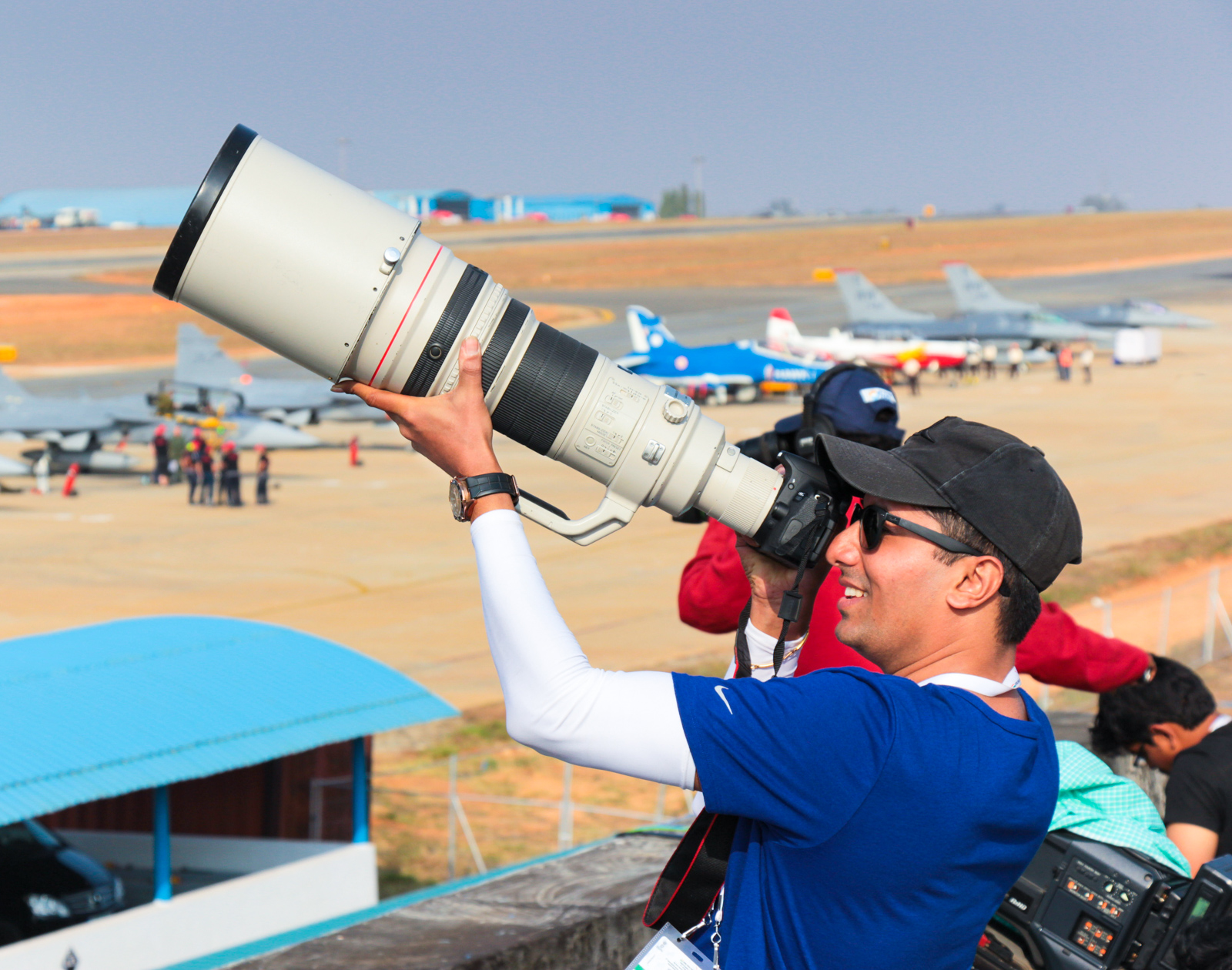 Vishal Jolapara is a trainee pilot, planespotter and published aviation photographer. Follow his work here.
Your personal favourite photo and why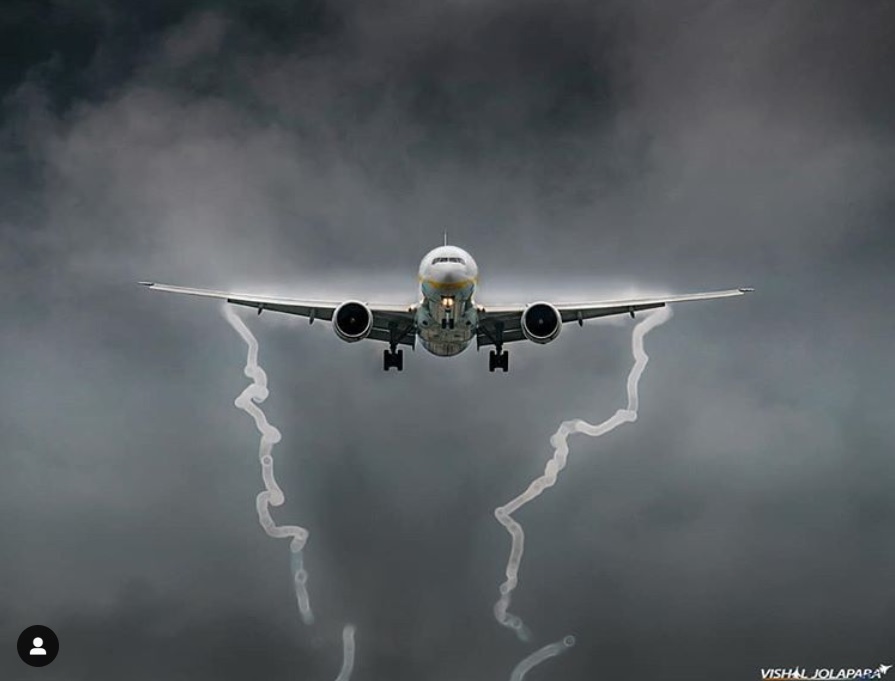 VISHAL: One of my bad habits is to hold my favourite shots for a later date however, of the ones I have put-up, this photo here. Delhi is not a place you associate with rain or overcast skies and this particular day was at the end of a long week of planespotting in absolutely blistering heat and discovery of a new spot amidst all the crazy security & cops. Therefore, this photo was especially gratifying both in terms of the cool weather it brought along with it as well as the sheer visual impact.
PS: one of those ice cold vortices grazed by hand like a lightning bolt as I had foolishly put it up to get a feel 🙂
Favourite aircraft in Indian service
VISHAL: The Air India 747-400
Favourite aircraft globally
VISHAL: Airbus A340-500
Your favourite place to shoot
VISHAL: The mound at the end of Mumbai Rwy 27. It's where I started plane spotting and it's also the spot where I've shot the vast majority of my photos.
An aircraft on your shoot bucket list
VISHAL: AF: Mil Mi-26
Russian: Tupolev Tu-22M & Tu-160
Western: Lockheed L-1049F Super Constellation & Rockwell B-1 Lancer
You could choose one camera to shoot which. Which?
VISHAL: Since I'm a Canon shooter, I'll pick the new Canon 1DX III. 16 fps (frames per second), 191 focus points and the new Digic X processor. It's the perfect blend of speed when I'm shooting quick military jets and excellent dynamic range when shooting commercial aviation & everything else. For the folks who believe megapixels are everything and more means better, this $6500 Canon flagship is 20 megapixels!
Your biggest lesson from shooting aviation in India that's different from the rest of the world
VISHAL: It's not allowed. Photography is prohibited. Photography of airplanes from anywhere is "strictly prohibited". Our law enforcement, security establishment and people in general are mostly ignorant/unaware about this hobby and given the general aversion to photography from the Govt's point of view (case in point the extremely shabby quality of sarkari photos or the complete lack of) planespotters would be better advised to err on the side of caution when near an airport with a camera. Something not so diligently observed among the younger lot.
Add to that the RIDICULOUSLY outdated, hazy and out of sync laws about photography around airfields which just haven't evolved with time. E.g., most modern airplanes have a video camera on the nose gear & tail providing passengers a live-feed however, an enthusiastic youth photographing an airplane from afar, well outside the airport periphery is an object of suspicion and worry and of course, has to be either intimidated against following his passion verbally or worse.
Is India a good place for plane-spotters & aviation photographers? How to make it better?
VISHAL: India is an excellent place for planespotting given the unique variety of airlines and airplanes operating to and from India. The only drawback and it's a big one is, the mind-set of the authorities mainly the law enforcement (local police & CISF) and the aviation regulator, The DGCA. The way to make it better would be for starters, the MoCA to understand and respect the fact that there are many, many people out there who love aviation and would love to capture a piece of magic that an airplane going about its thing is. These very photos and videos are the means to inspire the younger generation into making a career in aviation – a booming industry worth billions, slated to grow exponentially despite government apathy.
Social media and positive publicity savvy airport marketing & PR teams can take the lead in setting-up airplane viewing decks/planespottting spots at secure, easily policeable locations. A visit to global planespotting meccas such as Myrtle Avenue in London, Imperial Hill and Sepulveda boulevard in Los Angeles, most airports in Europe, especially the Runway Visitor Park at Manchester, Polderbaan at Amsterdam, Zurich Observation Deck, Founders Plaza in Dallas, Osaka Itami Sky View Park, Viewing Gallery at Tokyo Haneda and last but not the least: Maho Beach in St. Maarten would certainly make for a very enjoyable study tour.
---
3. DEB RANA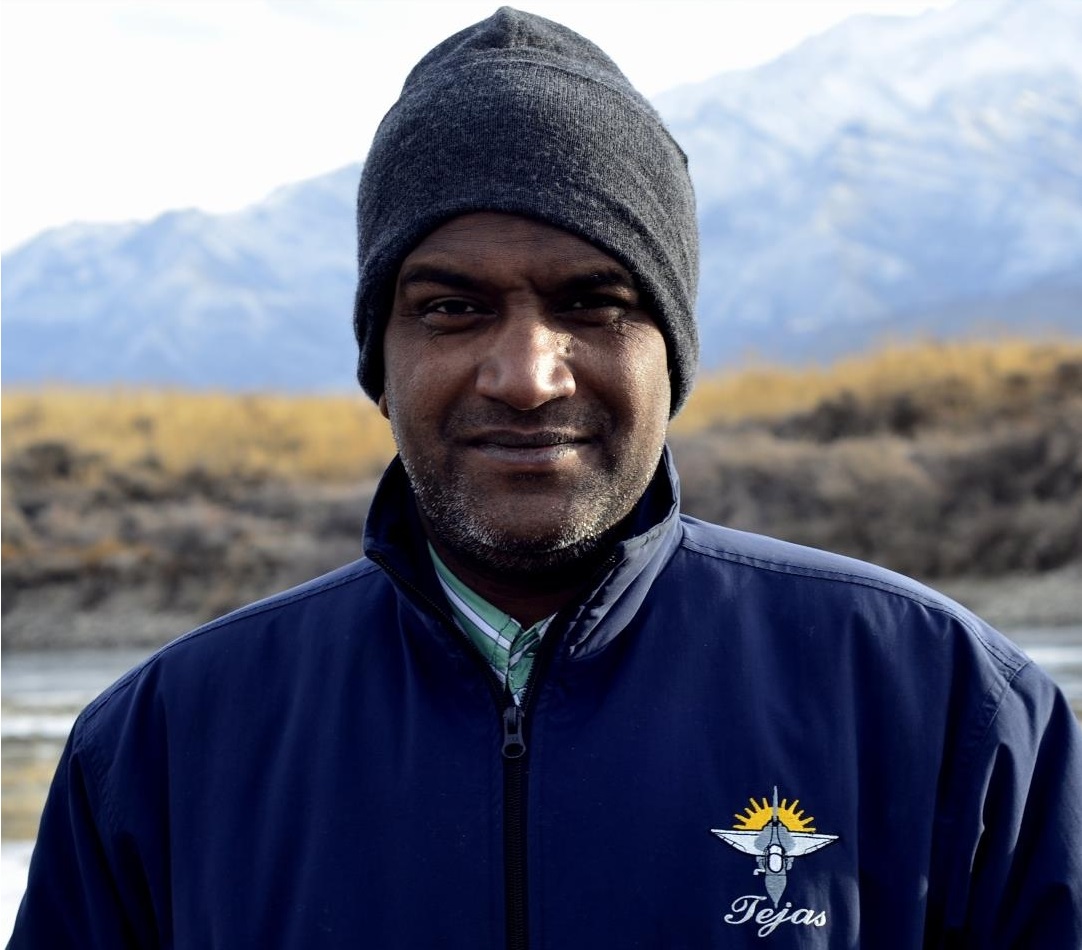 Best known for his association with the LCA Tejas program, Debadatta Maharana — known better as Deb Rana — is an aeronautical engineer and has been with the indigenous jet project project for two decades. Follow his work here.
Your personal favourite photo and why.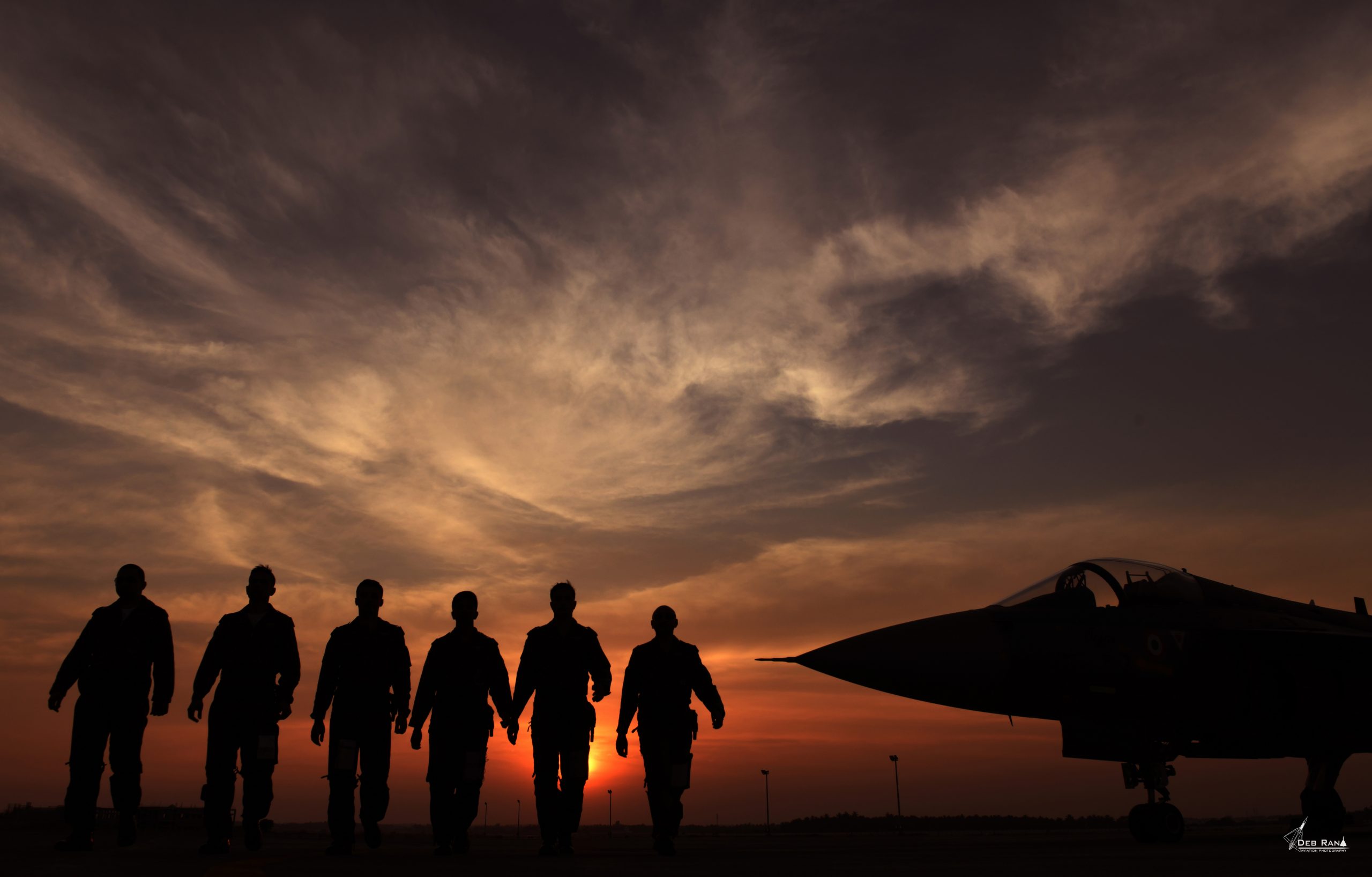 DEB: It has the flying machine which I have spent a major portion of my life with and the boys who fly her day in day out in one single frame. As far as the composition goes, the sky was quite dramatic that evening and when the boys with their flying machine walk past with their usual flying swagger, perhaps time stopped by for a moment.
Your favourite aircraft in Indian service / global
DEB: This has to be Tejas. Aviation photography for me started with her and my journey as aviation photography has everything to do with Tejas.
Your favourite place to shoot
DEB: For aviation photography, choosing a favourite place is too difficult. The entire attention always stays on aircraft. It is always desirable to shoot at a place where one gets to compose an aircraft with a historical perspective or a hint of national pride. Two examples go straight out of my mind. First one is the sand hillock behind Leh Air force station where one can see the 'Touch the sky with Glory' caption and framing an IAF's aircraft against that is always mesmerising. The second one would be the Ummaid Bhavan Palace on the backdrop of Jodhpur Air Force Station.
An aircraft on your shoot bucket list
DEB: LCA AF MK-2 when she comes up for her first flight.
You could choose one camera to shoot which. Which?
DEB: On camera, there is no such big wish list. I use a Nikon D850 and D500. Both of these suffice. In fact, it is always a close call to select a good body and a good lens combination rather than selecting them individually. For budding aviation photographers, it would be advisable to pick up a body which offers them a higher frame rate (anything more that 5 to 6 fps) and a better dynamic range.
Your biggest lesson from shooting aviation in India that's different from the rest of the world?
DEB: On this, I have very little experience abroad. I have heard that it is far easier to get an access and there are organizers who promote air-to-air and ground-to-air photo shoots through credible channels. In India, the accessibility is a big question mark because of the obvious apprehensions, the authorities possess. They are fair enough in their thought process. Aim should be popularize the flying machines among youngsters to join and strengthen armed forces through stories and histories. Aviation photography in right sense can propel that objective.
Is India a good place for plane-spotters & aviation photographers? How to make it better?
DEB: As I said before, accessibility and a good understanding of fleet is of prime importance to aviation photography. For civil flying, I would agree that India is a good place for plane spotting and aviation photography, whereas for military flying machines, we need to bring a drastic change in our mechanism of popularizing them. We need to follow the footsteps of those aviation photography promoters like the way they do abroad. I would not stress more on this as we have very limited number of aviation design houses which can showcase their products. As IAF conducts and participates in exercises, passing out parades, major national events and other related events, aviation photography for military planes will only stay with the people associated with the program and within.
---
4. ABHISHEK SINGH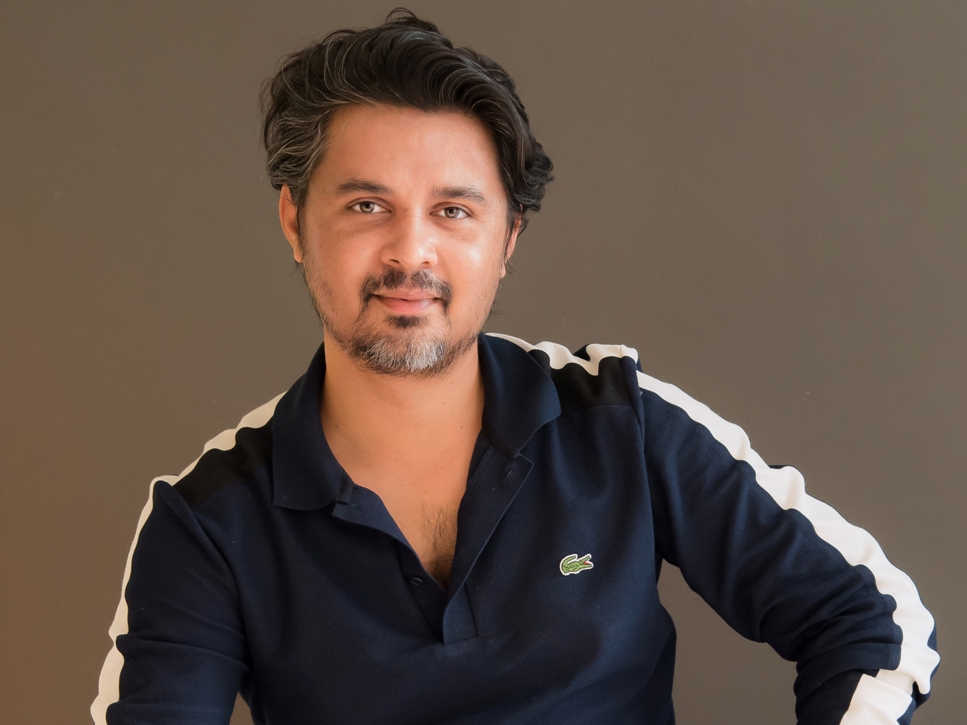 Abhishek Singh is an aviation & travel photographer/filmmaker with almost a decade and a half of extensive professional experience. Follow his work here and here.
Your personal favourite photo and why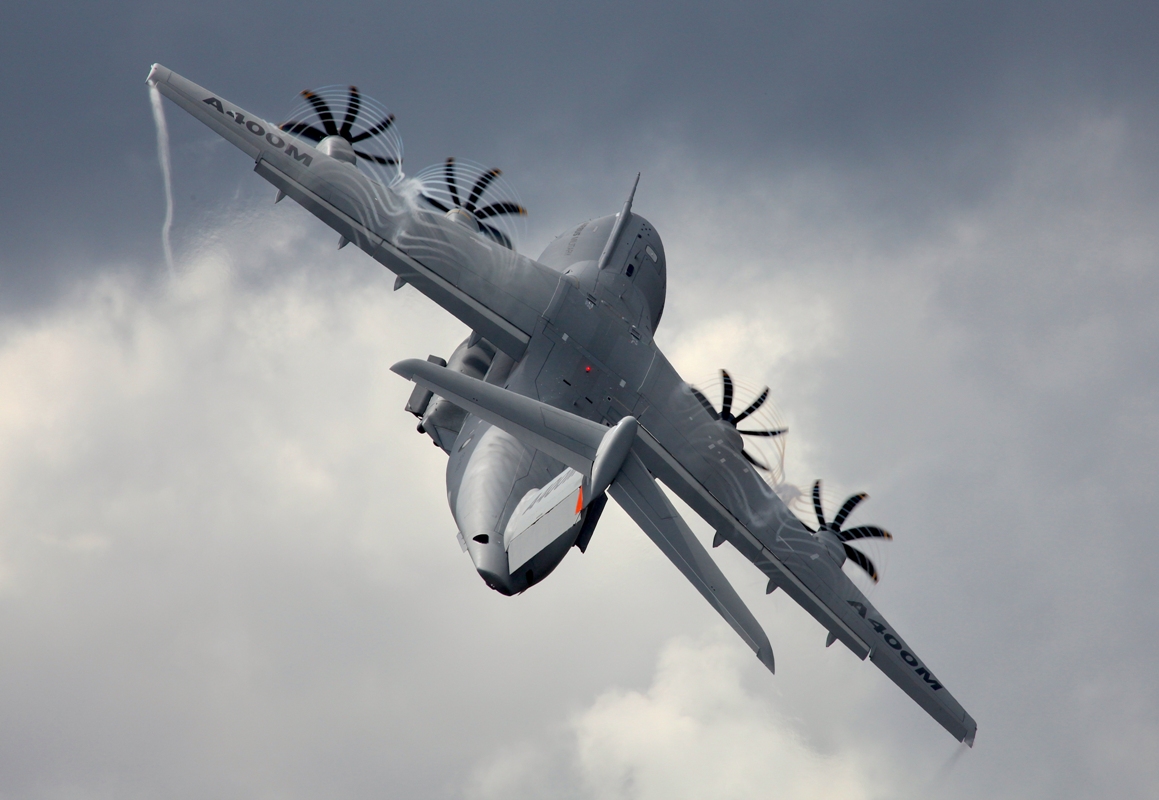 ABHISHEK: This shot of an Airbus A400M making its international air show debut at Farnborough in the year 2010 is one of my all time favourite image. The reason I like this shot is because only I managed to capture this stunning scene. As a rain storm was approaching during the show I anticipated a few things: This could be the last air display of the day considering the weather is going to be bad soon, and heavy vortex formation around the propellers because of the cold and moist weather. As the aircraft lifted off, it started drizzling and most of the photographer ran towards canopies and shades to protect their gear and cameras. The scene exceeded by expectations and anticipation. I was the only one standing till the bird landed back, at least amongst all the photographers. Hence this shot is very special as only I captured it and also this image has won many awards for me.
Your favourite aircraft in Indian service / global
ABHISHEK: Mirage 2000 in Indian context and Harrier which will soon be decommissioned by the last squadron of US Marine Corps.
Your favourite place to shoot
ABHISHEK: I don't think there is any specific place/destination for an aviation photographer. I believe our kind of people just look forward to the aircraft and not the location. For example in India at times Bangalore becomes my favourite place whenever Aero India show kicks off or in July Farnborough is my favourite place and at times Zhukovsky is the best city because of MAKS. Though I do like to photograph inside the air bases whenever the authorities grant permissions because then one is really close to these birds and as they say in photography "closer the better".
An aircraft on your shoot bucket list
ABHISHEK: In Indian context I would love to photograph AH-64E Apache because they are obviously new in stock and not been photographed by me till now. I missed few opportunities to photograph them. In global context Su-57 is what I am looking forward to photograph at least this year.
You could choose one camera to shoot which. Which?
ABHISHEK: So currently for photos I am using a Panasonic Lumix S1 and for my aviation films/videos that I am using a Panasonic Lumix GH5 and an S1H.
Your biggest lesson from shooting aviation in India that's different from the rest of the world?
ABHISHEK: I believe like flying is a serious profession and there is absolutely no room for error as one won't even have time to say sorry in the profession similarly aviation photography is also one of the most disciplined genres of photography. Most of the time we are shooting in a dynamic environment and there won't be re-takes for a shot, this makes you more agile as well as vigilant. What I have learned over a period of years is being disciplined, not getting too excited so that I don't become a safety issue during any kind of operations, this goes both for India and rest of the world. The one thing that makes shooting aviation in India bit different from the rest of the world is that one has to be very sensible in deciding what to shoot and what not to capture. I am very careful and disciplined while photographing in India and at the airports. There has been many instances when I saw a particular aircraft one of the Indian airports but controlled my inner photographer because the airport was defence airport. In case of countries like Japan, Swizz, Germany I freely take out my camera and big lens because I am aware nothing is sensitive for them at least.
Is India a good place for plane-spotters & aviation photographers? How to make it better?
ABHISHEK: If you have permissions then India is one of the best places to do aviation photography but if you don't have relevant approvals then it can be the worst. In case of military aviation one has no option then to take permission from the concerned authorities and I believe that's the right way but then in case of civil aviation I know there are many aviation spotters from India who would love to see the air side of an airport and do some photography which is the case in Japan, Switzerland and many other countries. For civil aviation, I think we have to organise and streamlined the process of getting permission to take pictures inside the airport and if not that then at least provide some basic infrastructure to help photographers like us or even an enthusiasts to document them For example in the case of Japan there are dedicated photography points and platforms/decks created for photography, same is in the case of Zurich international airport and recently Malaysia also created a viewing deck for spotters and photographers. We need to seriously implement these things as this will only help grow the aviation photography community and people/youngsters may look forward to making this as a career and the imaging industry especially in India will start considering Aviation as one of the photography genres.
---
5. SANJAY SIMHA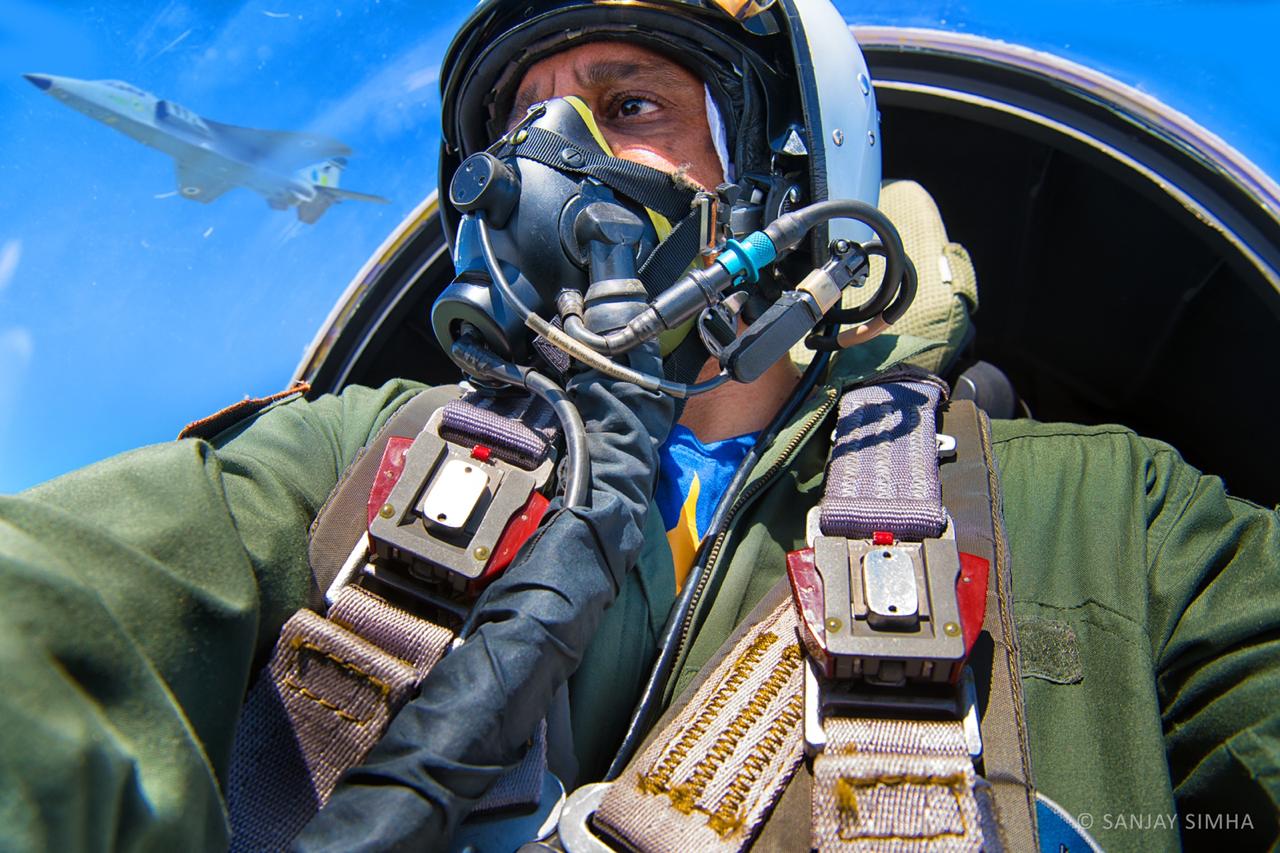 An entrepreneur by profession owning 2 companies, Sanjay Simha has visited more than 30 airbases of the IAF, Army, and Navy, apart from other defence establishments. He is one of the pioneers in Indian military aviation photography and has been following this passion since about 2 ½ decades. Sanjay has flown in various types of aircraft for air-to-air photography including Su-30MKI, LCA Tejas, Kiran Mk. II, apart from almost all transports and helicopters currently operated in India. He has also covered numerous Air Forces around the World. His pictures are displayed at the Rashtrapathi Bhavan, and at Republic Day Parade in New Delhi. His annual wall calendars are well sought after and Defence Attaches of India are some of the regular recipients of this work of art! He has a private aviation museum with a display of about 300 scaled models. Follow his work here.
Your personal favourite photo and why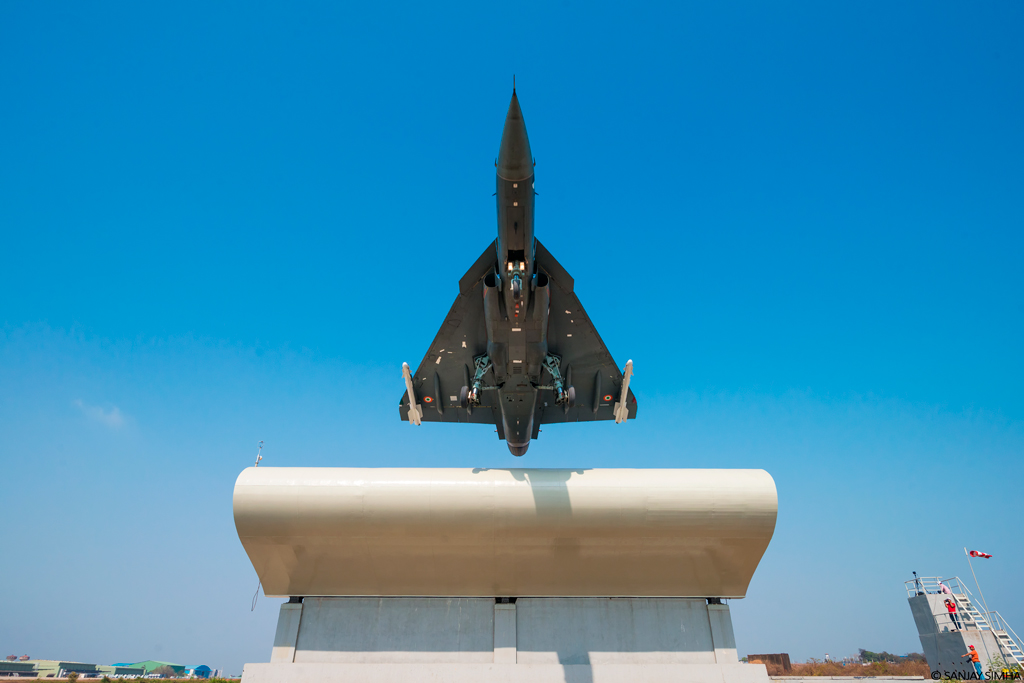 SANJAY: LCA Navy taking off from the ski-jump ramp at INS Hansa, Goa.
Lying down in the overshoot area, I could only hear the aircraft sound but was visually blocked by the ski-jump. My camera including focus, was on manual settings since I did not have any reference points to lock my focus on…(I could only see the sky and ramp as I lay on my back). Anticipating her distance (from me) only from the roaring sound of the jet engine that was hurtling towards the ramp, I clicked in the split second that the LCA appeared and zoomed over me at a height of less than 30 ft! I thought – I'd damaged my ears for ever!; burnt my face from the afterburner's heat; apart from being scared for a good 10 seconds by the tremendous energy that swept across the area I was positioned at!
All this was worth the effort – I went crazy when I saw what I had captured! Less than 1/100th of a second was probably my reaction time, and I had shot the best picture of my life in perfect focus, and the full aircraft framed alongwith the ramp. Even today, it gives me the jitters when I recollect the experience of LCA Navy thundering over me!
Your favourite aircraft in Indian service / global
SANJAY: Undoubtedly the MiG-21 any day, anywhere amongst the fighters. IL-76 is something I love to shoot amongst the transports. My bias towards designs of the Soviet era is clearly seen.
Your favourite place to shoot
SANJAY: Every airbase has it's unique features that makes photography interesting but Ladakh due to the Himalayan range, and North-East for the greenery, come to my mind as the best…provided weather gods have taken the days off.
An aircraft on your shoot bucket list
SANJAY: It used to be the MiG-21 in an air-to-air photo ops which I ticked off about a year ago. But wouldn't mind more such opportunities in future. Now it is the MiG-31 in my bucket list.
You could choose one camera to shoot which. Which?
SANJAY: Nikon D90. Though the camera is obsolete now, it still is my personal favourite inspite of me having upgraded my equipment.
Your biggest lesson from shooting aviation in India that's different from the rest of the world?
SANJAY: Patience and perseverance is something I have learnt over the last 24 years of being a military aviation photographer. Air arms around the world are much more matured in their approach to photography, though some have higher threat perceptions than India. They encourage publicity of their efforts through enthusiasts like me, and thus promote their Forces as a career option amongst the youth.
Is India a good place for plane-spotters & aviation photographers? How to make it better?
SANJAY: Given the security restrictions around the airports, India is not a place for plane spotters. There should be a meeting of minds and the security establishment has to be educated on the positive influences of aeroplane spotters. While I agree they should be vary of some people, I think they can take the first step by trusting reputed photographers in the field of aviation, who have over the years displayed their love for the country and military. Many good pictures used in military campaigns are shot by enthusiasts; why not trust them with more access then?
---
6. RAHUL DEVNATH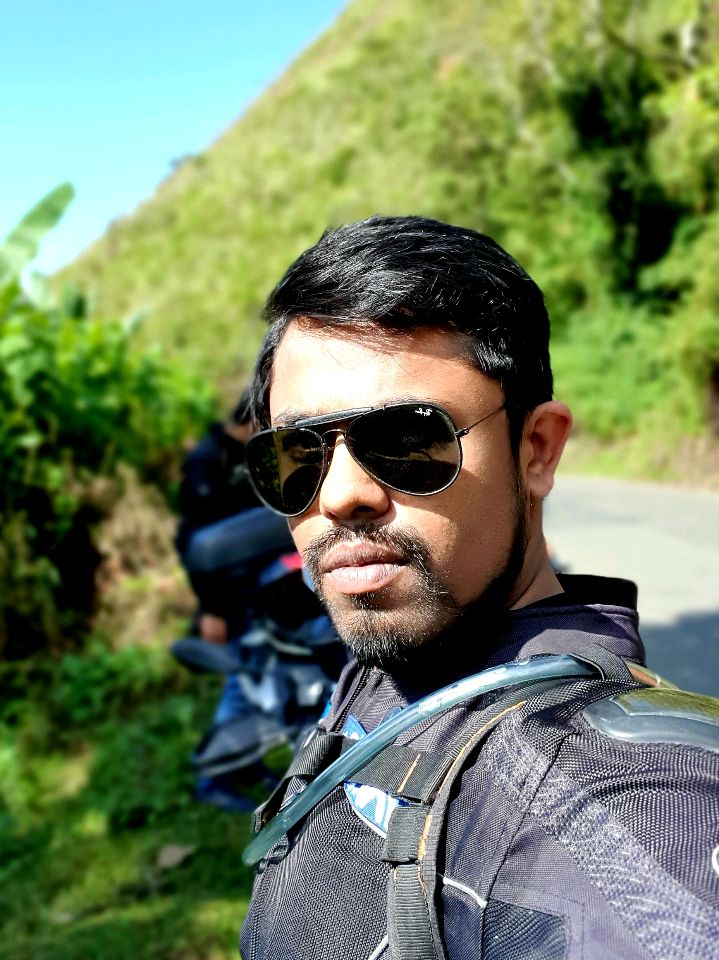 Growing up under the "wing" of a father who has had a 32-yr-long illustrative career as a pilot with the IAF, Rahul has always been obsessed with military aviation. Aviation photography remains close to his heart as a hobby while he spearheads the Operations wing at an Accel-funded digital marketing agency, based out of Bangalore. Follow his work here.
Your personal favourite photo and why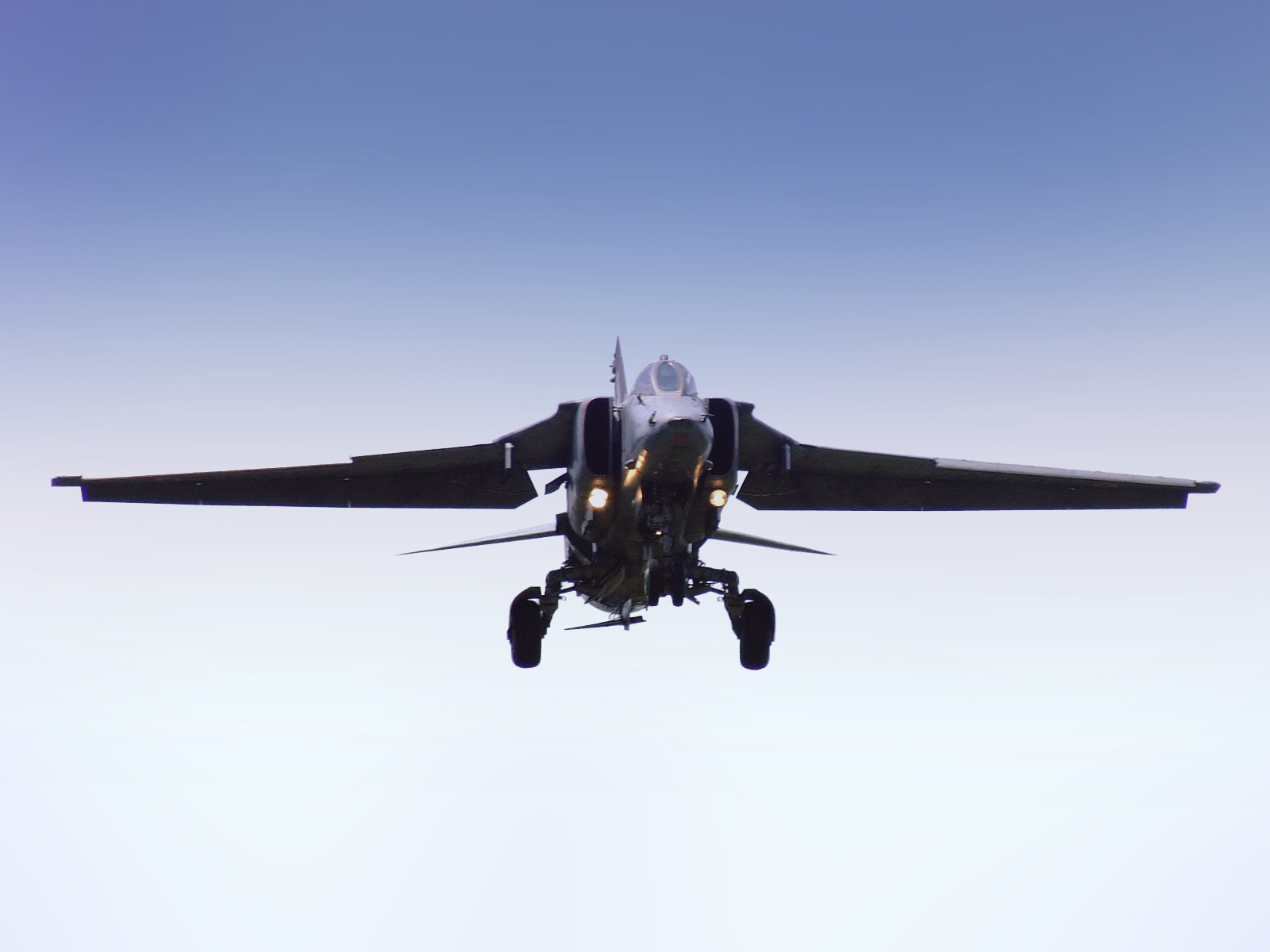 RAHUL: This happens to be my favourite photograph; not because it's extraordinary, but because it has a story to tell.
About a decade ago, I was shooting a pair of MiG-27MLs from 222 Sqn. (recently reinstated as the first Su-30MKI Sqn. of South India) at Hasimara, West Bengal. The 2-aircraft formation was airborne for a 30-min sector flying as I was eagerly waiting—quite close to the runway threshold—for the final approach.
But my wait came to a sudden stop when the duo appeared on the horizon sooner than I had anticipated. I sped towards the runway safety area (RSA); with my humble Fujifilm's 150mm telephoto (what a first-year undergrad student could afford back then) angled for the perfect shot. I told myself that I had at least 20 seconds until the aircraft lowered—but I miscalculated.
One of the MiG-27s was approaching me way too quickly, and before I knew it, I was swallowed by the roar of the thundering Tumansky. A quick burst of adrenaline made me duck in the nick of time as the giant flogger whisked a hair's breadth away from my head.
Whew! Close shave.
Hours later, I was informed about the emergency—little did I know that IAF would ground its fleet of MiG-27s within the next few months.
Your favourite aircraft in Indian service/global
RAHUL: Since, MiG-27s no longer serve IAF, the next best choice is the resilient Su-30MKI, which I have extensively shot over the years. Right from the very first off-loading of the Su-30Ks from an AN-124 in Pune, the formal induction of Su-30MKIs, to the recent Aero India detachments, I have evolved along with these mighty flankers that have become the backbone of the fighter fleet in IAF.
Your favourite place to shoot
RAHUL: Air Force bases, given the circumstance and the clearances. It has always been my dream to shoot from a fighter cockpit—I have never gotten a chance so far.
An aircraft on your shoot bucket list
RAHUL: The recently inducted Apache AH-64E.
If you could choose any one camera to shoot with, which one would you pick?
RAHUL: I have never been a fan of heavy camera bodies. I would pick my Nikon D750 any day, paired with a NIKKOR 600mm.
Your biggest lesson from aviation shooting in India that's different from the rest of the world
RAHUL: Though not many, I have shot in a few other countries outside India, including Kenya, Tanzania and Singapore. While every country has its own set of rules concerning aviation photography, especially during high-security situations, it is a skill that is often frowned upon in India. Most of the authorities and officials tend to dismiss this niche area as a mere personal hobby. With the number of plane-spotters in the country expanding, I feel that the need of the hour is formalisation of the aviation photography space.
Is India a good place for plane-spotters and aviation photographers? How to make it better?
RAHUL: I think this community still has a long way to go in India. We can go places by building a registered database of plane-spotters and aviation photographers—do background checks and provide everyone with ID cards. A little effort from the government can make a huge difference by providing a secure space for budding photographers.
This will also help weed out other security concerns, as there have been many instances when critical information was conveyed by plane-spotters during emergencies.
[All photos in this post are © of the respective owners. They've been used here with permission. Please do not reproduce them without permission.]