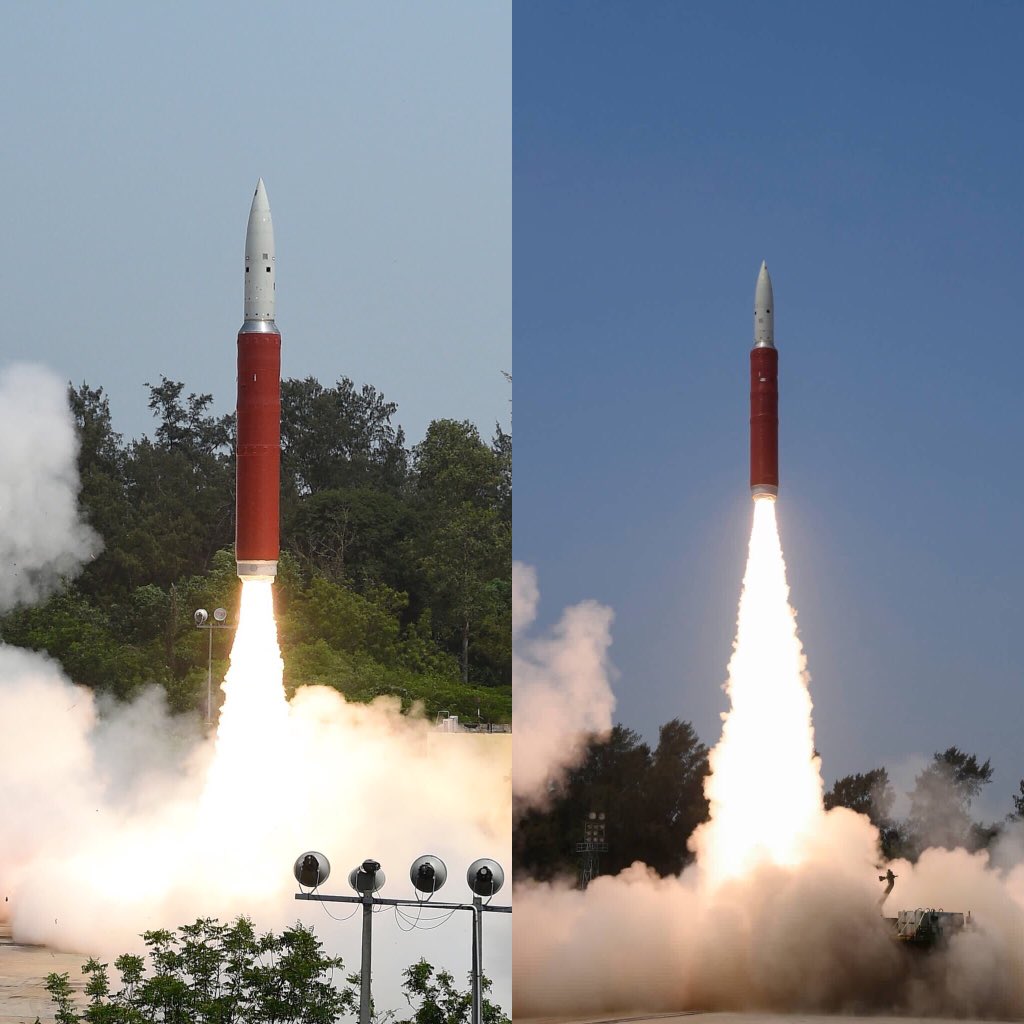 Nearly a decade after Indian military scientists first declared that an anti-satellite weapon capability was within reach, India today conducted the first test of the weapon system, under the aegis of a project codenamed Mission Shakti. While official specifics of the weapon haven't been revealed so far, Livefist learns that the weapon was a derivative of the Prithvi Defence Vehicle (PDV) missile interceptor developed for the country's ballistic missile defence (BMD) program. The test was conducted this morning from the Integrated Test Range off India's eastern seaboard.
Indian Prime Minister Narendra Modi, in a televised announcement just weeks before the country's national election, said that the missile had destroyed a low earth orbit (LEO) satellite at an altitude of 300 km. In a statement, India's Ministry of External Affairs said, "This was a technological mission carried out by DRDO. The satellite used in the mission was one of India's existing satellites operating in lower orbit. The test was fully successful and achieved all parameters as per plans. The test required an extremely high degree of precision and technical capability. The significance of the test is that India has tested and successfully demonstrated its capability to interdict and intercept a satellite in outer space based on complete indigenous technology. With this test, India joins an exclusive group of space faring nations consisting of USA, Russia and China."
India hasn't specified which particular satellite it hit, though experts and observers speculate it could likely be DRDO's Microsat-R. That it was launched just in January this year has led to speculation that the satellite was launched specifically to be a target. The Microsat-R was placed in orbit on Jan 24 by the PSLV-C44 rocket — 13 minutes 26 seconds after lift-off, Microsat-R was injected into an orbit at an altitude of 274 km.
What we know for certain is that today's A-SAT weapon derives from an interceptor missile developed under India's Ballistic Missile Defence program — and is therefore also an explicit demonstration of an anti-missile capability. The following slide was up on Livefist in 2010, providing a roadmap of the BMD's intended capabilities.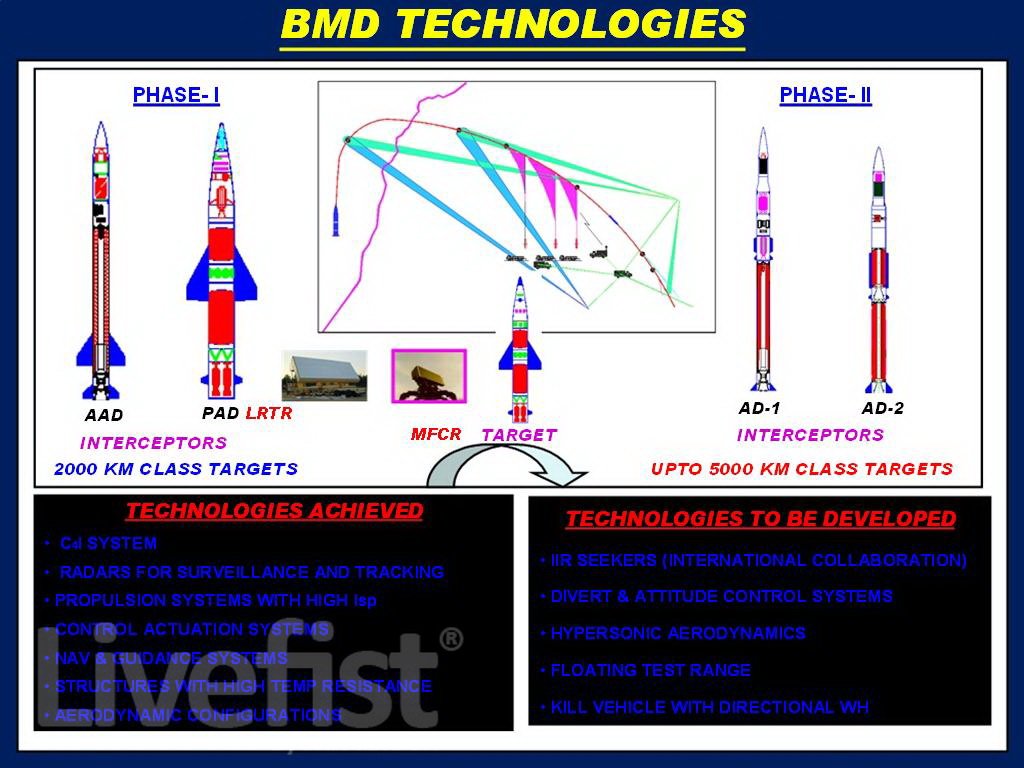 In a statement that made this quite plain, the Indian MoD said, "A DRDO-developed Ballistic Missile Defence (BMD) Interceptor Missile successfully engaged an Indian orbiting target satellite in Low Earth Orbit (LEO) in a 'Hit to Kill' mode. The interceptor missile was a three-stage missile with two solid rocket boosters. Tracking data from range sensors has confirmed that the mission met all its objectives."
In what is proving to be a historically no-holds-barred election season, the declaration of today's A-SAT test swiftly became the centrepiece of a fresh political joust, with the opposition Congress Party suggesting that the Prime Minister had announced the test of a weapon that had been in the works long before the latter's party came to power in 2014. Wars over credit for military accomplishments and weapons tests are far from uncommon in India, and stand hugely amplified during an election campaign.
What the current government will likely emphasise is that the previous government, under the Congress Party, plainly didn't have the political will to pull the trigger on demonstrating the anti-satellite weapon — a suggestion strongly indicated in 2010 by the then DRDO chief, V.K. Saraswat. At the time, he had told Livefist, "We already have a design study of such a weapon, but at this stage the country does not require such a platform in its strategic arsenal. Testing such a weapon also has a lot of repercussions which have to be taken into consideration. But testing is not an issue — we can always rely on simulations and ground test. We can see in the future if the government wants such a weapon. If so, our scientists are fully ready to deliver it."
Nine years later, in an interview to Livefist today, Dr Saraswat said, "When we carried out the Agni-V development and capability demonstration, it was political decision. The government of the day (the Congress-led UPA) gave us clearance to proceed. In the case of the A-SAT, clearance was once again needed for such an exercise. I remember making presentations to ministers (AK Antony was defence minister) at the time and the National Security Advisor (Shivshankar Menon) saying please give us clearance and finances for this, it will be a great deterrent and strategic capability. Unfortunately, the clearance we sought wasn't forthcoming. When we did the nuclear tests in 1998, it was the political will of Prime Minister Vajpayee. Similarly, with Agni-V, it was the political will of PM Manmohan Singh. But for reasons not shared with us, we didn't get clearance for A-SAT. Prime Minister Modi and NSA Ajit Doval had a real appreciation of the need for such a capability, and our scientists had the ability to demonstrate it."
Saraswat's comments, while those of a professional scientist, may also be read in the context of his own career in the DRDO. In 2013, following a special audit that found problems with his exercise of financial powers (leading to a curtailment of these powers), his expected extension as DRDO chief was declined by the Congress-led government at the time. In 2015, Saraswat received post-retirement work from the current government, which appointed him a full member of the NITI Aayog.
The Congress-led government's concerns over the A-SAT are understood to have pertained to technology embargoes in place at that time. MTCR.
Former director of the DRDO's Advanced Systems Laboratory (ASL) that leads India's strategic missile development, Dr. Avinash Chander has also told journalists that the decision to demonstrate the A-SAT is a recent one, even if the building blocks existed earlier. In an interview to Times of India, Dr. Chander says, "While we had been working on this technology for long, the current program was initiated sometime recently."
In an interview to Livefist in 2013, Dr. Chander spoke in detail about the ballistic missile technologies that have likely gone into the anti-satellite weapon demonstrated today.