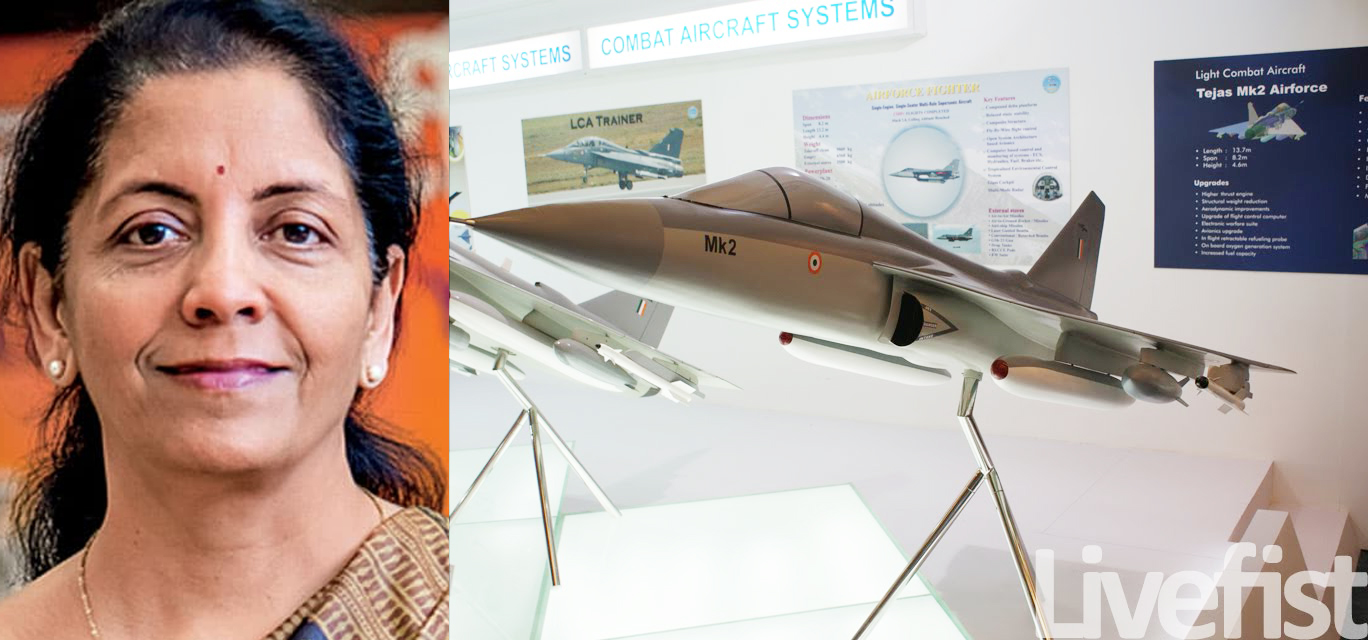 In what is being seen as a timely and hard show of support to India's LCA Tejas light fighter program, Defence Minister Nirmala Sitharaman today said, "We are looking forward to the LCA Mk.2 coming at the earliest. We have made provisions for the program."
The LCA Mk.2, an improved and more powerful version of the current LCA Tejas, is expected to be ready to fly in three years. With an array of improvements (including in maintainability), better sensors, weapons and engineering changes, it will also be powered by the more powerful GE F414 engine, allowing it a greater operational envelope for more missions. Unlike the LCA Navy Mk.2 which the government decided in 2016 to scrap, the Defence Minister's word today on the LCA Air Force Mk.2 program comes as a major confidence boost.
The minister's comments in Delhi today also come at a time when the MoD has just decided to abort a quest to build either F-16s or Gripens in India as part of a single-engine fighter production program. The collapse of that effort is being seen as a significant opportunity to accelerate the Tejas program.
Minister Sitharaman however expressed concern over Hindustan Aeronautics Ltd's current rate of LCA Tejas production, saying that production rates needed to be significantly ramped up for the program to be viable and meet IAF requirements. HAL has struggled with production rates for years, but has pledged to accelerate the speed at which it can churn out the light fighters.
"For instance, if the production rate is six per year, we cant wait six years for 36 aircraft," she said, adding, "We are putting our full energies into the Tejas program."
The Indian Air Force, which began inducting the Tejas into squadron service last year, currently operates only a handful of jets. Its current orders total 123 aircraft, which includes 20 in intial operational clearance (IOC) configuration, 20 in final operational clearance (FOC) configuration and 83 in an interim Mk.1A configuration, the full contours of which were first reported in detail by Livefist here.
Speaking exclusively to Livefist on the LCA Tejas program, Defence Research & Development Organisation (DRDO) chief Dr. S. Christopher has welcomed the Defence Minister's words.
"I am absolutely confident that the LCA Tejas Mk.2 will meet all requirements in a timely manner. I am also 100 per cent sure of further orders of not just the LCA Mk.1A but at least 200 of the Mk.2. Both of these aircraft will have tremendous export potential," Christopher said.
Dr Christopher took a sortie in an LCA Tejas in January with IAF test pilot Air Vice Marshal A.P. Singh in the north east.
"The aircraft has matured wonderfully, to the full credit of our teams of engineers and scientists," Christopher said. "It is a moment of great pride for us, but also a priority to see that the rest of the Tejas journey is very smooth."