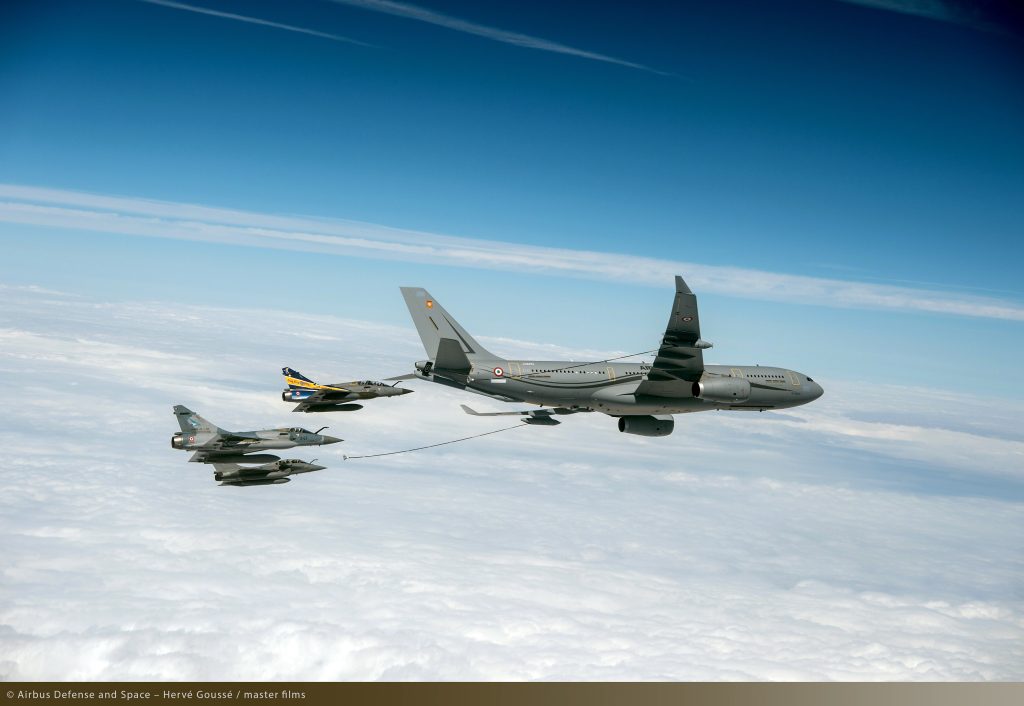 GETAFE, SPAIN
It'll soon be two decades since the Indian Air Force began a search for new air to air refuelling (AAR) aircraft that can outpace and outclass its small fleet of increasingly unavailable Russian Ilyushin Il-78Ms. But two contests, a handful of 'requests for information' and steadily increasingly urgency later, the Indian Air Force hasn't managed to bring in a single new tanker, with alarmingly little clarity on the path ahead.
If there has been one protagonist through this meandering mess of a quest for a capability that is arguably as central to India's airpower needs and ambitions as are combat aircraft and transports, it is Airbus. Since 2006, Airbus has 'won' two Indian Air Force bids, both times with its flagship A330 multirole tanker transport (MRTT) product, only to see the Indian MoD pull the plug near the finish line. You can read about the last time that happened here. Since 2016, the IAF's requirement has entered a familiar spiral of paralysis that got so chronic, that it nudged the Air Headquarters in 2020 to propose something that was thus far anathema as far as the Indian armed forces were concerned — leasing military hardware from abroad.
On the face of it, Airbus has no direct role to play if the IAF proceeds down the path of leasing tankers other than to support leasing companies like the UK's AirTanker, which operates a fleet of Airbus A330 MRTT tankers. Whether the Indian Air Force's leasing plans will make way for a re-attempt at acquiring new tankers is unclear for the moment, but will likely be an imperative going forward. But after 17 years of uncertainty and a ringside view of two contest victories evaporating, is Airbus simply exhausted with the IAF's tanker procurement program?
The answer is a mixed one. Insofar as the prospect of a third tender is concerned, Airbus feels it can only deal with what's in front of it — the IAF's intentions to lease the capability rather than buy tankers outright for now. That two victories entered a blackhole doesn't deliver a great deal of assurance when companies have spent millions of dollars on campaigns and followed due process. And there lies Airbus's dilemma.
"We are waiting for the next steps of the Indian Air Force," says Ivan Garcia Ferreiros, part of the A330 MRTT marketing team in Getafe, Spain.
Jean-Brice Dumont, Executive VP of Airbus's military air systems business is more direct. "What is clear is that India has a significant need for new tankers. But whatever the Indian Air Force decides to do, it needs to be a different type of procurement compared to what has been driving the last two tenders," he says.
A dilemma it may be, but Airbus's landmark 2021 win to supply 56 C295 transport aircraft to the Indian Air Force, including an unprecedented (for both Airbus and India) Make-in-India share, has blown away any despondence that may have piled up thanks to a track record of jinxed campaigns from tankers to helicopters. That Airbus had to wade through a wasteland of broken deals to land India's most ambitious aircraft building program thus far, has infused fresh blood into all veins of the Airbus enterprise in India. So while Airbus expresses a vanilla cautiousness on the tanker front, it still continues to engage with Indian stakeholders on the benefits of the A330 MRTT as opposed to its prospective rival in any potential future bid — the Boeing KC-46A Pegasus. Across exercises with the UAE, France and the UK, the Indian Air Force has become intimately familiar with Airbus tanker, a product it chose twice only to be rebuffed in part by spreadsheets, but also the politics of the India-US relationship.
The Airbus-Boeing relationship in tankers is an especially bitter one. In 2008, Airbus shocked the world by winning the US Air Force's KC-X tanker procurement program with a proposed US-built A330 MRTT. The victory was rapidly overturned and awarded to rival Boeing after a protest, spawning the 767-based Pegasus program. Disappointed but focused, Airbus has poured enough energy into its global MRTT campaigns to secure 90 per cent of all non-US tanker contests since. Any deal with India would only be the latest.
Boeing, which has landed a steady stream of supply contracts in India — for C-17, P-8I, Chinook and Apache aircraft and helicopters — doesn't have an Airbus-type deal yet to manufacture military aircraft in India, hoping that its campaign for the Indian Air Force's multirole fighter aircraft (MRFA), centered around the F-15 Eagle II somehow becomes its first. India's recent selection of the French Rafale to meet the Indian Navy's carrier based fighter needs has vastly brightened American chances in the parallel IAF fighter contest, given how India balances its defence acquisitions on geopolitical lines. An accelerated India-US strategic relationship and a focus on interoperability provides potential atmosphere for Boeing to point its KC-46A with renewed aggression at any future Indian requirement.
The possibility of a tanker lease may look off-colour in the scheme of the traditional Indian procurement system, but several air forces use leased tankers, including the Royal Air Force (via AirTanker, which has responded to the IAF's request for information on leasing) and the US Air Force. The Indian Air Force is also looking to France as a possible source of leased tankers.