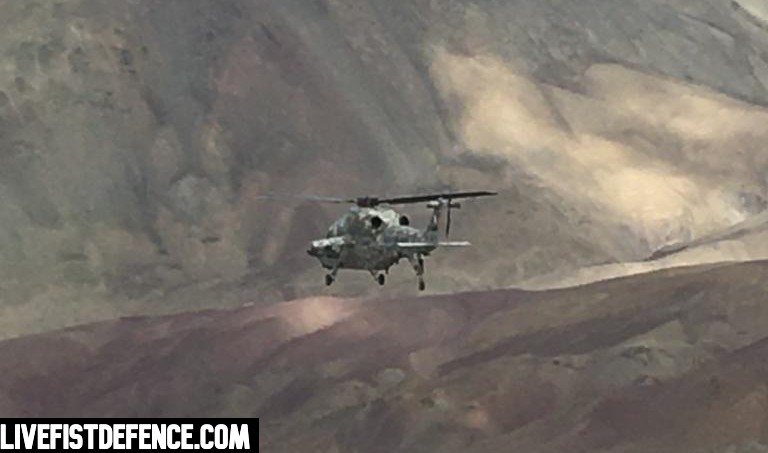 In a massive show of faith ahead of first orders for the type later this year, a pair of HAL Light Combat Helicopters (LCH) has been operating with the Indian Air Force in Ladakh for a week now. Two LCH airframes flew into Ladakh from Bengaluru last weekend and have been flying armed patrol sorties between Leh and other airbases, including forward areas, in Ladakh as part of a sharp force projection deployment.
The deployment came at the Indian Air Force's request — a deep show of support for the inbound combat helicopter that will populate units in both the IAF and Indian Army, with total orders expected to top 150. The helicopters themselves aren't meaningfully armed yet (more on that in a bit), but the deployment is being seen as a robust show of faith in an indigenous aircraft, and perhaps the first such deployment in a live operational setting before formal induction into service.
One of the 2 LCHs broke cover yesterday when IAF vice chief Air Marshal Harjit Singh Arora flew in one. Livefist can confirm that the Air Marshal flew the LCH from Thoise to Leh. Flying with an HAL test pilot, the vice chief took off from Thoise in full mission configuration — the LCH was flown to a high-altitude forward helipad with temperatures as high as ISA + 36 deg. The Air Marshal was given a full in-flight demonstration of the helicopter's handling in extreme conditions. During the flight, the LCH crossed several passes including Khardung La and Chang La near Leh, even carrying out a simulated attack on a high altitude target. After the attack, a simulated aerial combat profile was flown to demonstrate the LCH's manoeuverability.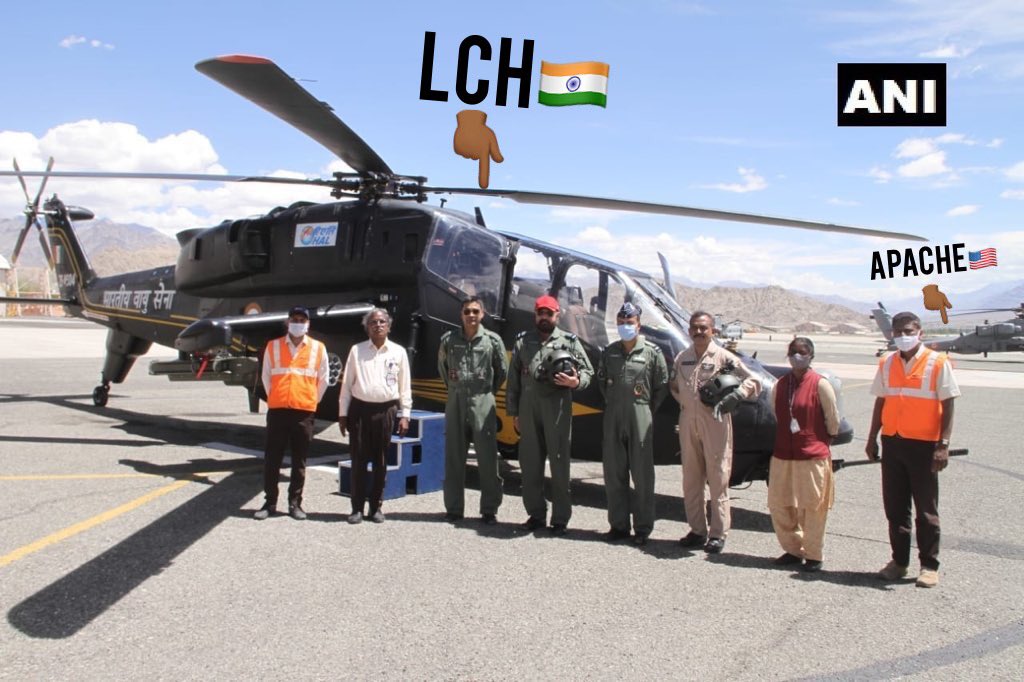 While LCH airframes have seen trials in Leh periodically for years, most notably in 2015, the current deployment is hugely significant. Operating with IAF pilots and alongside the IAF's AH-64E Apache attack helicopters (visible in the photograph at Leh below), operational pilots are getting to fly the Indian combat helicopter in a live operational setting for the first time and truly seeing why this purpose-built rotorcraft will be an undoubted asset in that forbidding terrain, and crucially one that can be deployed at those heights all year round.
Speaking in an exclusive interview to Livefist in June, HAL chairman R. Madhavan said, "That (the order) will come very soon. We have concluded price negotiations. We are now awaiting financial sanction. By the end of this year, we should see the initial order for 15 aircraft. After that we expect orders for more than 150. In fact, assuming we're receiving the order, we've already begun production of five new aircraft immediately. This will allow us to deliver the aircraft earlier than planned, once the order is confirmed."
Watch the full interview with HAL's chairman at Livefist's YouTube channel, here.
While force projection is the intent, and the show of faith is valuable, there's no getting away from the fact that the LCHs are incompletely weaponised at this time, as detailed most extensively here by Livefist. The good news is there could be forward movement on that front with first orders for the aircraft looming. Lacking a crucial anti-armour missile and Mistral air to air munitions, the LCH currently relies on 70mm rockets and its chin-mounted gun.
The Indian Army's Rudra armed helicopters have also been deployed in Ladakh during the current standoff, and have been operating from forward air bases. Livefist detailed that deployment here.
Livefist's Shiv Aroor flew in an LCH in February last year. Here's his full video report: