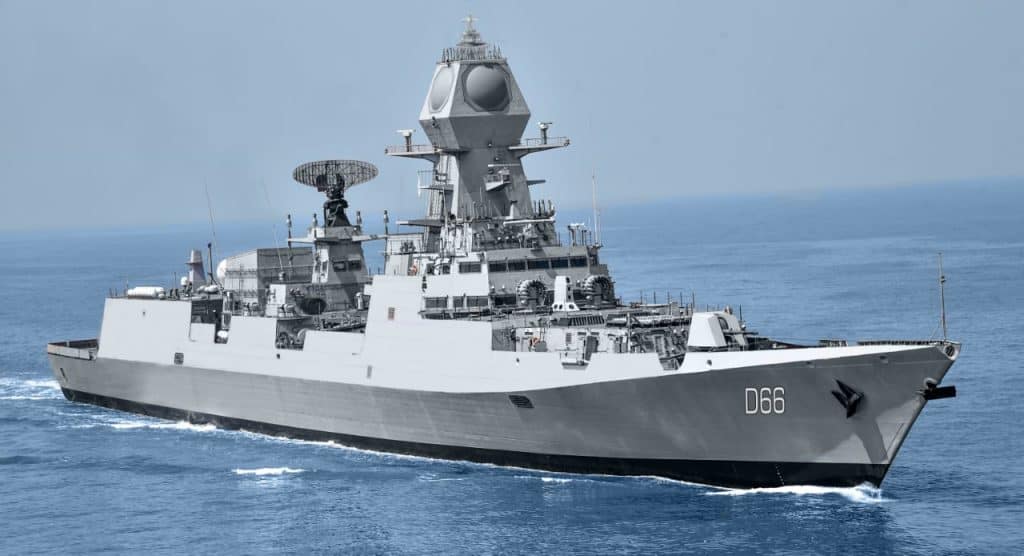 The Indian Navy has just taken delivery of its first P15B (Visakhapatnam class) destroyer, also releasing the first images of the ship at sea, presumably during sea trials that commenced last year. It was on Livefist incidentally in April 2015, that the P15B class's name 'Visakhapatnam' was first revealed. You can read that piece here.
Delayed for a variety of reasons, the lead ship of the class will nevertheless be deeply welcome into the Indian Navy as it expands its surface fleet in an effort to maintain a grip on vastly expanding maritime responsibilities in the Indian Ocean and Indo-Pacific. Already an imperative given the multidimensional threat perception in the Indian Navy's areas of responsibility, the need for faster and better additions to the surface force has been amplified hugely by Chinese manoeuvres both on land and at sea. The world's largest current military standoff, between India and China in Ladakh, has accelerated several armament modernisation and expansion programs on both sides, though for multiple reasons, they've been most evident in India.
In a series of tweets, the Indian Navy said, "Induction of the destroyer will not only enhance combat readiness, but will also be a major leap forward towards our quest for Aatmanirbhar Bharat (self-reliant India)."
Those words ring true. The Visakhapatnam class may be delayed, but it's the latest, and very substantive, symbol of India's powerful emergence of a warship marker to reckon with. From the P17 (Shivalik class) frigates, to the P28 (Kamorta class) anti-submarine corvettes, to the P15A Kolkata-class destroyers, precursors to the Visakhapatnam class, Indian naval shipbuilding has come plenty of age, with the challenge now resting more on aligning weaponisation and scaling up capacity than anything else.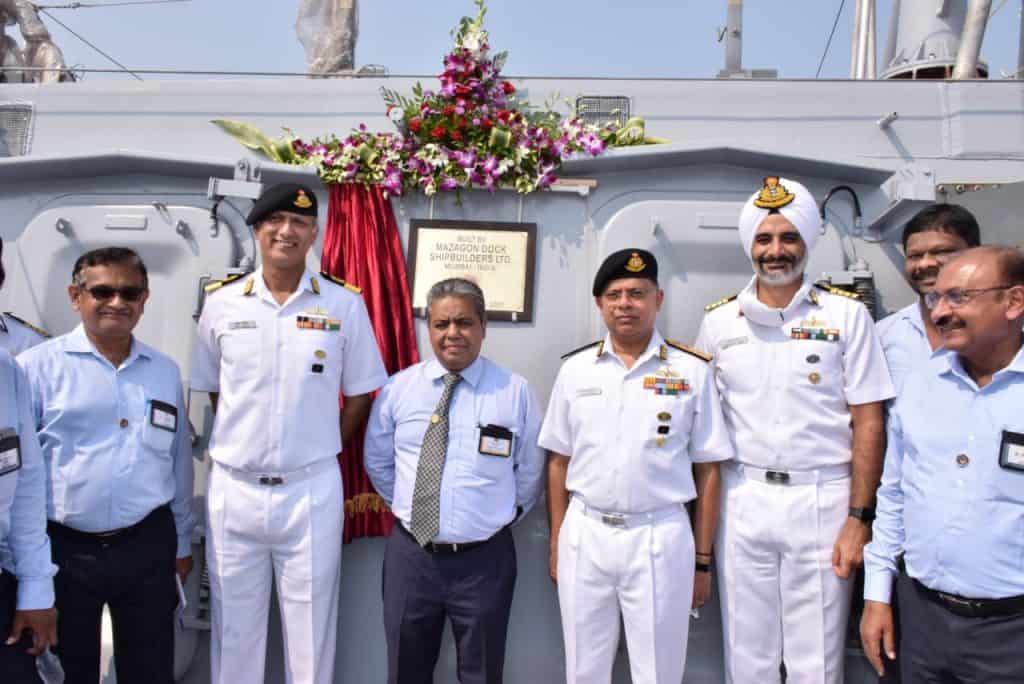 The Visakhapatnam-class maintains the same hull and propulsion package as the Project 15A Kolkata-class, three ships of which — INS Kolkata, Kochi and Chennai are in service. Russia's Northern Design Bureau worked with Indian Navy designers as an external design consultant to help reduce the size of the design's superstructure. The ship has frequently photobombed ceremonies involving other warships at the Mazagon dockyards in Mumbai.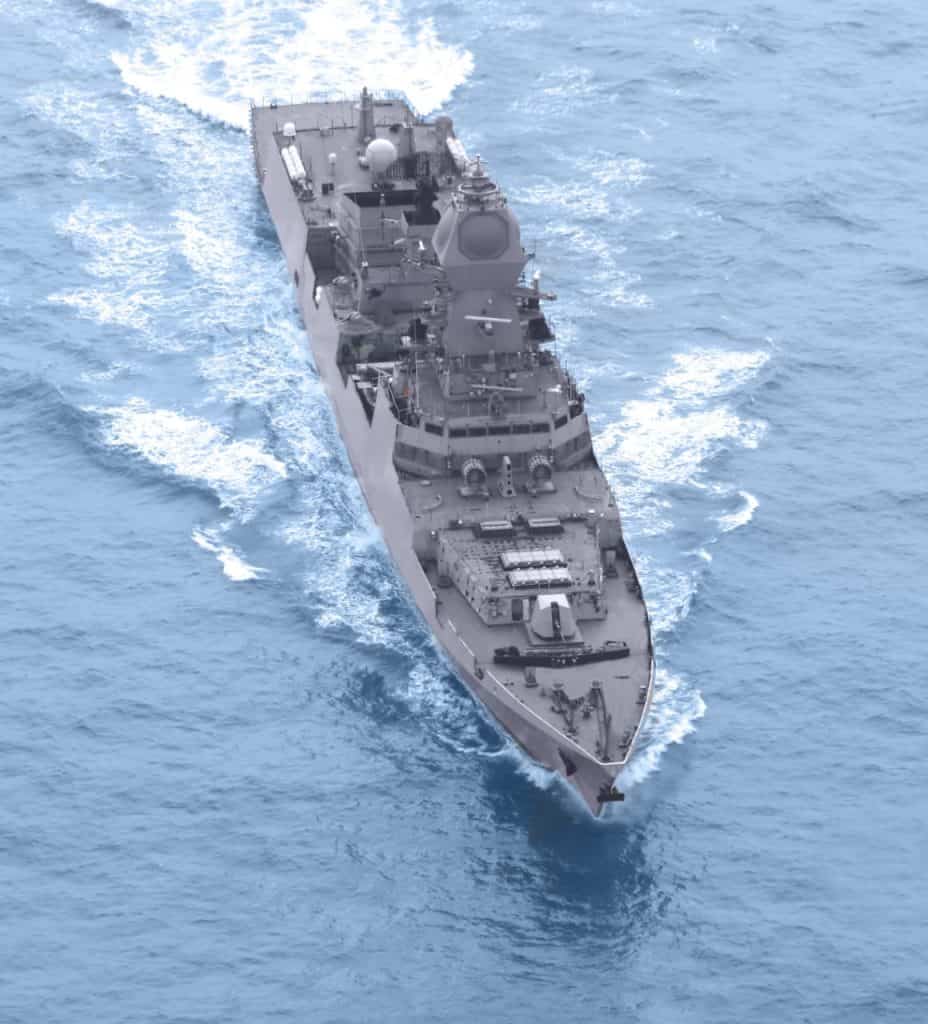 The Visakhapatnam, to be shortly commissioned into the Indian Navy, will be the first of four ships to be built by the Mazagon Docks Ltd (MDL) in Mumbai. The other three ships are to be named Mormugao, Imphal and Porbandar. In 2016, Livefist reported the first official technical details and schematics of the Visakhapatnam class ships. Along with the below slide, you can read those details in full in this piece.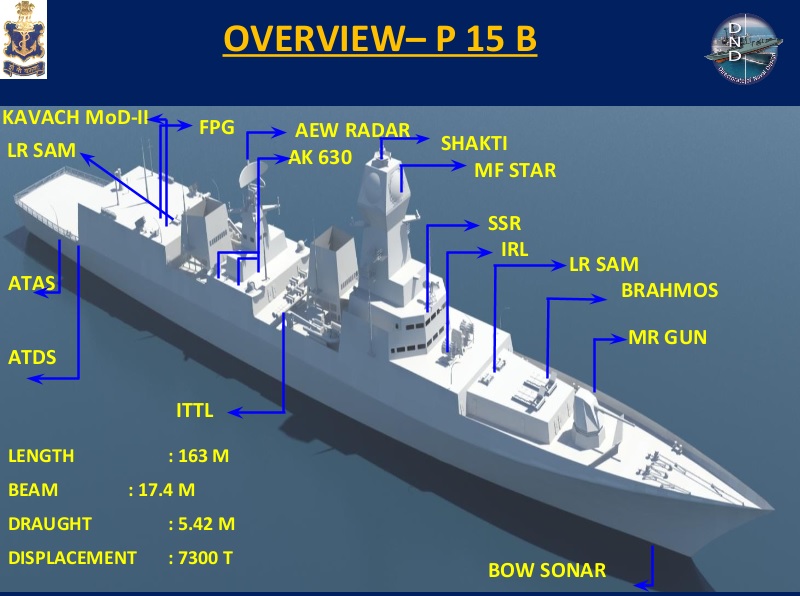 It's a busy time for force accretion and shipbuilding for the Indian Navy. In addition to the Visakhapatnam-class, Indian military shipyards are also building the first of seven P17A (new Nilgiri-class) stealth frigates. The first of two advanced Talwar class frigates to be built at Russia's Yantar shipyard, christened Tushil, was launched earlier this week in Kaliningrad. And India's most ambitious warship, the new Vikrant-class indigenous aircraft carrier (IAC-1) is out at sea for a second phase of sea trials before commissioning next year: