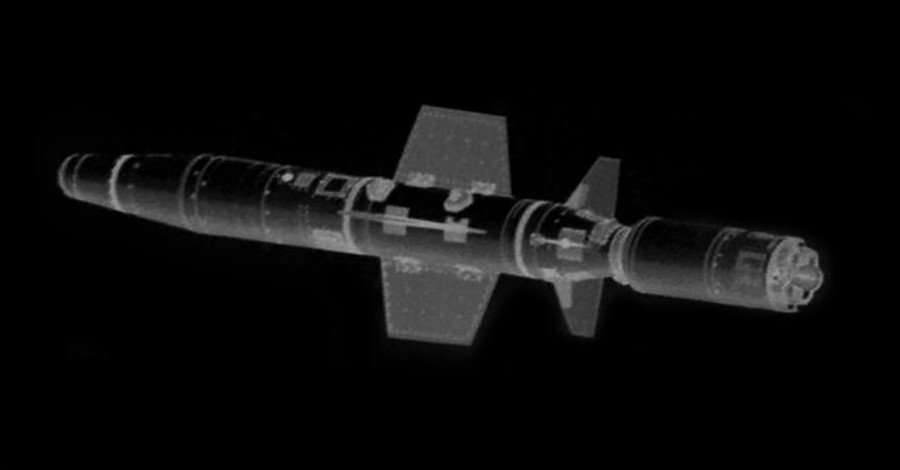 A missile system that India's DRDO mentioned for the first time in 2018 has broken cover at the ongoing Def Expo show in Lucknow. The 55-km range helicopter launched Naval Anti-Ship Missile (NASM-SR) has been detailed for the first time since the project was sanctioned in 2017, and has since been mostly speculated upon. Here's the first data on the weapon that's currently in its configuration and definition phase: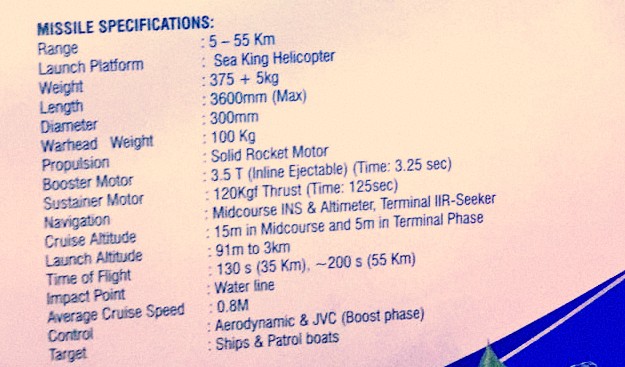 First data set down by the DRDO says the missile is being developed for the Sea King helicopter platform. The Indian Navy's Sea Kings currently sport the last of India's Sea Eagle missiles, both in the final lap of their operational life. It is therefore reasonable to expect that this weapon system will more practically find place on future helicopter platforms, including the MH-60R and follow-on helicopters. The MH-60Rs that India will soon be contracting will be supplied along with the Norwegian Kongsberg Naval Strike Missile as its primary anti-ship weapon.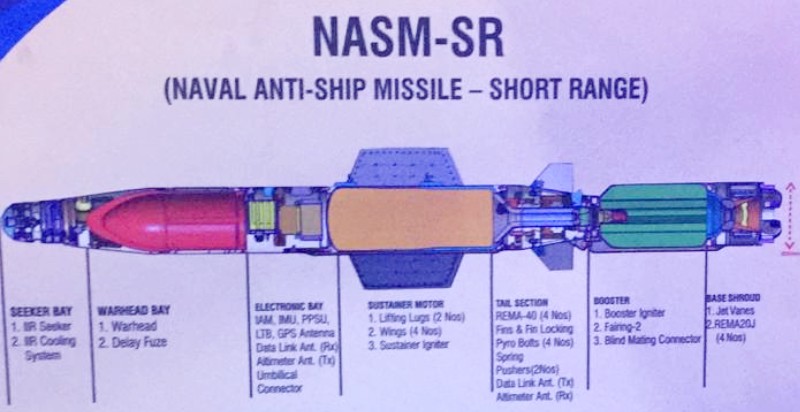 The NASM-SR emerges as a future option at a time when the Indian Navy is also looking at anti-ship weapons fits for its future multirole helicopter fleets that will replace its Sea Kings. As detailed by Livefist, these include MBDA's 25-km range Sea Venom and the over 100-km range Marte ER. The DRDO's NASM revealed at the DefExpo show is specifically designated 'SR', confirming that a longer range version will also be pursued. Sources indicate this could be a weapon system with ranged in excess of 150-km.
The Indian Navy is also in the market for new medium range anti-ship missiles (MRAShM) for 24 current and future warships — three Delhi-class destroyers, four Kora-class missile corvettes and the six new Next Generation Missile Vessels (NGMV) that will enter service in the next decade. The other anti-ship missiles currently in service with the Indian Navy are Boeing Harpoon Block IIIs on the P-8I Poseidon fleet.
The DRDO had once also envisaged a long-range supersonic cruise missile program, though the technologies planned have since been co-opted into separate programs, including a proposed Submarine-launched Cruise Missile (SLCM):
The NASM-SR is part of a new family of weapons that form a fresh phase in the country's missile program, that include the Rudra air-to-surface weapon, the Short Anti-Airfield Weapon (SAAW) that's soon to be tested from HAL's Hawk-i and the Next Generation Anti-Radiation Missile (NGARM):
Up close with India's Next Generation Anti-Radiation Missile (NGARM). Handful of tests on Su-30MKI done, new tests shortly at maximum range over the Bay of Bengal — about 150 km. pic.twitter.com/RF5N9zaoNz

— Livefist (@livefist) February 22, 2019