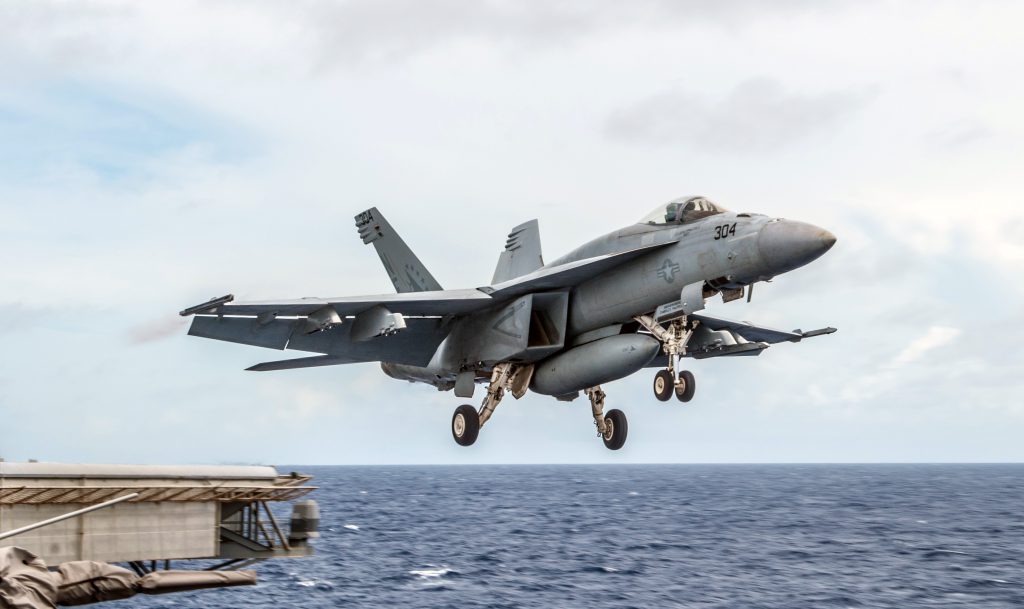 Boeing has signaled it will be conducting first test-launches of the F/A-18 Super Hornet from a shore-based ski jump in the United States as the culmination of a long-standing message to the Indian Navy that the American aircraft would be compatible with Indian aircraft carriers.
The Super Hornet currently operates using a steam catapult system on U.S. aircraft carriers, and has never operated from ski jumps that are standard fit on the Indian Navy's current aircraft carriers INS Vikramaditya and it's next aircraft carrier the indigenous Vikrant.
At the ongoing Def Expo show in Lucknow, India, Boeing executives indicated that a Super Hornet could undertake ski-jump launch tests soon — likely at Naval Air Station Patuxent River in Maryland. In the past, it is understood that a legacy F-18 Hornet and F-14 Tomcat have both completed ski-jmp tests at the Maryland facility. More recently, a Lockheed-Martin F-35B used the ski-jump for launch trials.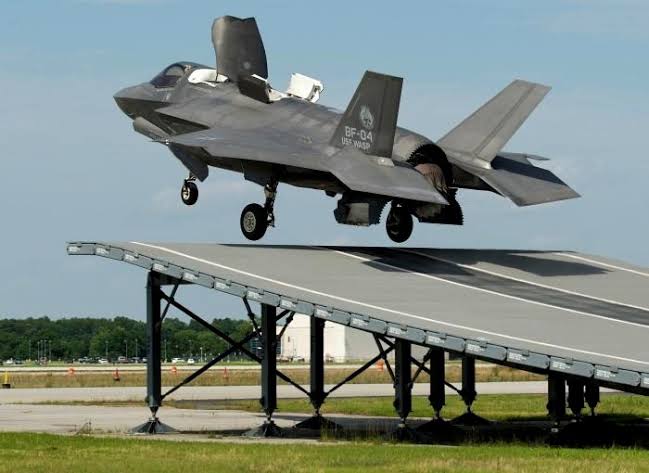 Boeing's F/A-18 is being pitched both as a carrier based fighter to the Indian Navy for a prospective requirement of 57 jets, as well as to the Indian Air Force in an upcoming contest to build 114 of a chosen fighter type in India with a strategic private partner. Boeing has centred its offer around a 'Factory of the Future' message, detailed in an earlier report here.
The Indian Navy's requirement, widely expected to be a face-off between the F/A-18 and Rafale-M, is theoretically for a planned 'flat top' aircraft carrier that will be built after the new Vikrant. However, Boeing's move to prove the Super Hornet on a ski jump carrier is clearly an effort to establish the aircraft's so far theoretical compatibility with at least the launch configuration of India's currently and next carrier. Underscoring its pitch to the Indian Navy, Boeing customised concept art for the Def Expo show that depicted a pair of Super Hornets with नौसेना on their fins.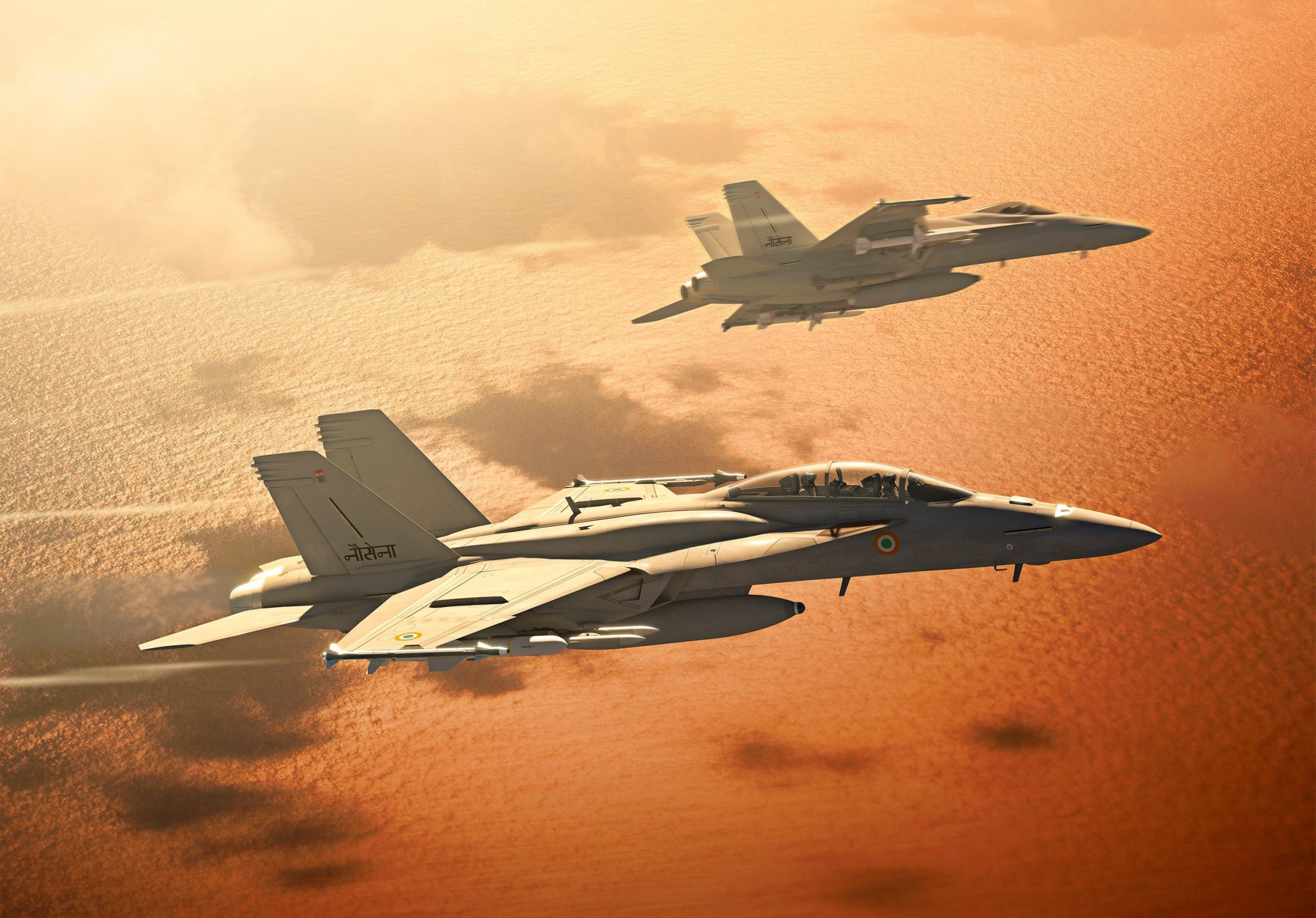 To be sure, Boeing's move to prove ski jump capabilities on the Super Hornet have their roots stretching back to as far back as 2006. In 2007, Livefist reported on how, in response to an Indian Navy query, Boeing had reported back with simulation studies ostensibly confirming that the Super Hornet could operate off the then under refurbishment Gorshkov (later INS Vikramaditya) carrier. More recently in 2017, Boeing executives told Livefist, "We've done a lot of simulation work with the Indian Navy to better understand their requirements and we fill comfortable that the Super Hornet can operate from all their carriers, both the ones fielded today and the ones in the future… We think we can move around the deck, be very mission capable with a relevant weapons load-out and fuel load-out to give the Navy what they need. The Super Hornet as built today can operate from Indian carriers."
https://www.facebook.com/Livefist/videos/1505363796168905/
Boeing has had a robust year in India. It's rotorcraft deliveries to the Indian Air Force last year — the AH-64E Apache and CH-47F Chinook — were both prominently on display at this year's Republic Day parade. This came shortly after the Indian MoD cleared decks for the purchase of six more P-8I Poseidon long range maritime reconnaissance and anti-submarine jets.
Boeing's new lead on the Indian defence business, Surendra Ahuja, a retired Rear Admiral from the Indian Navy who also happens to be India's first new mould Indian pilot to 'trap' on a carrier, said today, "The recent induction of the CH-47F(I) Chinook heavy-lift and AH-64E Apache attack helicopters by the Indian Air Force, the focus is on establishing local rotorcraft training and support facilities. We are committed to working with our customers to provide holistic solutions for their defence aircraft and services with the right capability, advanced technologies and cost structure. We have accelerated our efforts to set up a local sustainment support footprint in India to be more responsive to our customers' needs. Boeing's existing platforms in India, the P-8I and C-17 are operated by the Indian Navy and Indian Air Force and are experiencing high mission readiness rates as a result of Boeing's commitment to services and support."
India's own efforts with deck-based fighters has seen solid movement recently with the first launch and recovery of the Naval Light Combat Aircraft from the INS Vikramaditya deck last month. Livefist also recently detailed the Indian Navy's stipulation that it would only accept a twin-engined fighter for its carrier decks, sparking a fresh proposal from the makers of the LCA.