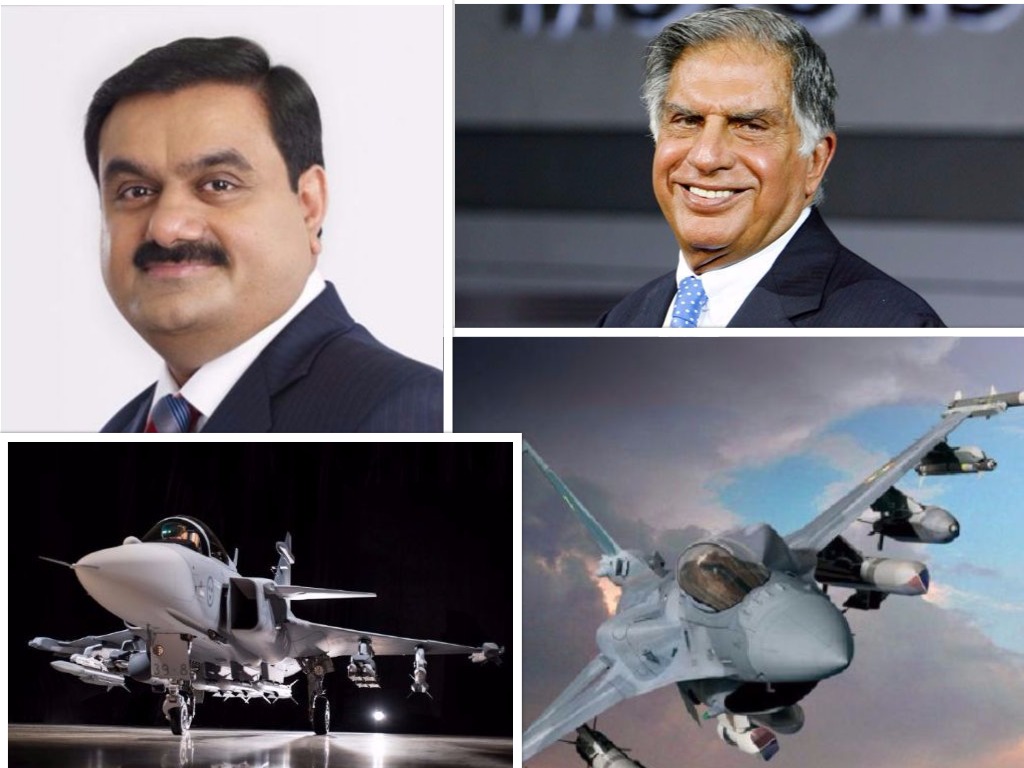 A contest to build at least 200 foreign single engine fighter jets at a greenfield facility in India has assumed its full contours. Over two months after LockheedMartin declared that it would compete to build the F-16 in India in partnership with the Tata Group, rival Saab of Sweden today finally declared who it had forged a similar agreement with: India's Adani Group, a diversified conglomerate with interests in the energy sector, agribusiness and logistics. The contest, part of India's vaunted Make In India campaign and under the Defence Ministry's new Strategic Partnership paradigm, will see the winning partnership set up a full industrial base to build the chosen aircraft — either the F-16 Block 70 or Gripen E (see Livefist's dogfight here).
Livefist had the first full details of Saab's Gripen E industrial offer to India as part of the single engine contest, one that will now be pitched in partnership with the Adani Group. The partnership is now the fourth major fighter aircraft partnership in India in recent years after LockheedMartin-Tata, Boeing-Tata and the Dassault-Reliance tie-ups. The matrix of partnerships between large Indian and foreign firms means they're partners in some segments and rivals in others. Saab, for instance, tied up last year with Tata's Strategic Electronics Division (SED) to build self protection systems and land-based platforms.
Today's announcement sets up what many will see as a intriguing corporate war. One that will be fought between a giant with a proven hand in the military business facing off against a lesser known (but no less influential) group that's taking its first tentative steps into a space that widely recognised as the most difficult to do in India. The Tata Group, steered by former chairman and patriarch Ratan Tata, an aviator and aerospace enthusiast himself, has plenty of aero-industrial experience, with group firms supplying major parts to every big airframer you can name, apart from being a formidable maker of equipment nearly across the board for the armed forces, notably including specialty vehicles, sensors and drones.
VIDEO: Why the Tata-LockheedMartin deal is only the first step in a long, stumbly road to India's single engine fighter deal. #PAS17 pic.twitter.com/XLOJdocWVC

— Livefist (@livefist) June 22, 2017
The Adani Group on the other hand has made no secret of its interest in entering the defence manufacturing space since 2014. The company's expansive industrial real estate properties on India's western coast are positioned as a leg-up in terms of logistics applications for large scale manufacture, a key element in its pitch for foreign partnerships. While today's partnership with Saab consolidates the group's known interest in aircraft manufacture, the company has made known since 2015 that it intends to prove capacity for helicopter and unmanned systems manufacture in country.
Indian private firm Adani's stall at #AeroIndia2017 sports the Hermes 900 MALE UAS being pitched to the Indian armed forces. pic.twitter.com/CGJsMGBfb7

— Livefist (@livefist) February 15, 2017