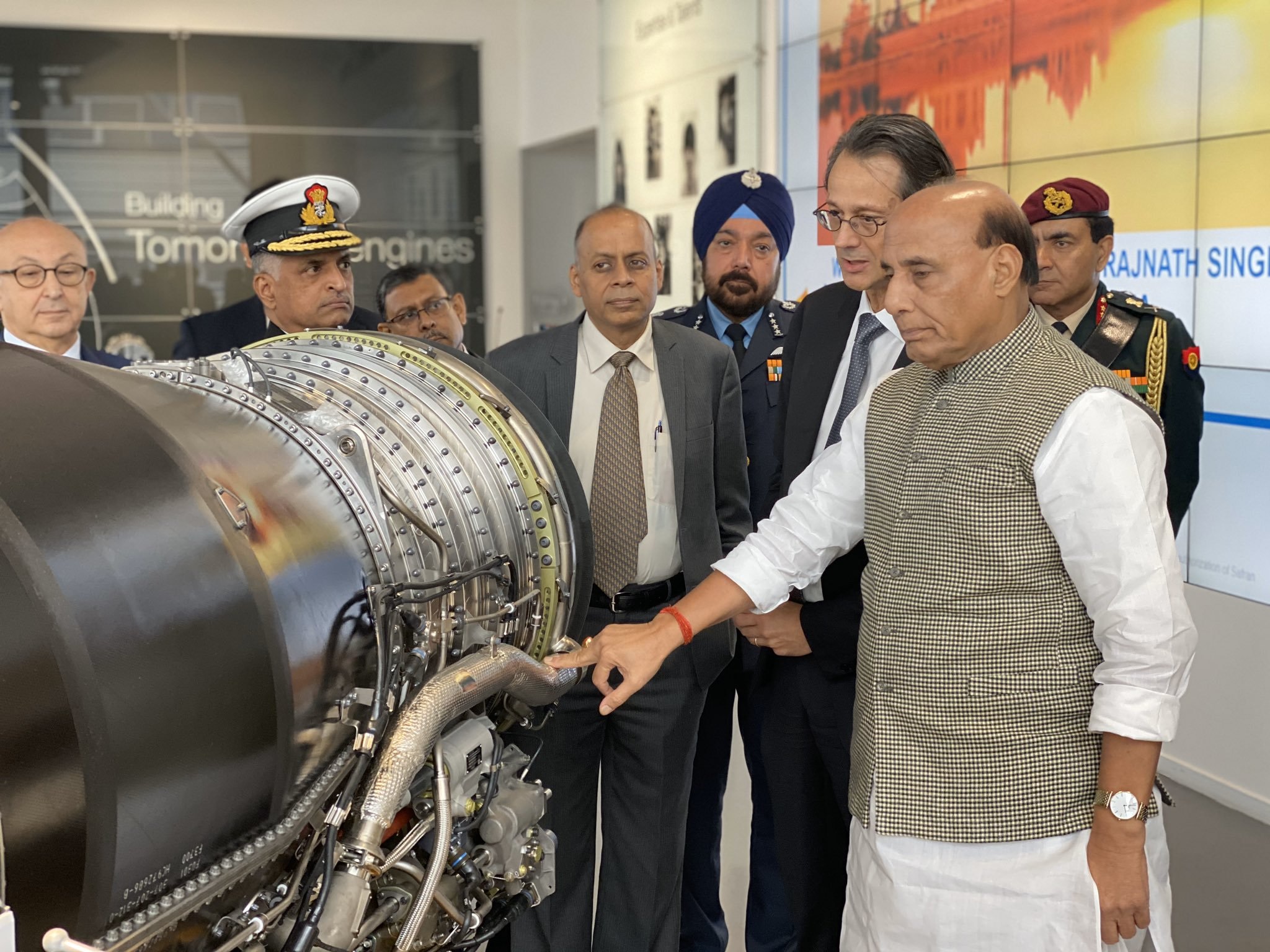 After a day centred around the milestone Rafale handover to the Indian Air Force, topped off handily with a flight in the IAF's first Rafale jet, Indian defence minister Rajnath Singh today continued his official engagements in France with a visit to Safran's engine building facility (formerly Snecma) in Villaroche near Paris. The minister was given the usual protocol briefings by Safran executives on the company's many proposals for India — chiefly a near collapsed venture to rescue the Indian DRDO's Kaveri jet engine with a techno-financial infusion from Safran.
According to the original plan, Safran, which manufactures the M88 turbofan engines on the Rafale, was to partner with DRDO to fix all problems with the struggling Kaveri engine and bring up to the mark for fitment on India's Light Combat Aircraft and future air platforms. This partnership was to be part of the offsets obligations under the 2016 Rafale deal, under which the companies that contribute to the Rafale's major systems (Dassault, Thales, MBDA and Safran) have to plow back nearly Euro 4 billion back into India. While the other three already have structured plans on how they will comply with the offset obligations,  recent reports suggest Safran's partnership proposal with DRDO on the Kaveri has turned out to be unworkable for financial reasons — chiefly that the scope of work would mean DRDO forking out most of the cost of the revival.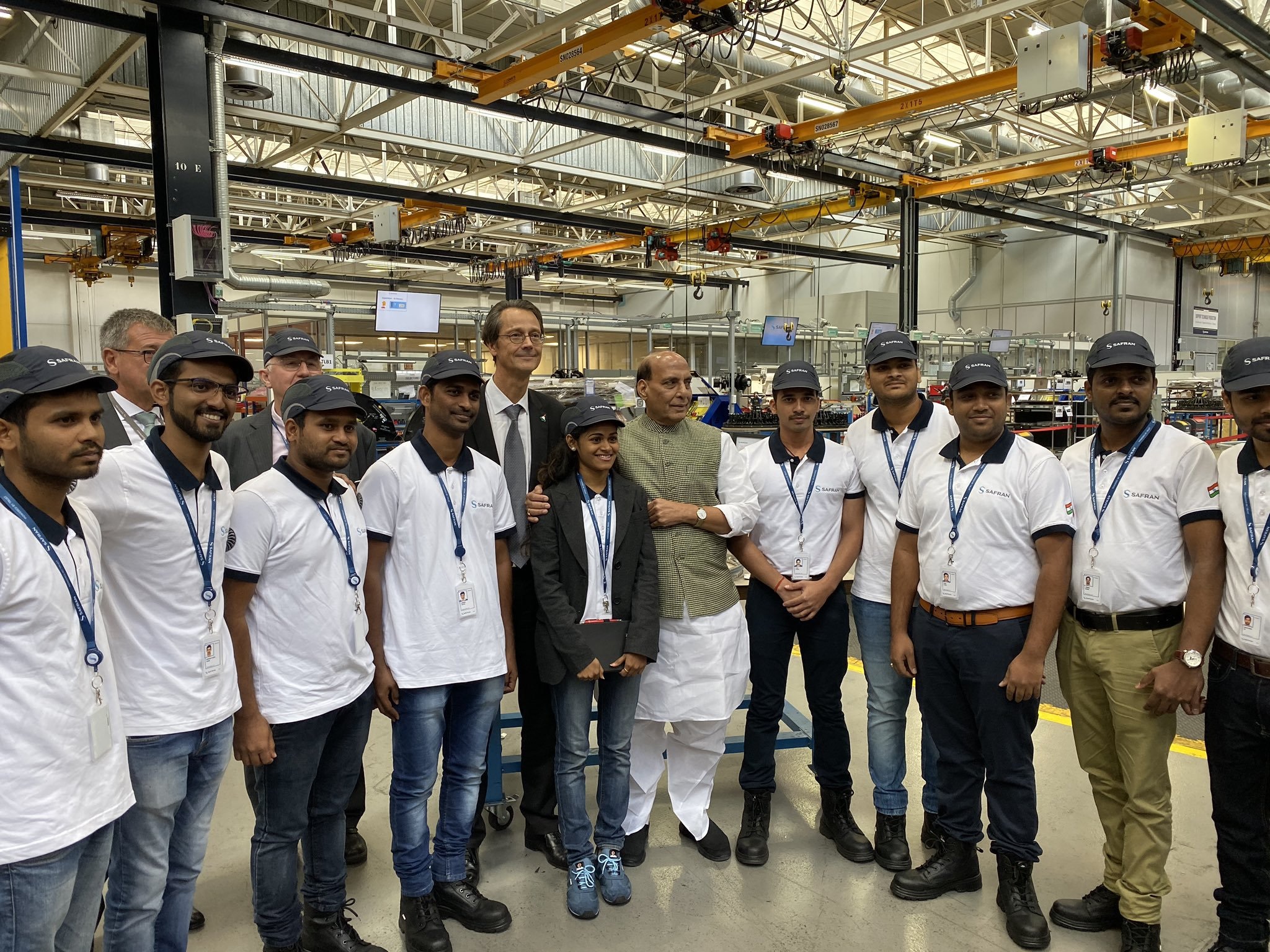 To be sure, the terms of the proposed Safran-DRDO joint effort were ambitious, and had been on for at least a year before the Rafale was declared winner in India's collapsed MMRCA contest. The Rafale deal provided the financial framework for the joint enterprise. Safran was to step in with offsets dollars and technology to modify, certify and integrate the Kaveri engine on a Light Combat Aircraft airframe before 2020, with a later clause in the partnership mandating modifications on the Kaveri for a twin-engine configuration on India's AMCA fifth generation fighter concept, followed by an altered non-reheat version for the Ghatak UCAV.
Livefist can confirm that the Indian defence minister was briefed about the Safran-DRDO partnership proposal in general terms today, but no mention was made about where things currently stand. While talks between Safran and the DRDO have apparently reached an impasse over cost and the modalities of execution, it is clear that any next steps will require a political decision to move forward.
In a presentation to the visiting Indian defence minister Safran CEO Olivier Andries said, "India should provide an attractive business environment and not terrorise us with its tax and customs rules." He also shared plans for the company to invest $150 million towards training and maintenance of the engines that will power the IAF's Rafales.
Defence Minister Rajnath Singh and his delegation also took part in the second India-France Ministerial level Annual Defence Dialogue with a French delegation led by France's Minister for the Armed Forces Florence Parly yesterday.
The Kaveri engine, still displayed without fail at every Indian defence-trade show, has remained idle for most purposes for at least three years. In 2017, Livefist reported on how a mysterious noise during high power trials was the latest in a string of ailments that bedeviled the program. Earlier this year, in an inevitable decision, Livefist confirmed that the Kaveri engine's development had been officially de-linked from the AMCA and LCA Mk.2 (Medium Weight Fighter) programs, with both jets be powered (at least in the development phase) by the GE F414 turbofan engine.
It's official: India's Kaveri jet engine won't power the future AMCA fighter or the Medium Weight Fighter, confirms @DRDO_India. The team does hope to see it power an aircraft and spin off a marine engine version though. #AeroIndia2019 pic.twitter.com/TZ4vY01bZ5

— Livefist (@livefist) February 21, 2019
The Kaveri's struggles have been a defining and oft-criticised thread running through the DRDO's efforts at making the Indian Air Force self-reliant in the crucial domain of aero engines.
Former Indian Navy chief Admiral Arun Prakash, a war decorated fighter pilot, said in a series of tweets earlier this year, "Myopic if MoD & DRDO don't realize that the future of India's aeronautics industry is linked to the success of the Kaveri. Any price is worth paying, if someone can help make it deliver 9 kN+. Would open endless possibilities and put us ahead of China, still struggling for an engine. The Kaveri has been under development by DRDO for 33 yrs now. Enough time lost. We must stop trying to re-invent the wheel & leap-frog in time by borrowing or buying a reliable core (M-88?). We must also acquire metallurgy & other badly needed technology by paying for it. Success of Kaveri would have meant huge loss of business to engine makers worldwide. No prizes for guessing why it has languished for over 3 decades. But still not too late to infuse latest technology and design LCA Mk 2 & AMCA around it. Kaveri could be a star of 'Make it in India'."
Apart from the Kaveri, the DRDO is also developing a mini-turbofan engine to power its Nirbhay long range cruise missile. HAL is also testing a 25KN engine HTFE-25 to power small aircraft and possibly drones. The DRDO itself is understood to have envisaged a fresh 110KN turbofan engine project to succeed the Kaveri, such as it is. But without channels of urgent technology to fix what has crippled the program from meeting requirements for over three decades, it is unclear what the DRDO's next steps will be. Aircraft are — and must be — designed around engines, not the other way round.