Last Saturday's crash of an Indian Navy MiG-29KUB fighter in Goa was captured by several citizens on the ground, but none had apparently captured the actual ejection of the two pilots Capt M Sheokhand and Lt Cdr Deepak Yadav. A new clip has now emerged depicting the actual punch-out in the first crash of the type in Indian Navy service. The accident, currently being investigated by a crash inquiry team, was caused by a bird hit shortly after the jet, from the INAS 300 'White Tigers' squadron, took off from the INS Hansa naval airfield, part of Goa's Dabolim airport.
Both pilots, including White Tigers CO Shekhand, were rescued by locals in Verna, the area where the aircraft impacted the ground, and were later airlifted to the base hospital in a Dhruv helicopter. The two men are in good condition and are likely to be discharged from hospital shortly.
Saturday's accident may have been the first crash of the MiG-29K in Indian Navy service, but wasn't the first incident involving the type. In January last year, a MiG-29KUB overshot the runway during its take-off roll. Both pilots had managed to eject in the nick of time. In June 2014, a MiG-29K suffered damage to its undercarriage during a hard landing on aircraft carrier INS Vikramaditya.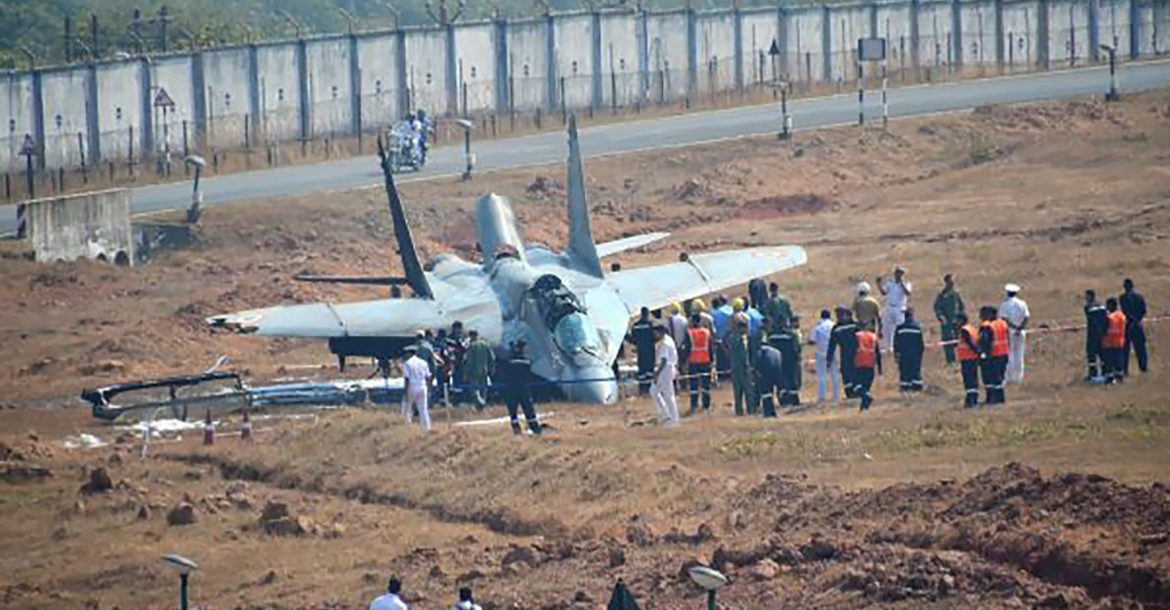 The Indian Navy operates 2 squadrons of the MiG-29K, and was in fact the launch customer of the type. The first batch of jets was commissioned into service in May 2013. Like the Sea Harriers before them, the MiG-29Ks are the only carrier borne combat aircraft with the Indian Navy at present. Last year, the Indian Navy showed off its Fulcrums in this excellent shoot.
As Livefist has noted before, the MiG-29K is likely to see more numbers in Indian service, and it unlikely to be under consideration for India's next generation carrier borne fighter contest. The Indian Navy envisages a purchase of 57 carrier borne fighters for its future CATOBAR aircraft carriers, though its announcement of interest doesn't make that stipulation. While this theoretically means India's doors aren't closed to more MiG-29Ks, it is widely accepted that the future requirement will need to be filled by either the Rafale or Boeing's F/A-18 Super Hornet.
The MiG-29's India story is far from over though. As Livefist reported last year, the Indian Air Force is in talks to pick up 21 more MiG-29UPGs from MiG's Lukhovitsy facility near Moscow, where incomplete airframe shells will be compelted for the delivery. While that procurement is likely to be on track soon, the less likely Fulcrum angle in India is the MiG-35, which is technically a contestant in India's proposed 114 fighter aircraft contest.